Do you remember when we painted Grace's bedroom? I wrote about it a lot when we did it, back in 2010.
Well, we're at it again.
No, we are not removing the pink. I'm pretty sure that room will still have hot pink walls when our little grandchildren come over to visit.
But now, the pink is way cooler than before.
Our story begins at Walmart.
I didn't realize it, but our Walmart (and yours too, I imagine) has a whole paint section.
Part of that paint section is Disney Paint, a new line of paints available only at Walmart. They capture the magic and inspiration of Disney with 112 exclusive colors and five innovative specialty finishes that are easy to use and apply.
I knew we were buying a specialty finish to adorn Grace's pink walls, but she thought we were going to look for paint. She was delighted that the pink of her room is one of the Disney paint colors!
"It matches, Momma! They have my pink here!"
Yay!
In my picture below, can you see how the Disney Paint display is grouped into palettes by character? The diverse palettes make decorating with kids – no matter what age – easy and fun. I like these palettes because they're the same color palettes used in Disney bedding, furniture, toys, and other products.
Grace's bedroom combines the beauty of the princesses palette with the beauty of the fairies palette. More on that next week.
After examining all the specialty finishes and taking one of every pamphlet and sample, Grace was ready to explore the actual cans of paint.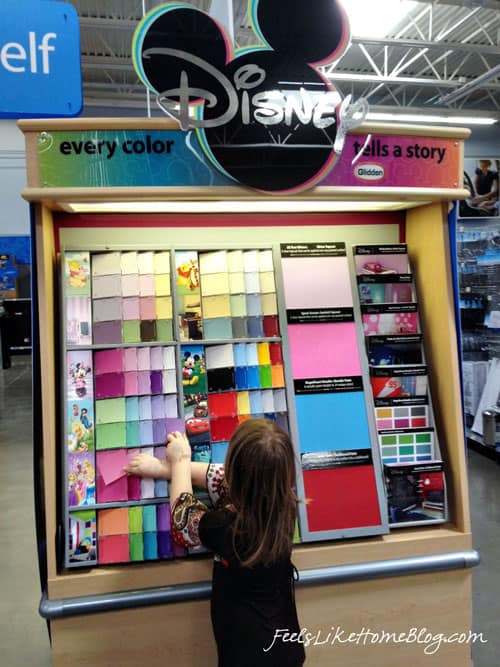 Pin
I asked what she thought we should paint in her room, and she said "Definitely the glittery one."
Good thing, because I had committed to use the All That Glitters topcoat. I knew she'd pick it.
One gallon is supposed to cover 300 square feet, and I knew we were only painting part of Grace's room, so I thought one gallon would be enough. It was $29.97 per gallon.
Here's the look we're going for with All That Glitters:
Pin
I noticed that there were tintable paints there, too, if you wanted to paint a color before you used the top coat.
Disney Paint is a premium-quality, ultra-durable paint that was formulated with kids in mind. It withstands wear and tear, as well as repeated scrubs and washes. Scuffs, crayon and pencil marks, little finger prints, and tough stains, even grape juice, wash off easily without removing the magical color.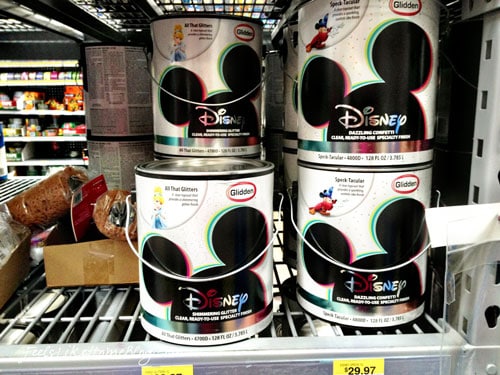 Pin
As we were getting ready to leave the aisle, Grace asked what the smaller cans were. I told her - metallic, chalkboard, glitter, and glow-in-the-dark. She, of course, wanted to buy one of each, but I told her she could choose just one more.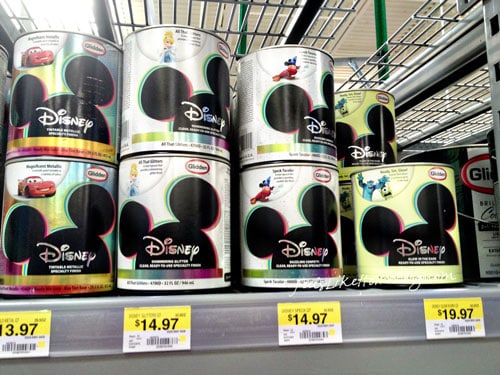 Pin
I don't think there's enough space in one little bedroom for all that glowing, metallic, chalkboard, glitter business all at the same time. I had to draw the line.
She chose the glow-in-the-dark paint as her second choice. By the time we were in the car, Grace had already made a plan for her bedroom. (The plan that we ended up using as we painted! More on that next week.)
Here's a hint from the Disney Paint website: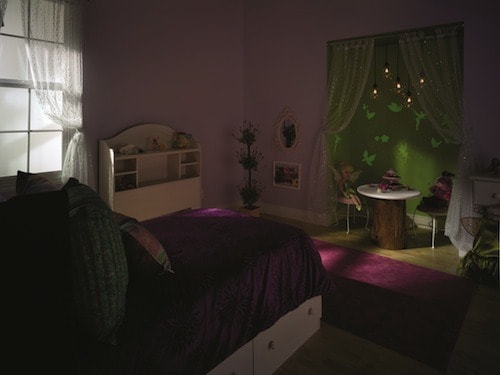 Pin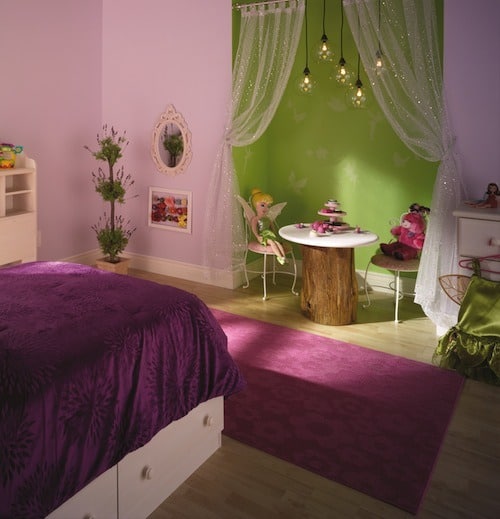 Pin
As I looked at the Disney Paint collection, I noticed that they're all low odor with no VOCs. That makes me happy.
After we finished up with the paint, we picked up some groceries (and Easter candy, for it was a couple weeks ago now), and we  went to check out.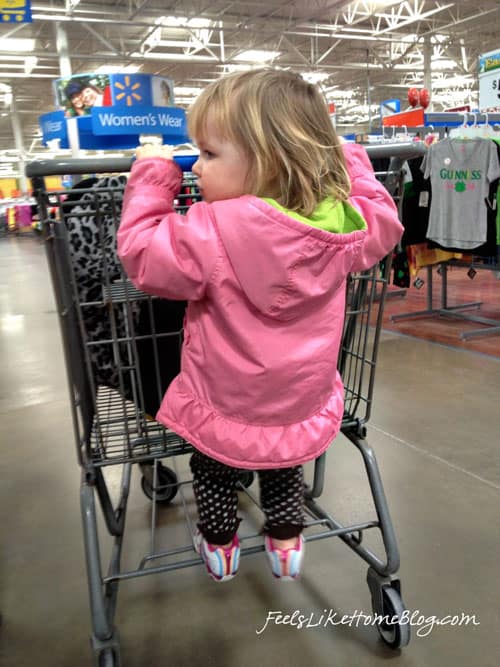 Pin
One last thing. Does your Walmart have a little game room? When we're checking out near enough that I can see in, I let the girls go in and play. They discovered this awesome little foosball table. For fifty cents, they played foosball until someone scored a goal. Whomever scored the goal got to keep the little bouncy ball. It was a few minutes' fun.
Of course, we had to have a few minutes' more fun because when one gets a bouncy ball, the other wants a bouncy ball. They each won one game, if you're interested.
And then Allie threw her yellow ball across the parking lot, but that's a whole other blog post.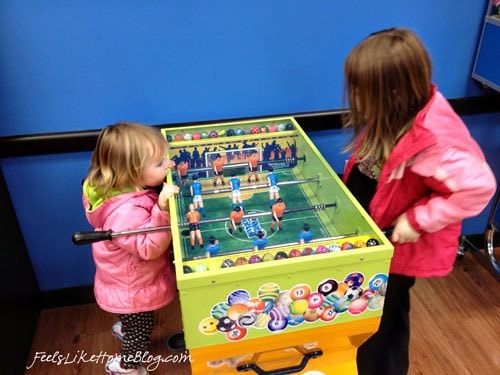 Pin
My next Disney Paint post is scheduled for April 25, so you'll have to wait until then to hear about Grace's plan (an overhead projector is involved). I can't wait to share it with you!
Compensation and products for review were provided by Glidden via MomTrends.  The opinions expressed herein are those of the author and are not indicative of the opinions of Glidden.