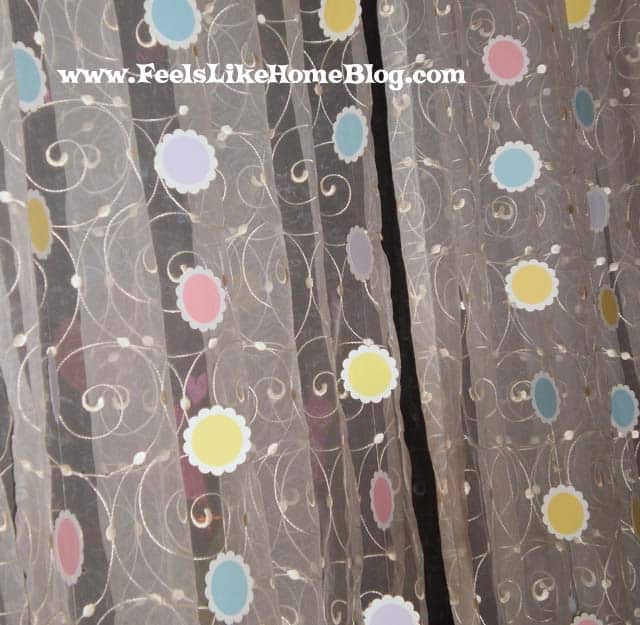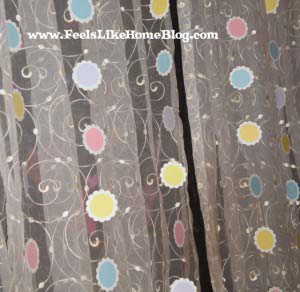 Pin
I've had enough snow for 2010, thankyouverymuch.
It's March. March means spring flowers, spring colors, spring weather.
I'm ready for Easter eggs and Easter bunnies and Easter grass.
I am pretending that it's spring, even if the weather isn't cooperating.
We're expecting more snow this week.
I am celebrating pretending it's spring with a with a homemade flower garland. I made it myself with minimal time and no expense whatsoever. I hung it in my big front window so that I can look at it often.
Here's what I did:
Homemade Flower Garland for Springtime Decorating
Materials
Instructions for my homemade flower garland
First, punch out lots of circles. I decided to make 18 flowers in of each four colors. That meant I needed the following. It looks like a lot, but I cut them out while watching tv with Grace one snowy afternoon.

36 blue circles
36 pink circles
36 yellow circles
36 purple circles
72 white flowers (not a typo - there are 2 colored circles on each 1 white flower so that they are double-sided)


Next, I attached colored circles to all of the white flowers. I made 18 purple, 18 yellow, 18 blue, and 18 pink. In the photo above, I've already done the purple flowers.

While I was adhering colored circles to white flowers, Joe and Grace "practiced" making circles and flowers with my punches.

I pulled about a foot of

the fishing line I stole from Joe's tackle box

my monofilament off of the roll, and then started attaching flowers.
Not wanting the flowers to form a specific pattern, I tossed all of the one-sided flowers into a ziploc bag and pulled out one at a time. I laid the flower face-down on the table, put adhesive on the back, and stuck the monofilament into the adhesive.

Next, I put more adhesive on a circle that matched the flower's first side, and I glued the colored circle over top of the monofilament. I skipped enough space for one flower and attached the next. In the photo above, the flower on the right is not attached to the line; it's just a placeholder so that my spacing was consistent.
Almost done! I repeated the above process until I had 14 flowers on each line. I made 5 lines and had a couple of flowers left over.
The last step is to tie everything together. I cut a piece of white ribbon that was about 3 feet long and folded it into four sections. I tied a line of flowers at each fold (using the long tail I left in step 4 above) and then tied the white ribbon onto the curtain rod in our living room.
(Almost) instant cure for the late winter blahs!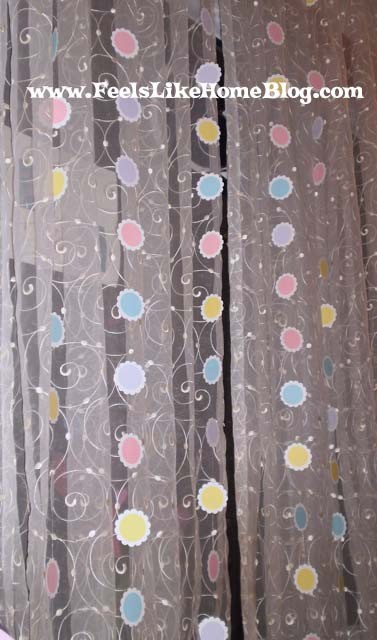 Pin
Are you thinking about St. Patrick's Day?
Wouldn't this be cute if you had dark green paper and a 4-leaf clover punch? You could skip the colored circles and just do shamrocks on the lines.