Last week, Grace and I went to the grocery store. As always, Grace drove a car attached to my cart, honking and checking out the products near the floor.
Just past the produce department, we ran into my calculus teacher from high school - a woman I adored then and continue to adore. I parked our car cart and proceeded to chat with my former teacher and colleague (who's been retired now for a few years).
By the time we finished chatting, Grace had spied some gumdrops.
You know, the ones in the display where I parked the cart.
D'oh!
I agreed to buy one package of gumdrops. Grace chose the package that she wanted, and we went on about our business.
Fast forward a couple of days.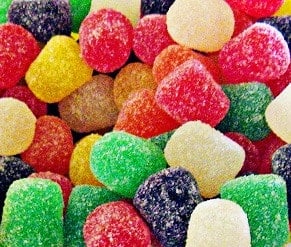 Pin
On Grace's first day at her new preschool, Joe packed a gumdrop in her lunch. She mentioned it to me after school, and I told her that Daddy packed a gumdrop in her lunch to remind her that he loves her.
She was really pleased with that answer, and I didn't think about the gumdrops again for a whole week.
This past Monday, Grace was very sad when I picked her up from preschool.
Mommy! Daddy didn't give me a gumdrop today!
"Oh, no! Maybe we were out of gumdrops?" I suggested.
No, we aren't. I saw them on top of the refrigerator last night, she responded sadly.
"Oh, no. Maybe he forgot. Daddy forgets things sometimes because he's very busy."
I hope he doesn't forget tomorrow.
But he did forget the next day. Grace brought it up to me again on Tuesday afternoon, just as sad as she'd been the day before.
Unfortunately, I forgot to mention it to Joe.
Again.
He forgot the gumdrop again today.
Instead of bringing it up with me, Grace went right to the lunch packer himself.
Dad, sit down. We have to have a little talk, she told him in her most stern grown up voice.
Joe sat, as directed. "What's up, Gracie?"
Waving her hands, she demanded, What happened to the gumdrops, Dad?
Completely unaware, he responded, "What gumdrops?!"
My little chewy thingies, Dad! My gumdrops! What happened to them?
Fortunately, I heard the conversation and clued Joe in to the case of the missing gumdrops and how I'd told her they were a message from him.
"I wish you'd told me that sooner," he said after apologizing to Grace.
Tomorrow's lunch is all packed, and there's a gumdrop in it. I think Joe will make sure we don't run out of them any time soon.
Photo source