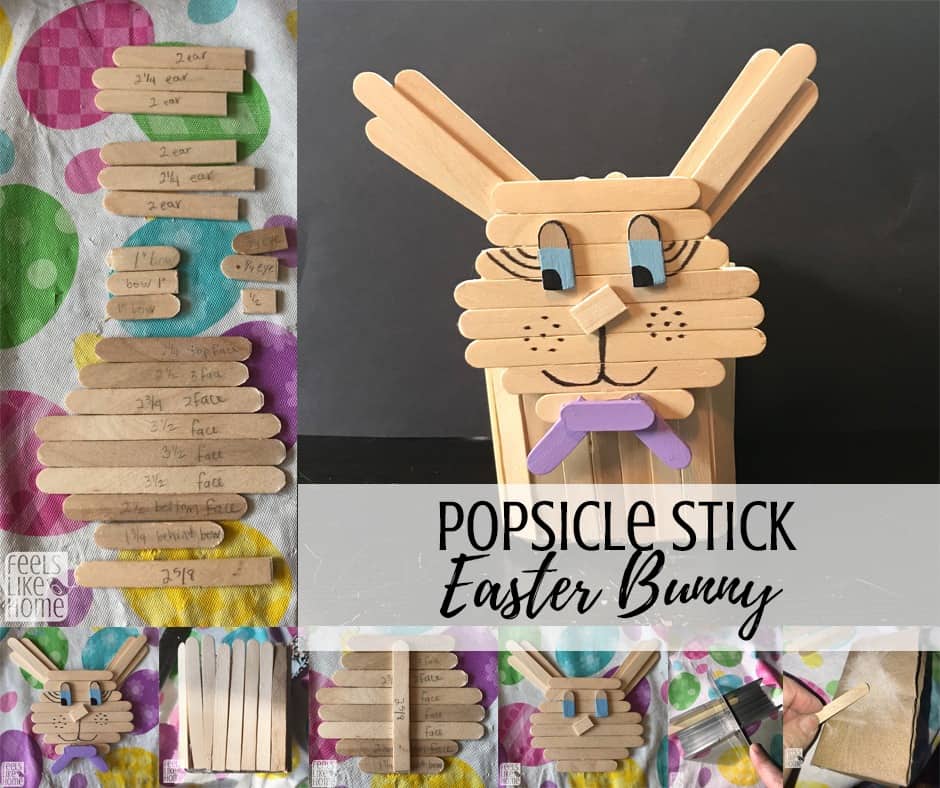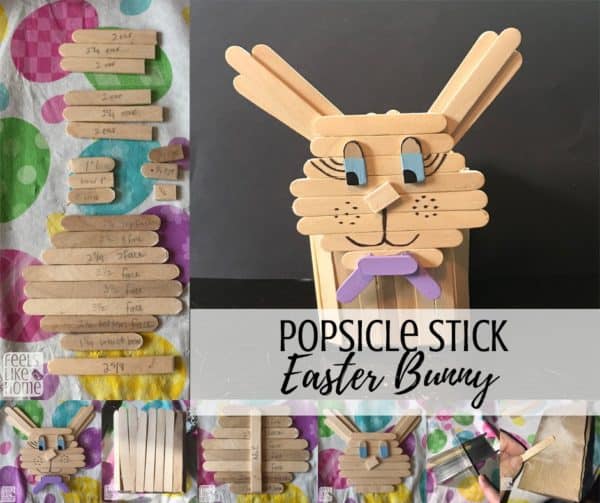 Pin
When I was a little girl, my mom made this adorable bunny out of popsicle sticks and gave them as gifts to everyone she knew. I know she kept one for herself because my sister found it in her things, and I know she gave one to Old Grandma because she still has hers, too. I imagine that she gave them to my Granny and who knows who else. She was a very generous person.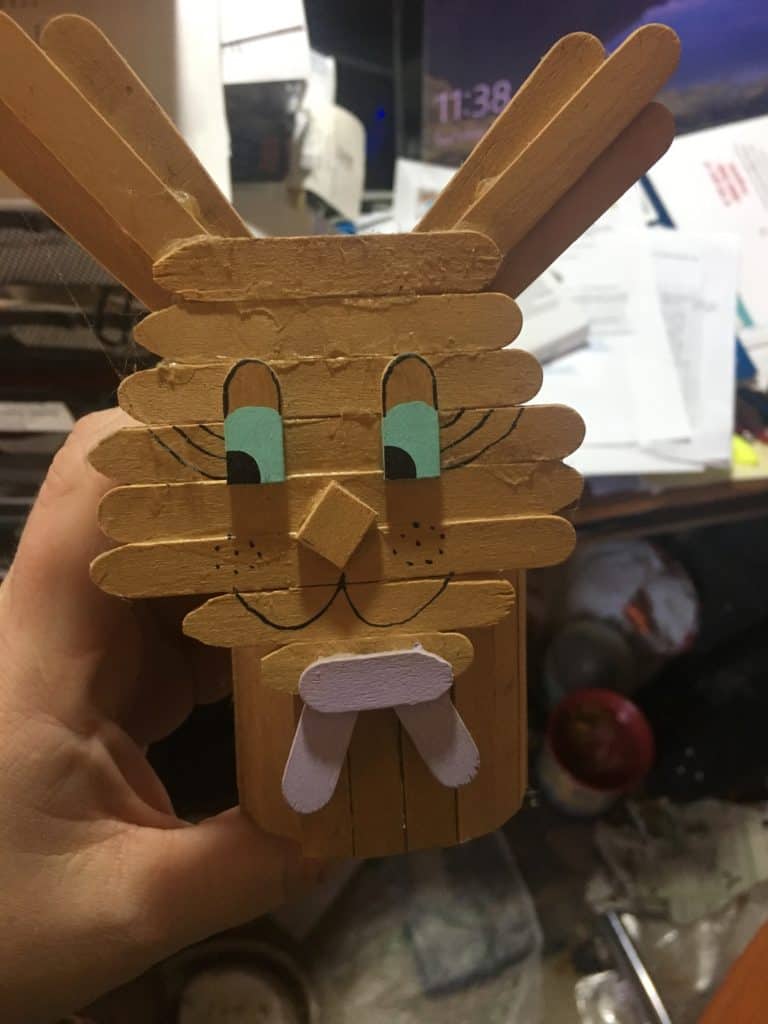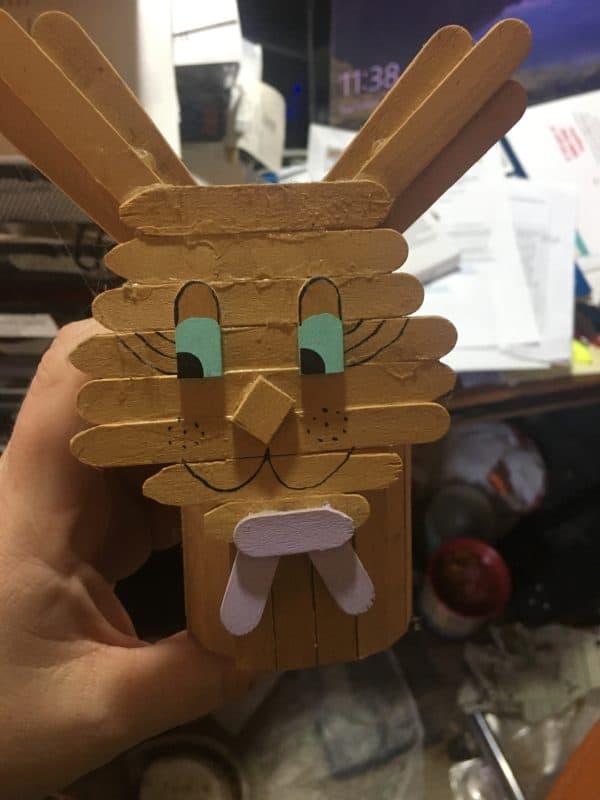 Pin
The Easter bunny's face was attached to a baby food jar, and she kept paper clips and push pins and other small things in hers. I remember her collecting baby food jars from her friends, as she needed them for this craft and had no babies at home.
I don't think they even make baby food jars anymore, so I went looking for something else to attach my popsicle stick Easter bunny to, and I found some straight-sided votive cups at the craft store. That's what I recommend you use. The dollar store probably also has something similar.
Popsicle Stick Easter Bunny Craft
The materials for this project are deceptively simple. I will tell you right up front that this is not a kids' craft, and it is not a simple and easy craft.
Well, it sort of is simple and easy once you get all the popsicle sticks cut, but that in itself is a very big job unless you know some trick that I don't.
Materials
A big box of popsicle sticks - I didn't count them, but it took quite a lot. I think maybe 50-ish for each bunny?
An X-ACTO miter box and saw (This is not a sponsored post, but I found this to be the best option for cutting the popsicle sticks. I tried many different things. My husband had some luck with my Cutco garden pruners, but I couldn't get them to cut without breaking the sticks in the wrong direction.)
Light blue paint
Lavender paint
Black paint
A glass jar with straight sides
Paper Mate Flair black pen - Sharpies bleed on popsicle sticks, so make sure not to use them.
Paint brushes
Instructions
To begin, you will need to cut your popsicle sticks. First, measure the height of your glass container and start cutting those. Mine took 32 popsicle sticks to cover on all 4 sides. More on that later.
Next, you will need to measure and mark the following lengths. Make sure you label them as you go along, or else you will be very confused and frustrated when you try to assemble your Easter bunny.
2" x 4 sticks - ears
2 ¼" x 2 sticks - ears
1" x 3 sticks - bow
¾" x 2 sticks - eyes
½" - nose
2 ¼" - face piece 1
2 ½" x 2 sticks - face piece 2 & bottom face
2 ¾" - face piece 3
3 ½" x 3 sticks - middle face
1 ¾" - behind bow
2 ⅝" x 3 sticks - these are the braces that hold the face together. Note there is only 1 in the photo below, but I found it much sturdier with 3.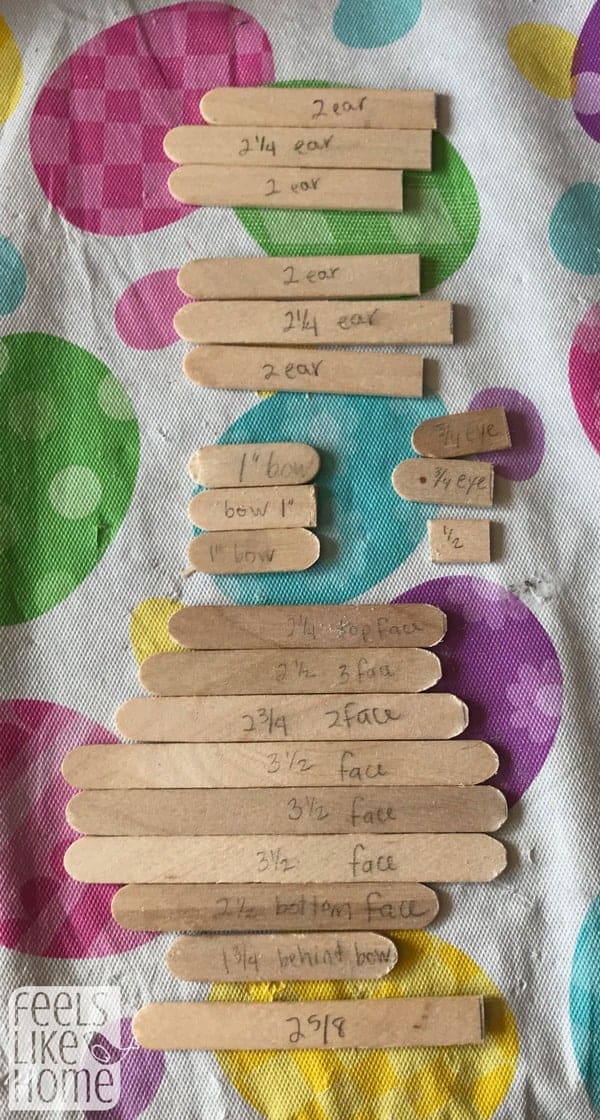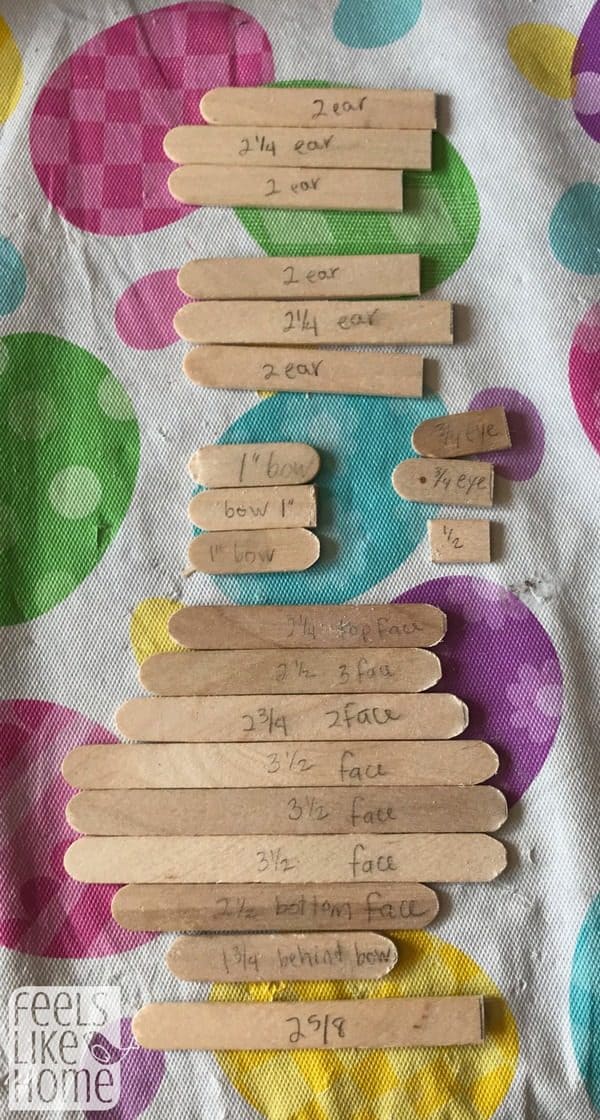 Pin
This is where the miter box and X-ACTO saw come in. You will have to cut all these popsicle sticks. As I said above, Joe had good luck using my (very expensive) Cutco pruning shears, but I wasn't able to make that work. The cutting took a long time.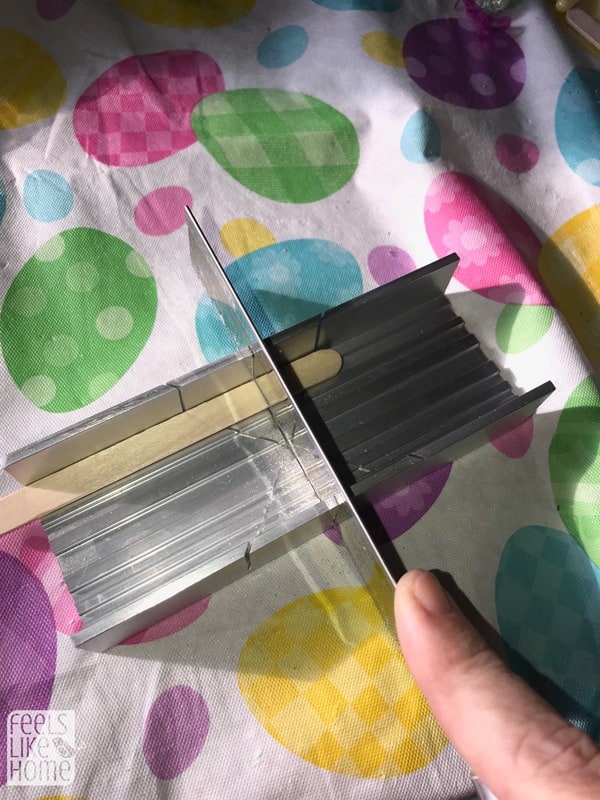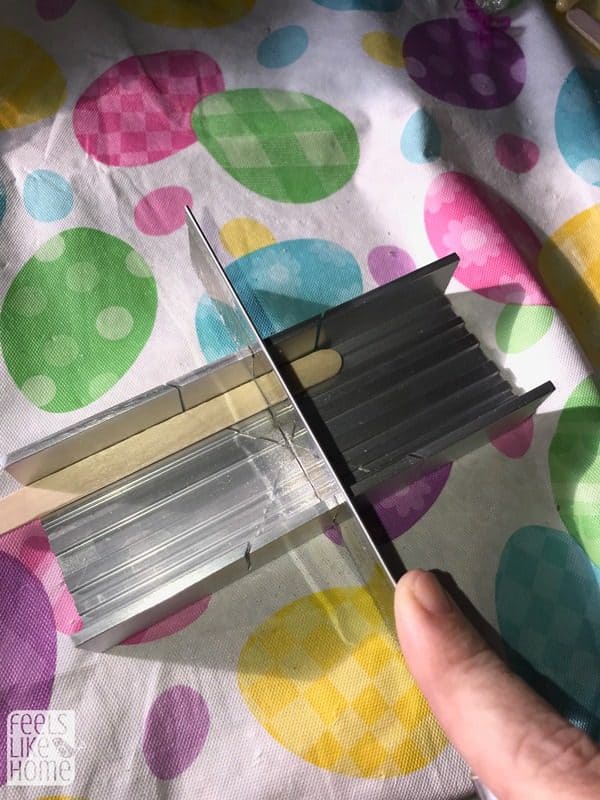 Pin
After cutting, you will need to sand all the following pieces so that they're rounded on both ends:
1" x 3 sticks - bow
2 ¼" - face piece 1
2 ½" x 2 sticks - face piece 2 & bottom face
2 ¾" - face piece 3
3 ½" x 3 sticks - middle face
1 ¾" - behind bow
Sanding the popsicle sticks is a bit of a pain, but it's necessary or else your bunny will look stupid. You don't want a stupid-looking bunny.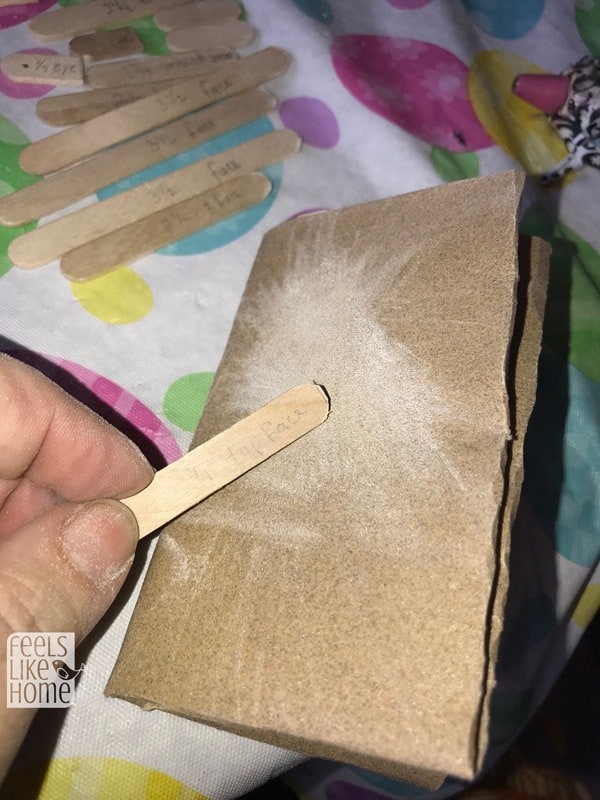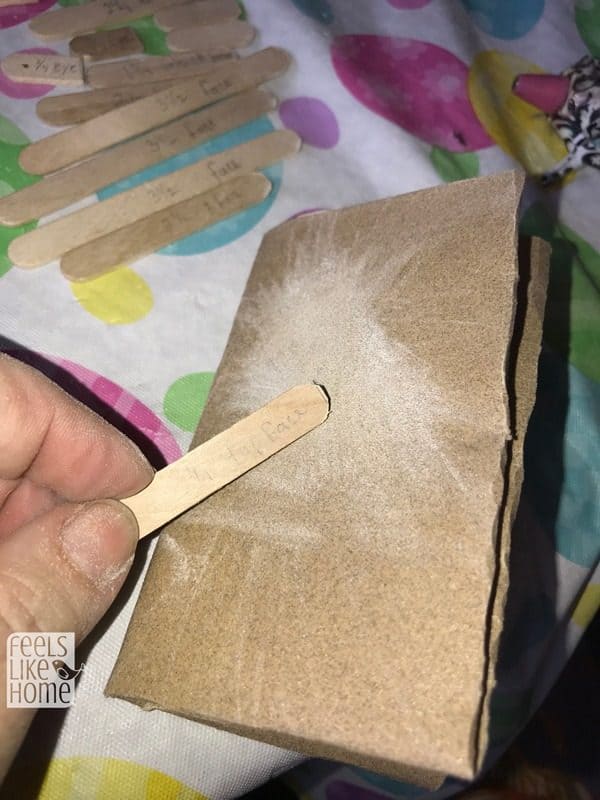 Pin
After your pieces are all cut and sanded, you can start assembling your Easter bunny. The first thing I did was to put the ears together. You will want the longer piece on the front with the two shorter pieces behind it and angled out to the sides, as below. Make 2 ears.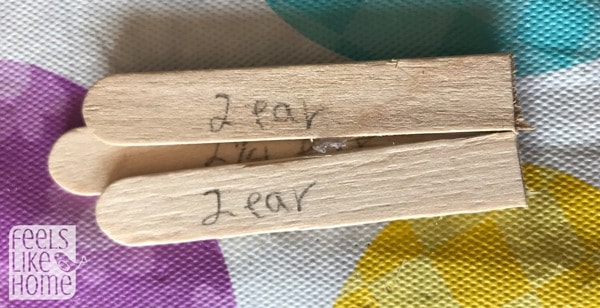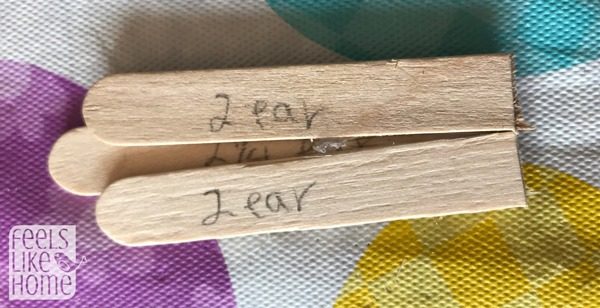 Pin
Next, do the painting. Paint the bottom half of the eyes blue. Don't forget to paint the edges.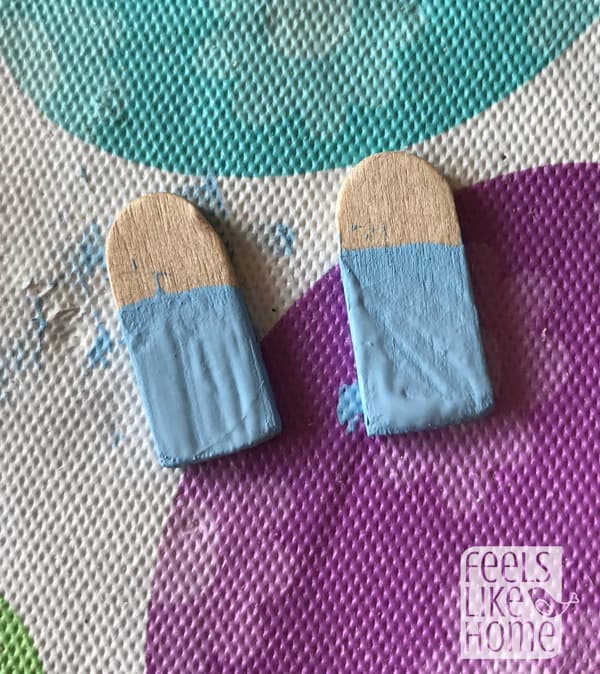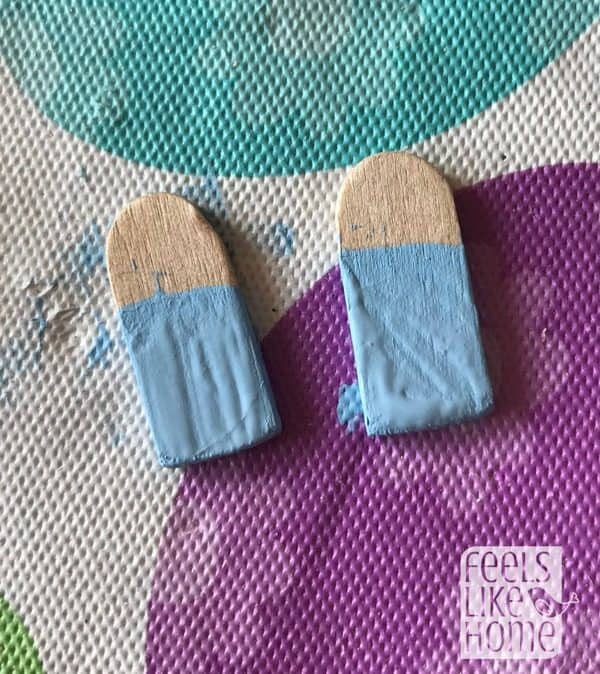 Pin
Next, paint all 3 pieces of the bow lavender. You may notice below that one of my pieces is not sanded, and that stuck out in the finished bunny. You will want to sand all 3 pieces.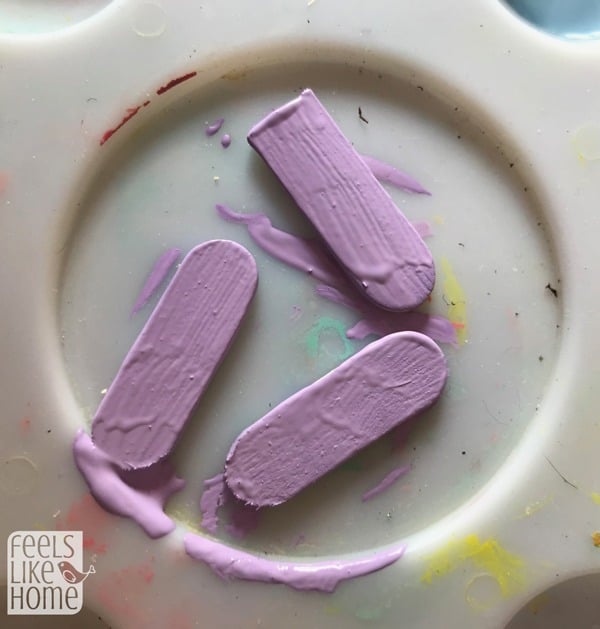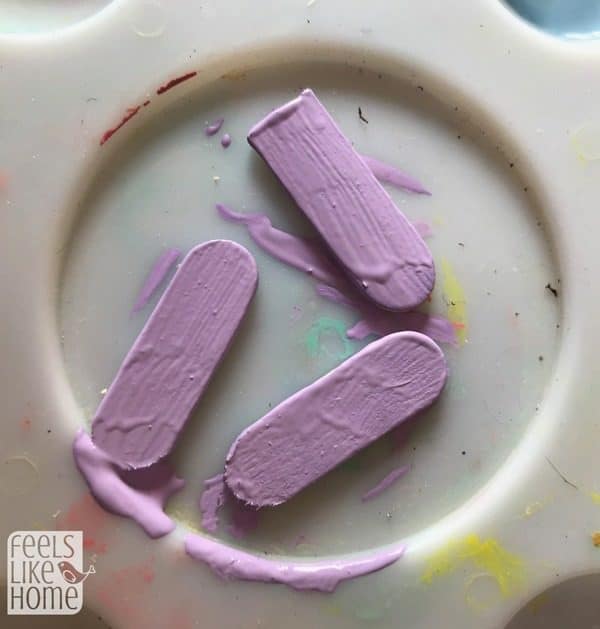 Pin
The next step is to assemble the face. Lay the pieces out as in the picture below, and glue the 2 ⅝" braces in place, making sure all the face pieces are flush against each other.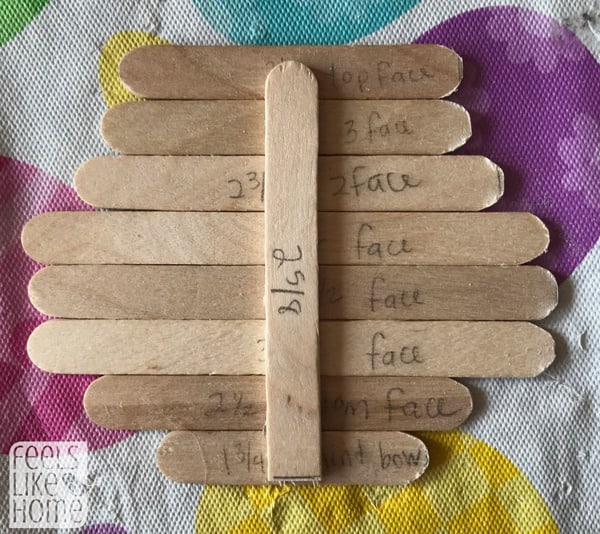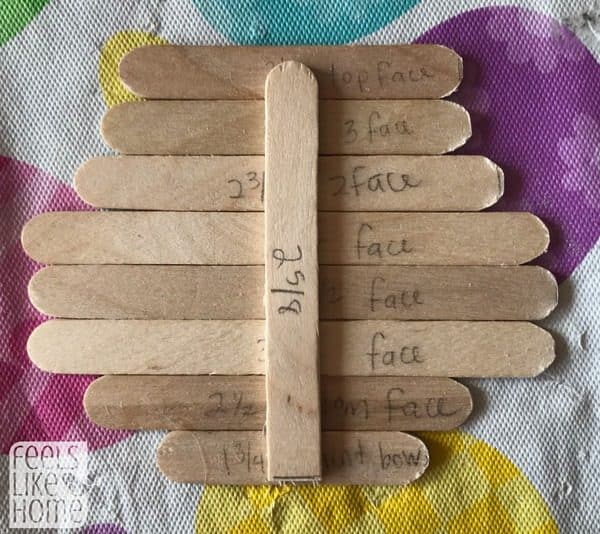 Pin
Now that your face is put together, you can glue the ears, eyes, and nose on.
My mom's nose was a perfect square. Mine came out more like a rectangle. I like her square nose better, but mine is okay.
Next outline the top, unpainted part of the eyes and draw on eyelashes, a mouth, and whisker dots. My lines below look a little fuzzy because I used a Sharpie the first time, and that bled out on the wood. I retraced it with my Flair pen, and the lines looked a lot better. But the feathering is still there.
The last thing for the face is to paint the irises on the eyes. I tried to do this with Sharpie, and that didn't work very well either.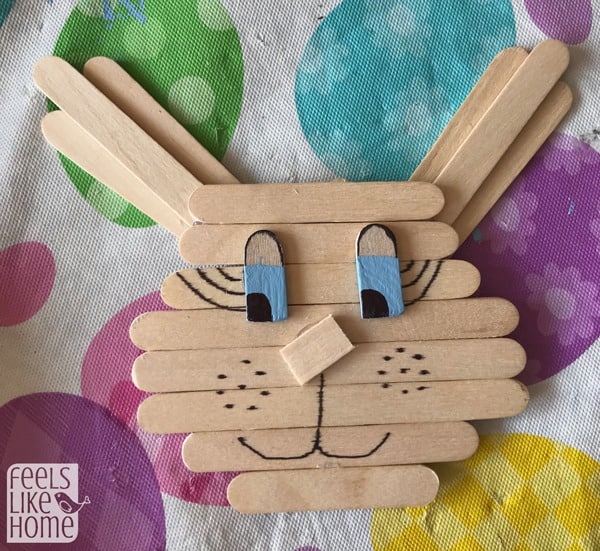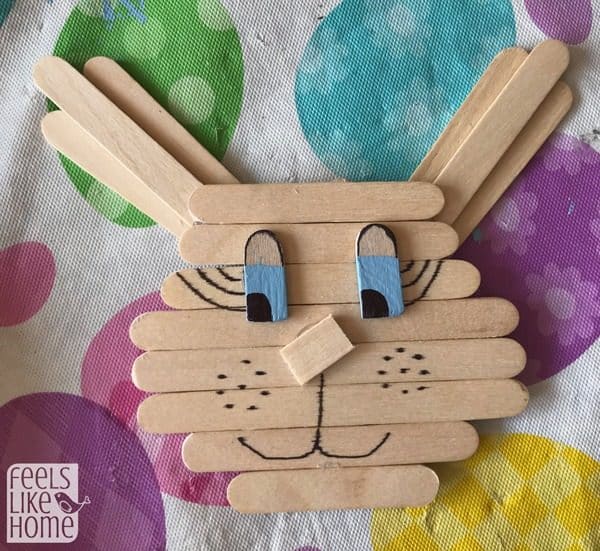 Pin
Next, assemble the bow by gluing two of the lavender pieces onto the third one at an angle. Then attach the bow to the bottom of the face.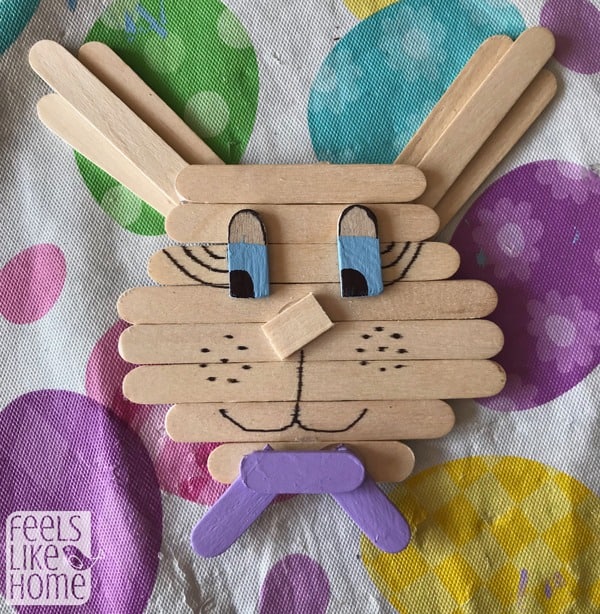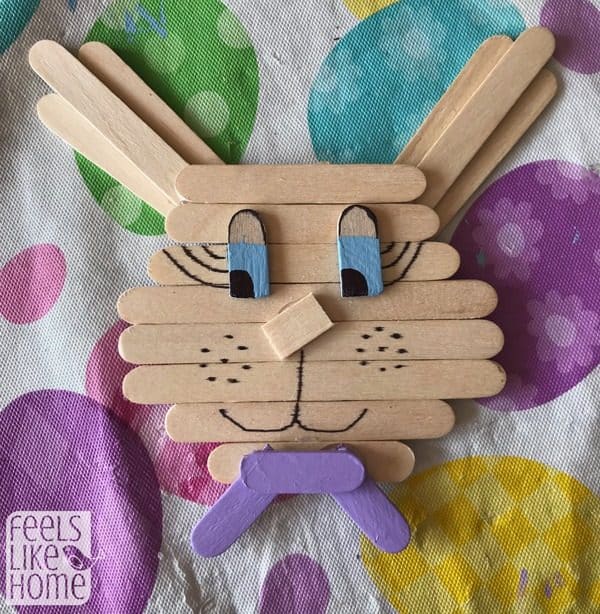 Pin
You're almost done. Grab your glass, and start gluing the cut popsicle sticks to it, getting them as close to one another as possible. You will end up with a crack where you have to cut a popsicle stick vertically to fill it in.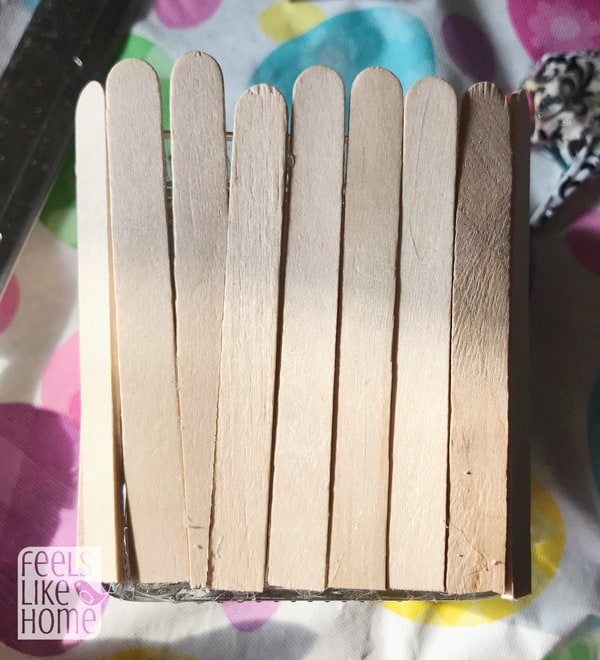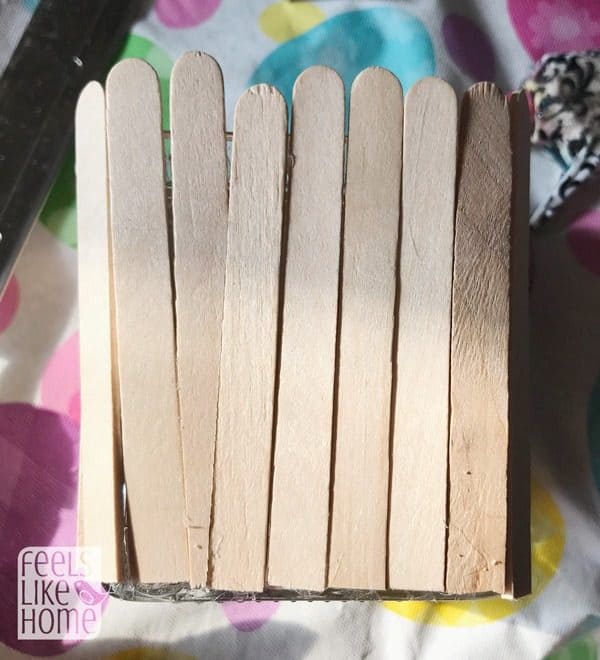 Pin
I didn't realize it, but my candle holder was a wee bit bigger at the top than at the bottom, so I ended up having to cut 2 slivers to wedge in and finish off the container part.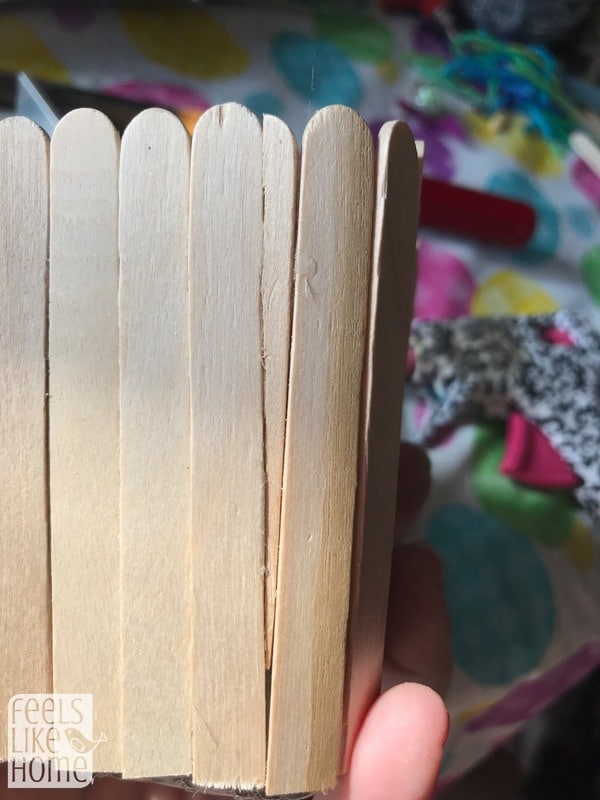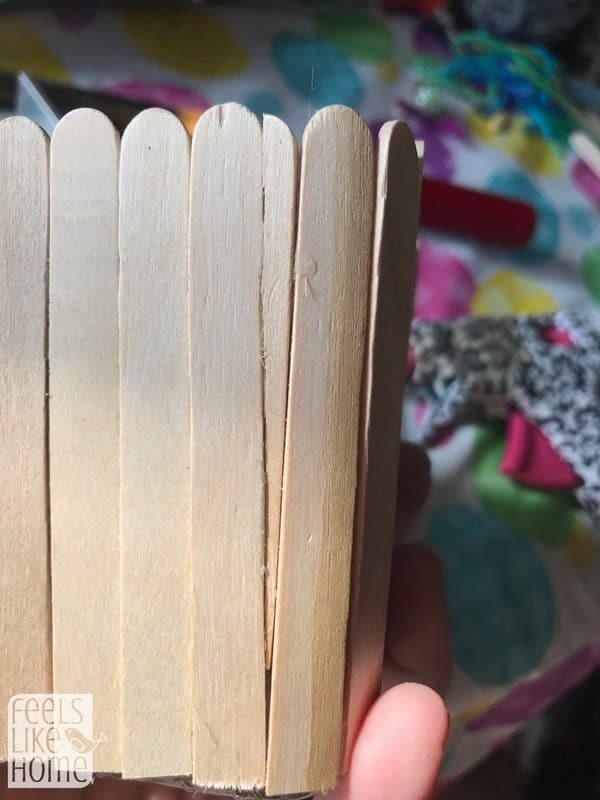 Pin
The last step is to glue the bunny's face onto the container part. You're done!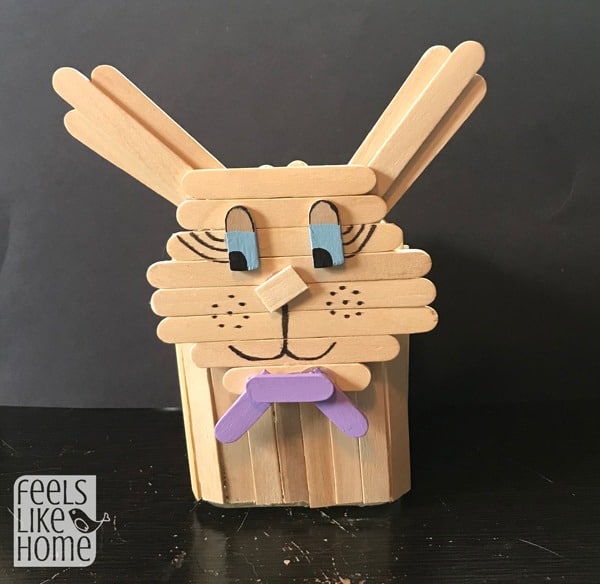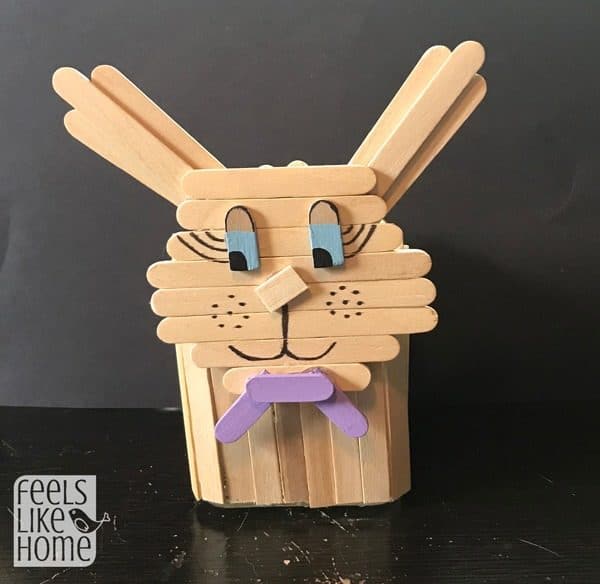 Pin
Remember to use your glue gun wisely, especially on these super skinny pieces. I accidentally stuck my fingers in the glue right out of the glue gun and had this beauty within seconds.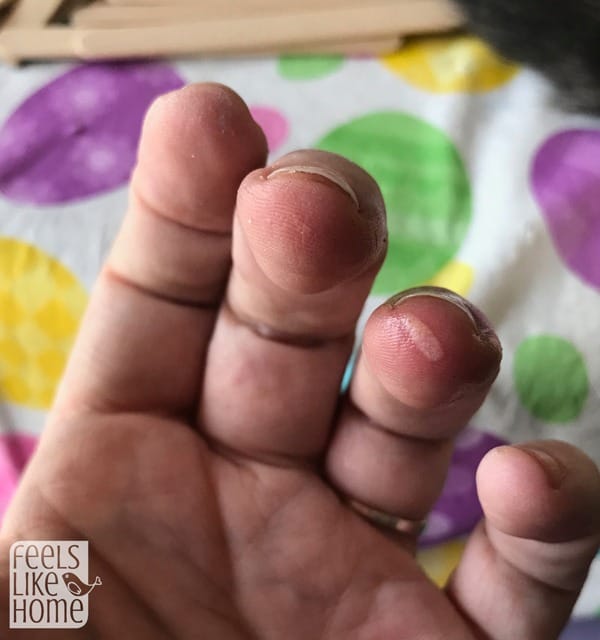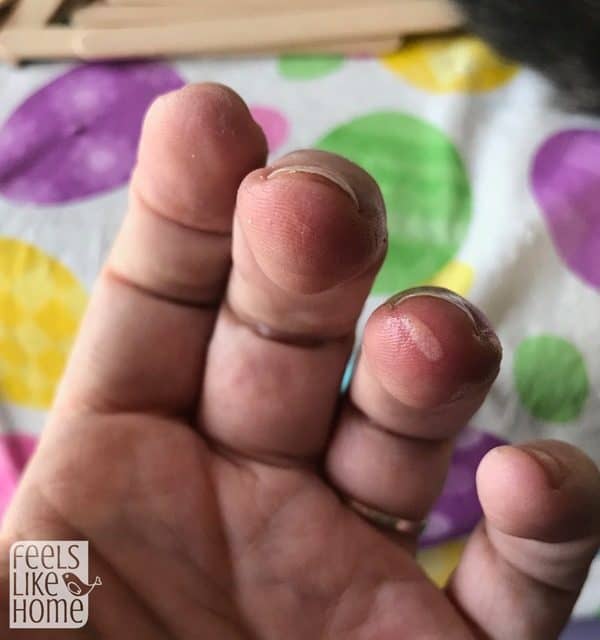 Pin
This popsicle stick Easter bunny craft was honestly a pain in the butt, but I am so happy that I made it. I love it. I have it sitting on the desk in my home office, and it will stay there for a good long while, partly because it reminds me of my mom who has been gone now for almost 5 years.
If you have the patience, I think this would be a great teacher or grandparent gift for Easter.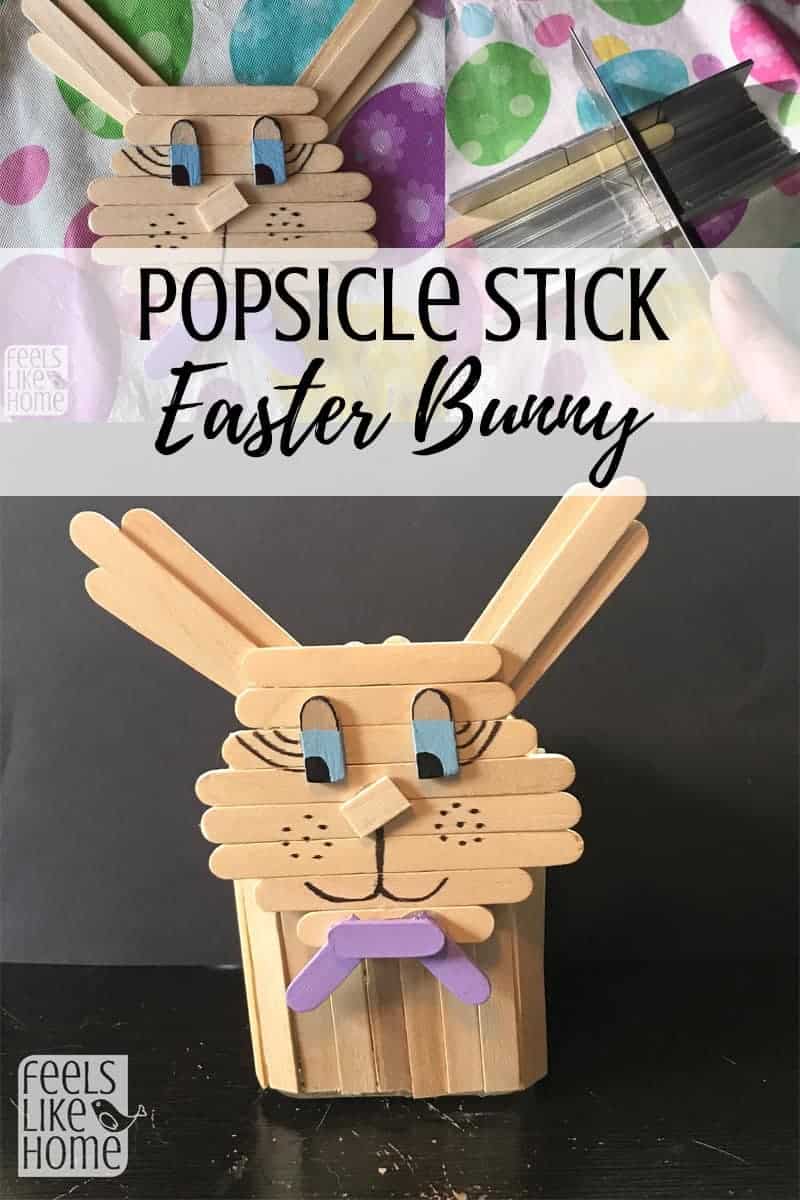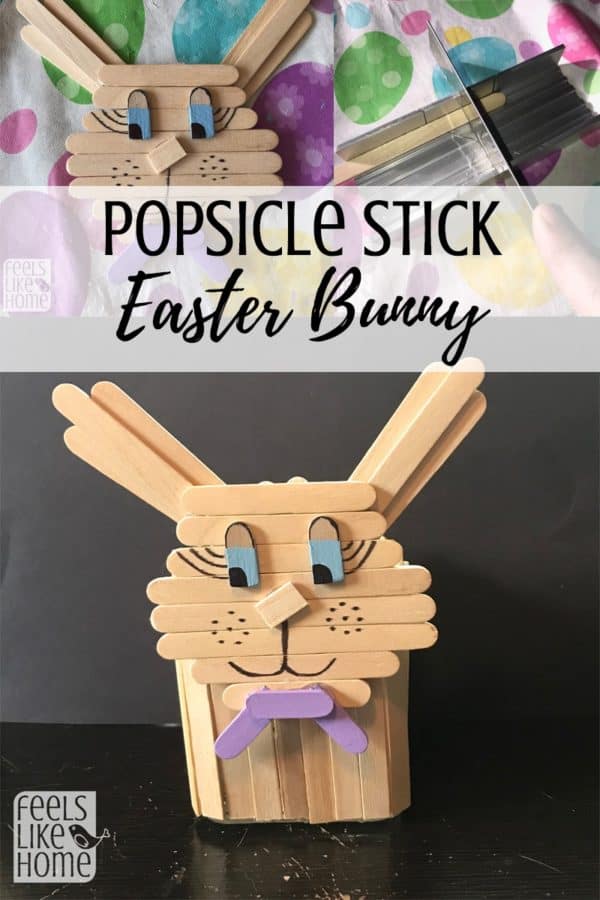 Pin