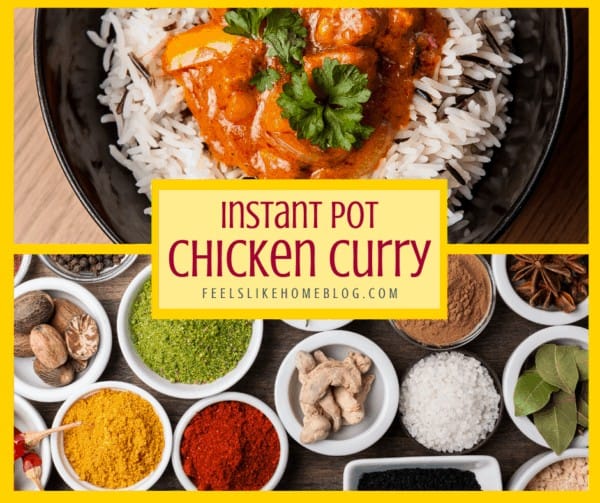 This creamy chicken curry is made in the Instant Pot, so it's a quick and easy meal for weeknights or weekends. You can use any curry powder that you have on hand, so the finished dish can be as spicy or as mild as you like, and it is suitable for paleo, keto, gluten-free, and low carb diets.
What is the Instant Pot?
I don't think you could be a living, breathing, internet-browsing human and not know what the Instant Pot is, but just in case you've somehow missed it, let me explain it to you.
The Instant Pot is an electronic pressure cooker that allows home cooks to prepare meals in a fraction of the time it would take to bake or broil the same foods. The chicken for this curry, for example, is done in less than 10 minutes plus an additional 10 to thicken the sauce. The whole thing is done right in the Instant Pot, so it's a simple and easy one-pot meal.
In addition to being a pressure cooker, the Instant Pot has other functions, like sauté, slow cooker, yogurt, chili, and rice. Some, like the one I linked above, can also bake cakes and keep foods warm. Instant Pots are pretty much the fairy godmothers of the kitchen.
What is chicken curry?
Chicken curry is a dish originating from southeast Asia. Traditional curries are made with turmeric, cumin, coriander, ginger, chili peppers, and coconut milk, and they are often served in a thick sauce over white rice. Curries can be vegetarian or made with any imaginable protein, and they often are loaded with vegetables (although this particular recipe doesn't call for any because I'm always suspicious of putting veggies in the IP - they tend to get overdone and mushy in my experience).
Fortunately, we can shortcut all the sautéing and simmering and spice preparation in traditional curry by using prepared curry powder which is apparently a Western shortcut, but a useful one all the same.
McCormick sells an Indian curry powder (available on Amazon and in most American grocery stores) that you can use, and McCormick Gourmet also sells a Thai red curry powder that's really good (though a bit spicy). Please note that you cannot use a curry paste in this recipe. Curry paste and curry powder are NOT interchangeable.
Recipe