How to make the best 4 ingredient quick & easy cream cheese and cinnamon fruit dip. This healthy homemade recipe uses no sugar or sweetener. Ingredients include lemon juice and sweetened condensed milk. Low carb, keto, and paleo. Awesome with apples or strawberries.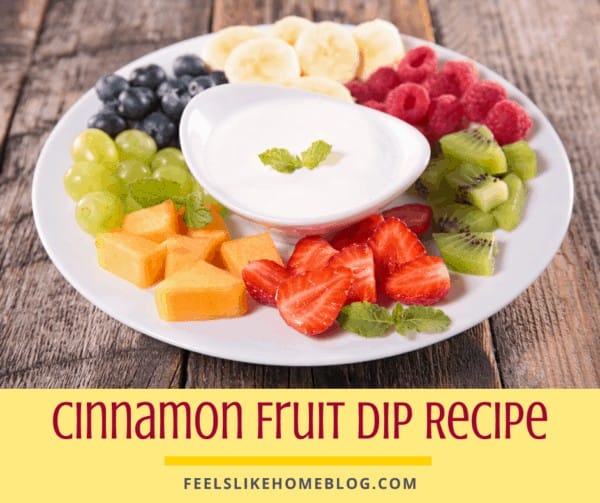 Last Sunday, it was our turn to bring the snacks for the small group meeting we attend at church.
The other group members had set the bar high - homemade guacamole (that was amazing), fruit trays, tortilla pinwheels, and spinach and artichoke dip (also amazing).
We had planned to bring a fruit tray, but there were none available at Walmart. Bummer.
The only produce that looked nice was the apples. We bought 6 of them, 3 red and 3 green, and arranged pretty apple slices on a tray.
Something was missing. We needed some fruit dip.
I have a good fruit dip recipe that uses cream cheese and marshmallow fluff, but it was 20 minutes before we had to leave, and we didn't have any marshmallow fluff. That wouldn't do.
Fruit dip.
I started with cream cheese and cinnamon, but I needed something to thin it a bit. I tried a can of sweetened condensed milk. It tasted good, but was missing zing. I added a splash of lemon juice, and it was perfect.
The kids liked the fruit dip so much that they each ate a bowl full (of the leftovers, after small group was over).
How to make cinnamon fruit dip
Soften the cream cheese by microwaving it for 30 seconds at a time, until it is soft enough to work with but not melted.
In a small bowl, combine the cream cheese and sweetened condensed milk. This will come together easily using a whisk. An electric mixer would make it faster, but it isn't necessary. Beat the mixture until there are no more cream cheese lumps.
Add a splash of lemon juice, about a teaspoon and continue to stir.
Once the mixture is well blended, add the cinnamon and stir in.
Serve with fruit.
Cover and refrigerate leftovers in an airtight container.
Try these other awesome foods while you're here: