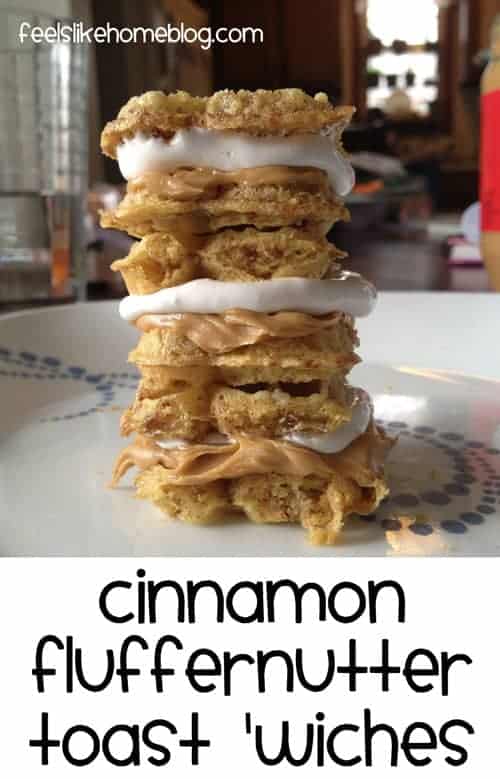 This is another one of those too easy to call it a recipe recipes.
These, together with my strawberry shortcake napoleons from yesterday, will make you a hero among moms. Are you acquainted with the miracle that is fluffernutter?
Fluffernutter is the amalgam of peanut butter and marshmallow fluff, both irritatingly sticky substances that, when mixed, become completely non-sticky (what's the opposite of sticky?) and sweetly delicious. (I didn't mix them because I didn't want to dirty a bowl. And they're prettier when in layers.)
Back to the ingredients.
Thanks to our rice krispies nests a few weeks ago, Grace is in love with the miraculous marshmallow fluff. It's pretty much candy, but it's redeemed in my snack sandwiches by cinnamon waffles and some peanut butter.
I meant to slice some bananas to stick in the middle of these, but I forgot.
I was too enchanted by the aroma of these little waffles.
I may have eaten all three of the above sandwiches, gluten and all.
I couldn't help myself. I knew my hands would hurt, but I threw caution to the wind and ate them.
They tasted even better than they look.
They would have been better yet if I'd remembered the banana, but I didn't.
Next time.
Recipe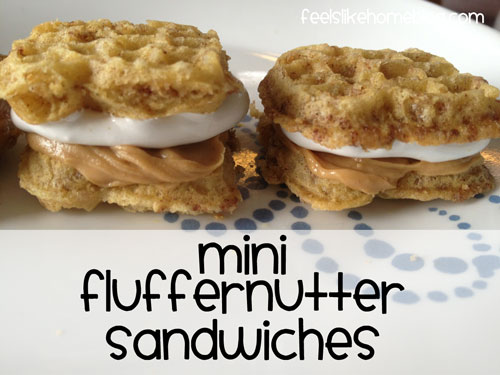 Pin
With the banana in the middle, these cover 3 food groups, and they're a fine way to get some healthy protein into your kids' bellies. We (I?) had ours for an afternoon snack, but I think they'd be nice for any time of the day.
This post is part of a project called a Week of Waffles from Eggo, sponsored by Kellogg. I have been compensated to create and share recipes using Eggo Waffles. All recipes, photos, and text are created by me.