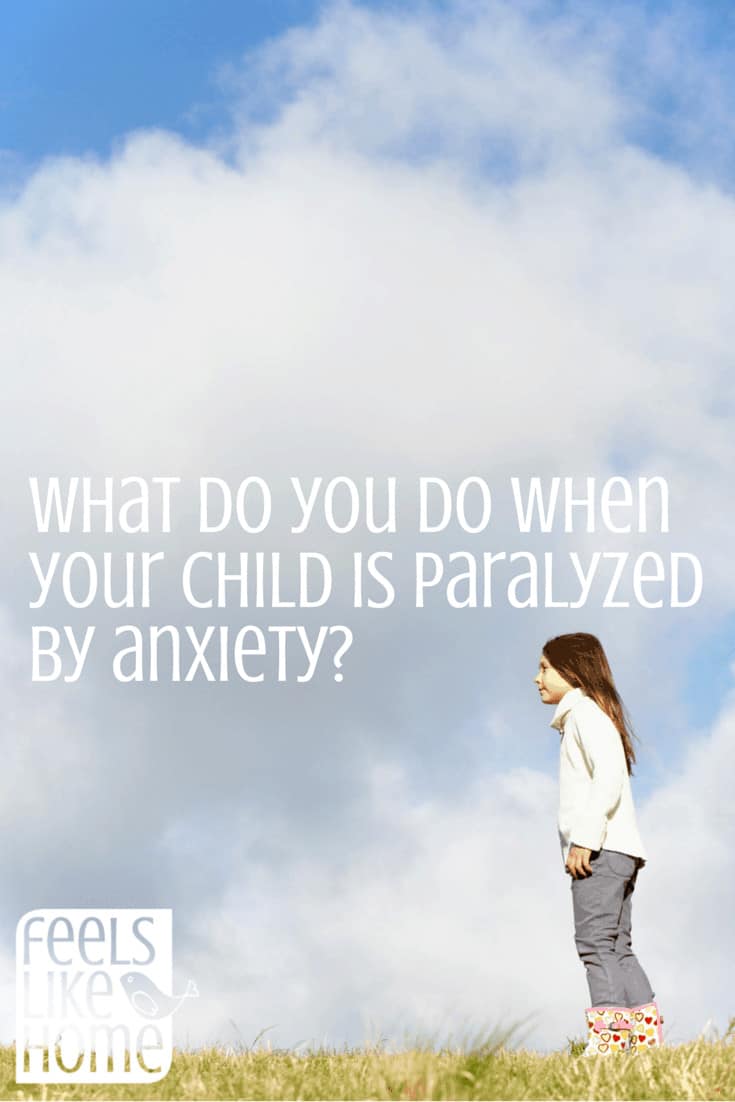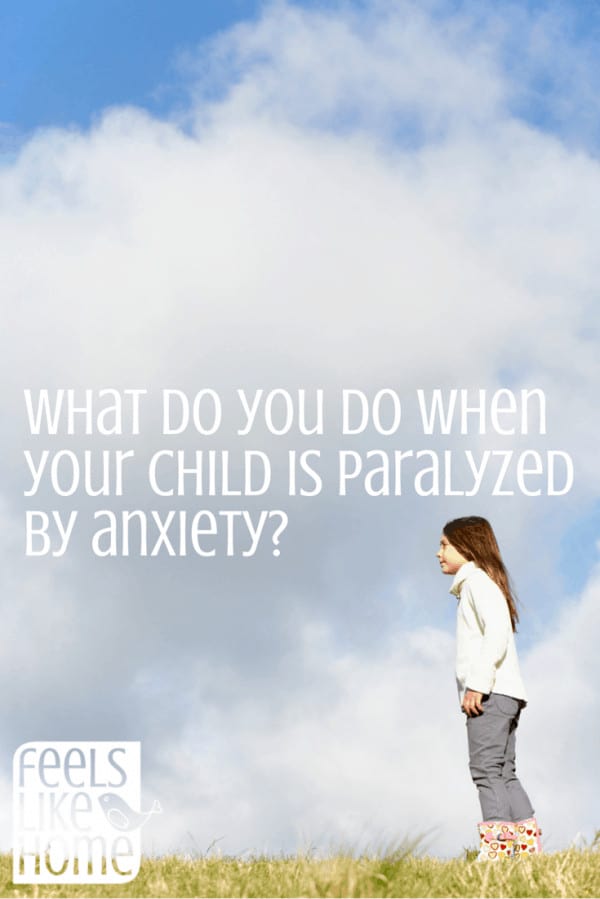 Pin
Grace has a diagnosed anxiety disorder.
Someone told me recently, "Don't we all?" and that made me bristle.
No, we don't all have what Grace has.
I hesitated to write and publish this post because of Grace's privacy. I don't want her someday to be upset that I shared her personal struggle. On the other hand, childhood anxiety disorders are not something that we talk about, and I think talking about them is important.
I noticed that there was something different about her after our car crash in 2009, but I went along with the pediatrician, who said that treatment would make the problem worse. We didn't want to reinforce her fears, he said.
I wish I had gone with my mother's intuition then and sought treatment. 
By the time she was 4, Grace's anxiety was so bad that I couldn't get out of the car to pump gas without her having a complete freaking out panic attack. If we were in the car and I forgot something in the house, she had to be unbuckled, go back in the house with me, get whatever I forgot, and then get back into the car. She could never be left alone, ever, for any reason. She couldn't handle it.
When I realized that Grace's fears were crippling all of us, I made up my mind to have her evaluated. Since she was only 4, though, the child psychiatrists at our local hospital wouldn't see her. We went to a therapist instead.
The therapy helped some, and Grace was willing to reach out a little more. She tolerated strangers (whereas before she hid behind me). She could sit inside the car while I pumped gas. She would stay at home with her dad while I ran an errand.
Then my mom got sick.
Grace's therapy ended when she sat underneath the chair, butt sticking out toward the therapist, and grunted in response to all the therapist's questions. There was no point in continuing to go when Grace stopped talking.
My mom got sicker and was diagnosed with pancreatic cancer.
And Grace was in the room when she gasped and wheezed and took her last breath just 9 months later.
About six months after that, we went to a grief support group where one of the volunteers reminded Grace of my mom. She had similar mannerisms and looked a bit like my mom did in her younger days. Grace loved her from the first session.
Through the support group, Grace talked about my mom's illness and her death. She talked to me about it for the first time ever, and I held her while she cried for her loss.
Slowly, the fears started showing up again.
Grace couldn't go to bed unless all the doors were locked, checked and double checked. There was always someone lurking outside, waiting to snatch her away from home. She wouldn't leave the bedroom in the morning (to watch tv or play on the iPad) until I woke up. She couldn't go downstairs unless someone went with her.
Like before, her fears began to paralyze our whole family. We had to bend to accommodate Grace, always trying to keep her from freaking out.
When I realized what was happening, we took her to a pediatric psychiatrist who diagnosed her with, among other things, an anxiety disorder on a level requiring medication.
I wasn't sure I wanted to put my 7-year-old on Prozac, but the psychiatrist made a really good case for it.
We tried it.
Within a week, we noticed her personality changing in a subtle way. She spoke to a stranger on an elevator. She ordered her own meal at a restaurant. She ran ahead on a long walk. She didn't shrink away from the doctor when he spoke to her.
And then there were big things. She played in our yard by herself for the first time ever. She invited a friend for a sleepover, content to sleep somewhere besides my bed. She wiggled through a crowd to get herself a good view of the penguin feeding at the aquarium.
Her personality became playful, curious, and friendly instead of afraid and paralyzed. She still has fears, but normal, healthy ones like spiders and creepy shadows instead of everything all the time.
I wish I could say that our faith and prayers healed Grace's anxiety, that I cast out the demon fear and she was forever changed, but I can't. It didn't work that way for us. For us, stepping out in faith and accepting medical intervention was the cure.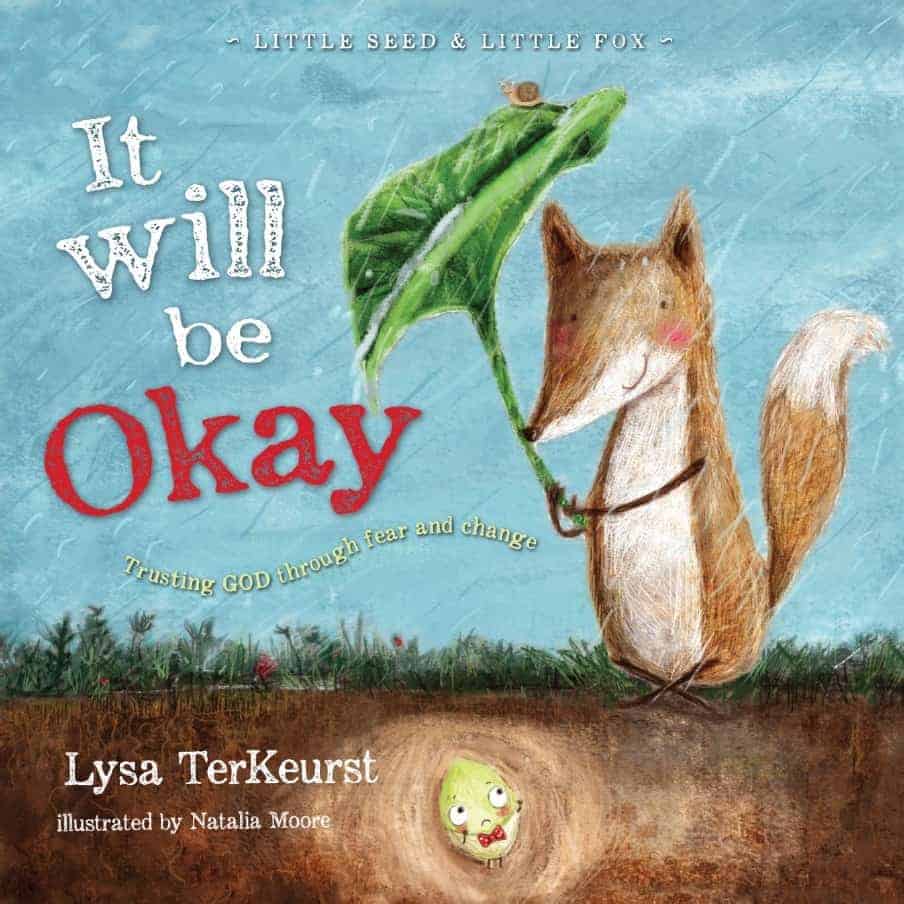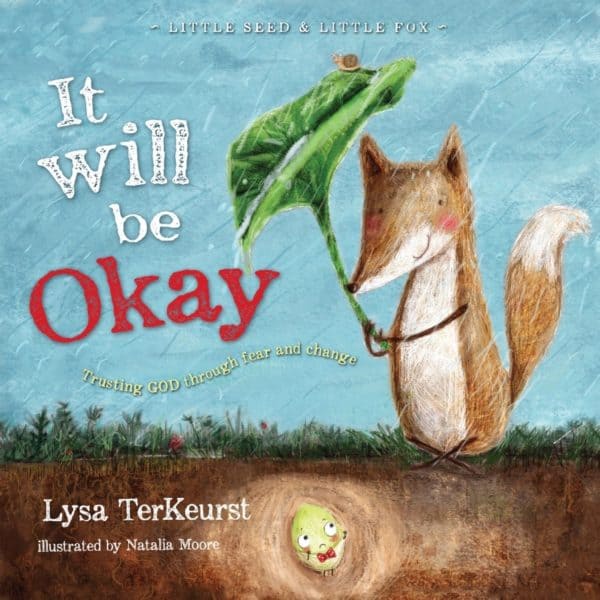 Pin I wish Lysa TerKeurst's book, It Will be Okay: Trusting God Through Fear and Change, had come out years ago, when Grace's anxiety began. It would have been helpful then; it's helpful now. When I brought the book home from Nashville a few weeks ago, Grace promptly read it and wrote her name in the front cover. It's her fear, and it's her book.
And it really will be okay.
Win it!
Tell me in the comments who you'd give a copy to, and you will enter to win your own copy of It Will be Okay.
Entry period ends October 29. By commenting below, you agree to the official rules.