Does this look like a happy baby to you?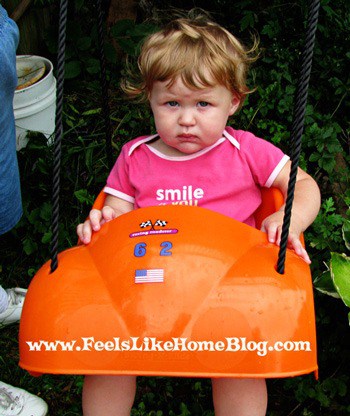 Pin
Of course not. She was sick. She didn't go to day care that day because she had a fever.
Nonetheless, the grandparents who were watching her tried to make her happy by putting her in her swing and taking her around the neighborhood.
Sometimes, I can't even with these people.
What do I do when Grace is home sick?

We nap. We cuddle. We watch tv, play dolls, color, or whatever she wants to do. If all she feels like is lying on the couch and watching television, then that's what we do. It's about her getting better, not about my having fun. That said, I do have a repertoire of things I can do to make her day a little brighter.
How to Cheer Up A Sick Preschooler
Serve special foods. If she's up to eating, offer her special foods like ice cream, frozen yogurt, and Jello. I encourage Grace to drink ginger ale or juice when she's feeling sick. Fluids are fluids, and her body needs the extra calories to fuel its immune system.
Offer fun foods. Cut toast into a fun shape with a cookie cutter. Put a face on it. Put snacks into decorated muffin cups. Try to think of things that will bring a smile to your preschooler's face.
Cuddle. Spend lots of time cuddling. Preschoolers need gentle touch as much now as they did a year or two ago, so give them lots of hugs and kisses and hold them. It will make them feel better, unless they want to be left alone (and then do that instead!).
Have a movie marathon. When Grace is home sick, I let her choose the movies. All princesses all day? No problem. Strawberry Shortcake on repeat? Can do. Whatever she wants, we watch.
Read. I don't know a single preschooler who doesn't love to be read to. Grace would cuddle up on my lap and listen to book after book after book if I'd let her. When she's sick, I do. Like with the movies, I let her pick the books, and I make sure we have a great big stack so that we don't have to get up in the middle of reading.
Play computer games. If she's feeling up to it, I'll let Grace play video games on PBS.org or another educational website. If she wants to, I don't usually put a limit on the games. She needs to rest, after all, and sitting in front of my laptop is as fine a means of rest as any other.
Listen. Above all, listen to your preschooler. If she says she just wants to lie down, let her. If she ways she wants to play or read or do something, follow her lead. Don't force her to play just because she's home for the day; she's home is to get better.
When your young child is home sick, the best thing you can do is follow her lead. Little kids don't fake illness - or not convincingly, anyway - so if she seems sick, she probably is. Let her decide whether she wants to nap, cuddle, watch tv, or color. Give her Tylenol (if she needs it) and a popsicle.