How to make the best simple and easy caramel apple strudel - Because this recipe uses crescent rolls for dough, it comes together in just a few minutes and tastes amazing. The filling is sweet but not too sweet because it uses a Granny Smith apple.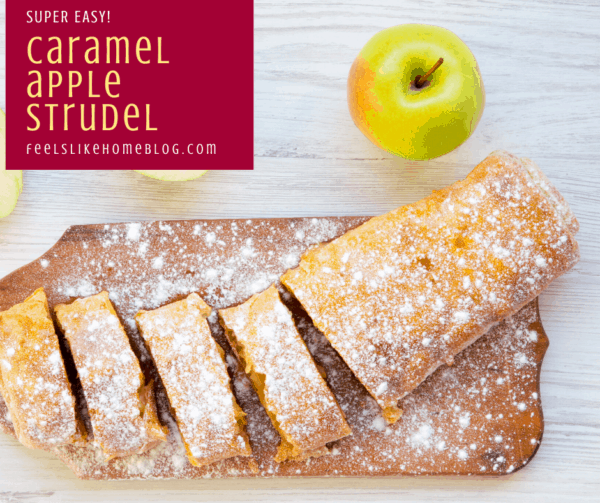 Did you ever have a dessert so good that you licked the plate?
And then asked for a second helping and licked the plate after that was gone?
No?
I haven't, either.
I would never do something so crass.
No way, not me.
But someone I know would, and someone I know did - this evening.
After an especially long "I don't want to go to sleep because I'm an independent toddler with a mind of her own!" jag this evening, I emerged groggy from Grace's bedroom.
Before I reached the end of the hall, I smelled baking apples.
Joe wanted to surprise me by preparing a Caramel Apple Strudel for our dessert. Isn't he sweet?
Our second surprise - the strudel was so good that we ate the whole thing, each slice topped with a scoop of my homemade vanilla ice cream. I know no adjectives worthy of this extraordinary concoction.
Because this recipe uses packaged crescent roll dough, it literally takes a few minutes to prepare. The original recipe came from the Pillsbury website, but we have doctored it up pretty significantly.
If you can't find crescent roll sheets, you can also use regular crescent rolls, but you may want to roll it with a rolling pin to ensure that the perforations stay closed after you roll it up.
How to make insanely easy caramel apple strudel
Heat oven to375º. Spray a large sheet pan with cooking spray.
In a 10-inch skillet, cook apple, caramel topping, and ½ teaspoon of cinnamon over medium-low heat, stirring occasionally until apple is tender.
Unroll dough onto the sheet pan. If you are using perforated crescent rolls, roll them with a rolling pin to ensure that all the perforations are sealed shut.

Spoon apple mixture lengthwise down center of dough; spread to within ½ inch of edges. Sprinkle with pecans. Starting with short side, roll up; firmly pinch edges to seal.

In a small bowl, mix sugar and ½ teaspoon of cinnamon. Brush dough with egg and sprinkle with cinnamon sugar mixture. Make 3 slits 2 inches apart on top of the dough.
Bake 15 to 20 minutes until deep golden brown.
While you're here, check out these other amazing apple recipes:
Recipe