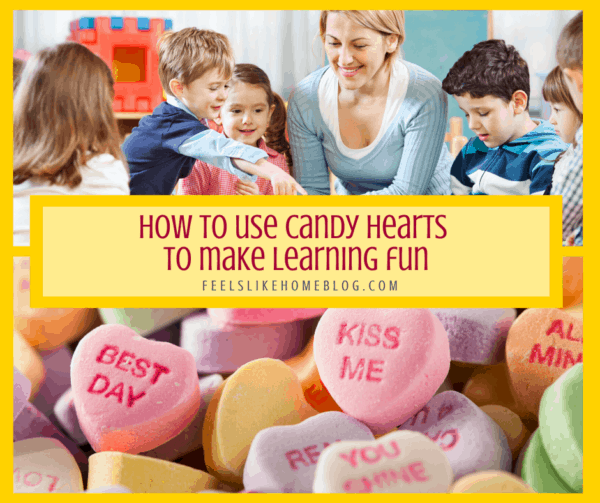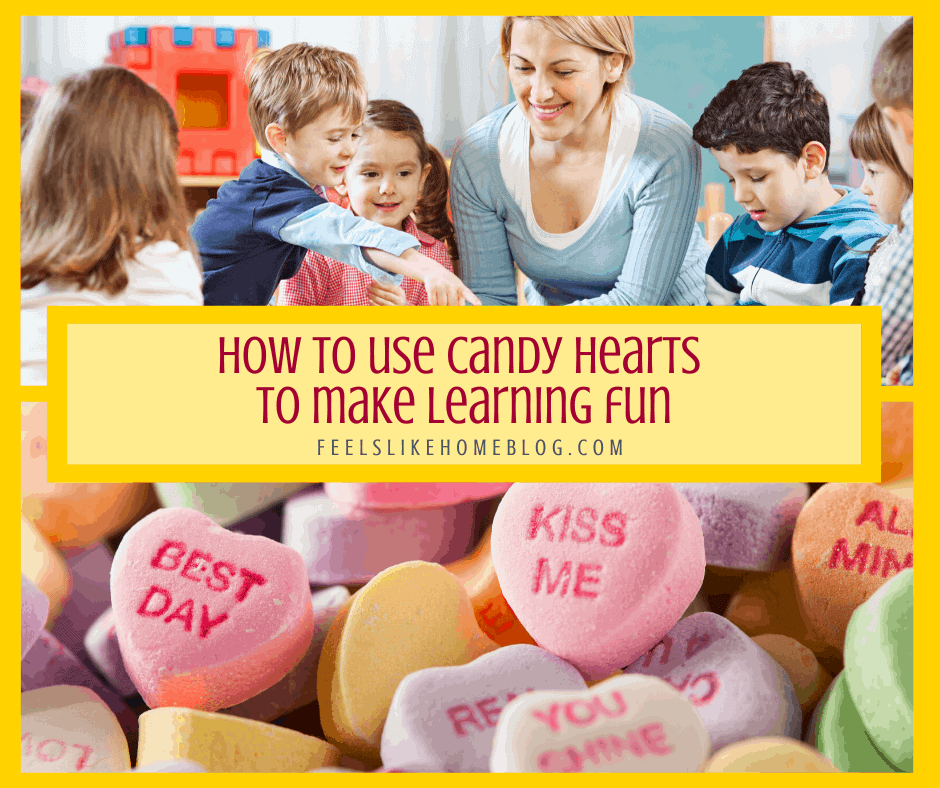 I hesitate to buy any candy at all these days, but this homeschooling momma's brain ran away with the educational possibilities that a bag or two of candy hearts would provide.
Grace and I went looking for some on our last trip to the grocery store.
I was excited to find larger than normal candy hearts and special flavors candy hearts.
We have had candy heart homeschool all week, and Grace is delighted. Here are some of the things we've done:
Candy Heart Sorting
One of Grace's math lessons this week was sorting, so the first thing we did was get out a handful of hearts from each bag and sort them.
I asked Grace how we should sort them into groups.
First, she sorted by color. (All by herself, with no prompting or hints!)
Next, she sorted by size.
We've also had lessons on thick and thin, so we made groups of those, too.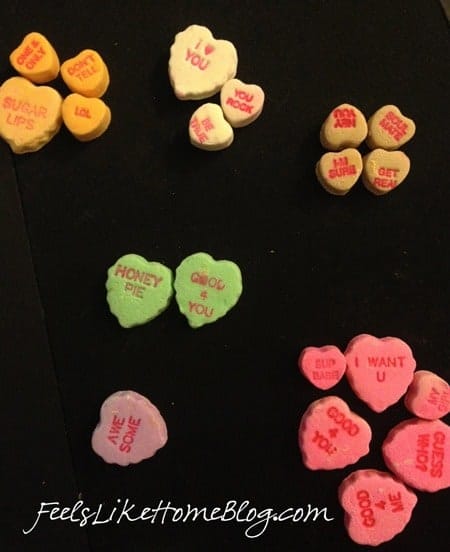 Letter Identification with Candy Hearts
We spread a bunch of candy hearts out on the table, and I asked Grace to find one with a W. It was hard because the letters are small, and I picked letters that I knew she would have trouble identifying.
Then she found all the hearts that had Ms on them, and we compared the Ws and the Ms.
Writing with Candy Hearts
Tomorrow, we are going to make letters out of hearts, like this lowercase g: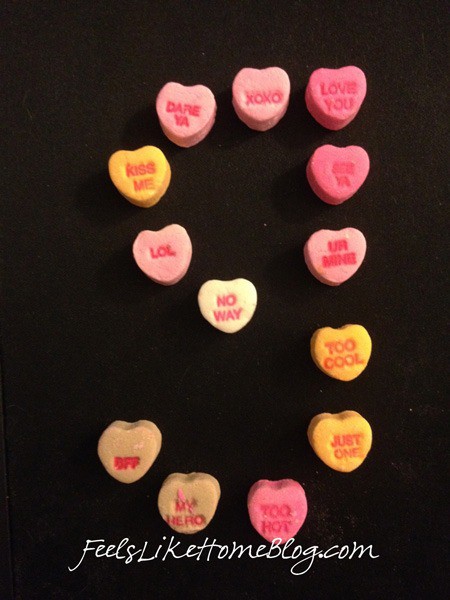 Candy Hearts Rhymes
It would be really fun to read the words (except the risqué ones! Some of these were cheap and tawdry candy hearts.) and come up with rhyming words. We might do that tomorrow.
We used the hearts with worksheets that I had gotten from 1+1+1=1. Grace put the hearts on top of the words that rhymed with pig.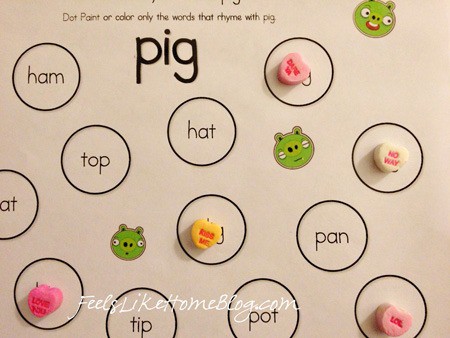 Candy Hearts Sight Words
Grace is a reluctant reader. She can read. She can read well, actually.
She refuses to read. She pretends that she can't do it.
I got her to read today. She knew sight words, and she sounded out words that I never dreamed she could sound out, even attempting flower and beautiful.
When I told her the words she didn't know, she got mad. Mom! I can do it MYSELF!
"Um, sorry?" I said, really wanting to say, "Aren't you the kid who pretends she can't read?" But I kept my mouth shut.
Anyway, I had her put a candy heart on each word she knew or could sound out, and I gave her a bonus candy heart for each sentence she could read in its entirety. She read 2 of the 4 without any help at all.
And then she ate all the candy hearts and got a tummy ache. I should make that a separate point, Candy Hearts Activities - Learning Self Control.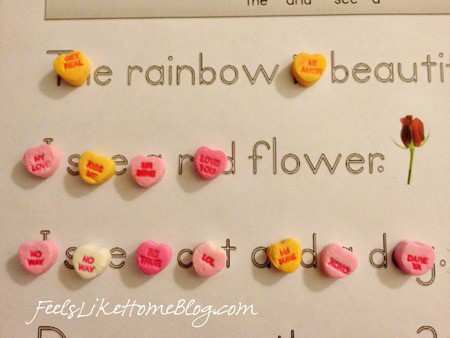 Reading with Candy Hearts
I printed out a short story about Peter Pan from 1+1+1=1. Like above, I let Grace put a heart on each word she could decipher. In this case, I think she was using context clues sometimes (rather than reading), but I'm not complaining!
In either case, Grace read most of the story without any help from me.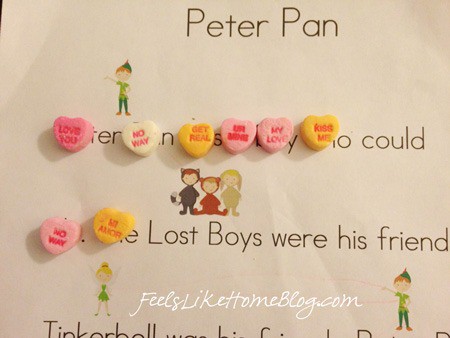 Candy Hearts Addition
We made candy hearts sentences, like 2 plus 1 equals 3 and 1 plus 1 equals 2. I also made it interesting and fun by saying things like, "If I you take 2 of my candy hearts and put them in your pile, how many will you have?" She liked that a lot.
After doing this, Grace said, This math stuff is easy, Mom.
YES!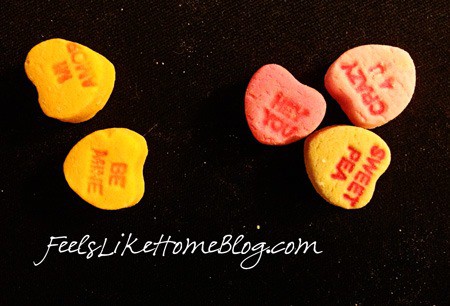 Candy Heart Subtraction
Just like above, I said things like, "If you have 5 hearts and eat 1, how many do you have left?"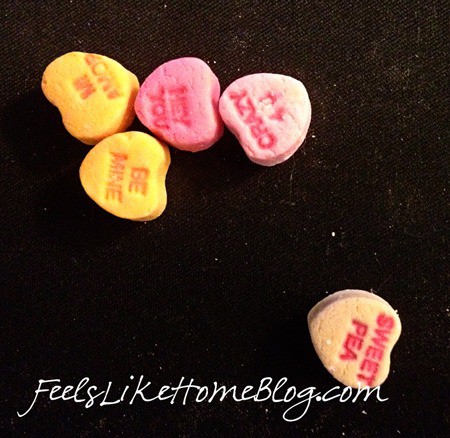 Candy Heart Patterns
Self explanatory, right? I made patterns, and Grace added to them in the same pattern. Then she made patterns and I had to finish them.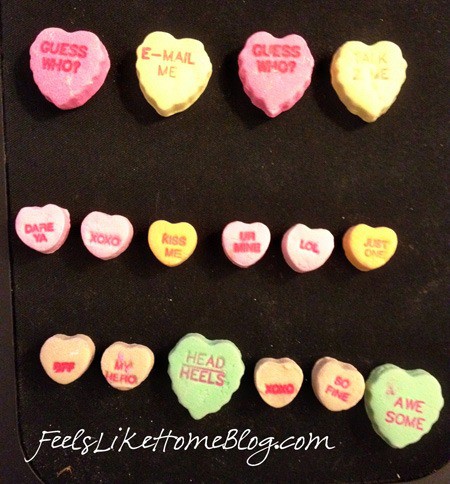 This was seriously so much fun! I'm going to scoop up a bunch more candy hearts on Valentine's Day or the day after, just so we have some on hand for later in the year.
More Candy Hearts Activities
How else can you use candy hearts to teach and learn?