6 ideas for toddler activities - These easy tips will help any mom or dad of young kids to keep them busy and entertained in the summer or winter at home or outside. Simple and fun ideas.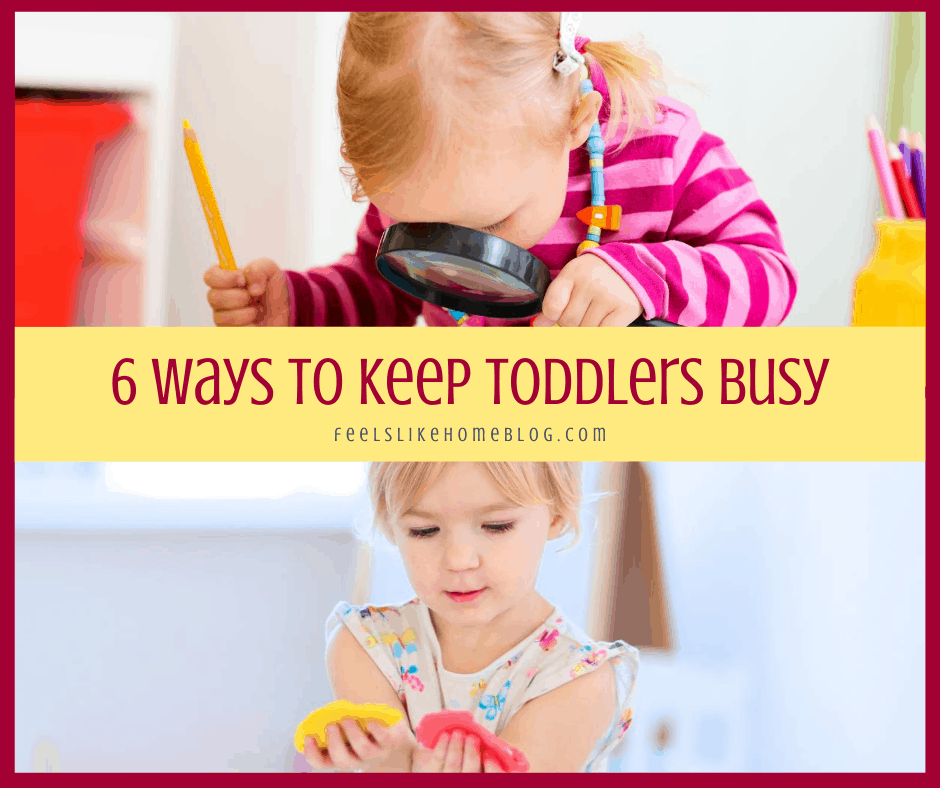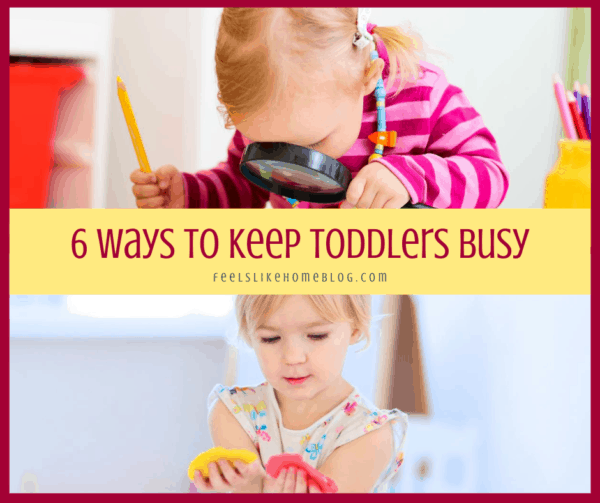 What happens when toddlers get bored?
I can't speak for anyone else's toddlers, but mine gets in trouble when she's bored. She doesn't lie down on the couch and moan, "I'm bo-o-o-o-red, Mom!" She climbs the bookshelves, tries to walk on top of her kitchen, colors on the walls, dissects household objects, destroys books and magazines, and -
What's that? You get the idea? Okay, good.
I don't entirely blame her for these misbehaviors. Certainly, she should learn right and wrong and avoid the wrong stuff, but she's two. I don't expect her, at two, to be self directed enough to stay out of trouble.
It's my job to keep her safe and busy. If I can provide a variety of stimulating, challenging activities, she won't get bored.
So... how do I attempt to do that?
6 Ideas for Toddler Activities at Home
The buddy system
First of all, we are almost always together, in the same room. I don't leave her in one room while I'm off somewhere else.
Play
I play with Grace. We play together, all the time. We play inside and outside. We play with toys, and we play with stuff outside. Playing is learning, right?
Let her share daily activities
When I need to work around the house, Grace comes along. I make sure she can do what I'm doing or at least think she's doing it.
Pitting cherries? She gets a bowl of cherries (already pitted) to play with and pretend to pit.
Making bread, pasta, or some other baked goods? She gets a little bowl of flour and water to mix.
Unloading or reloading the dishwasher? Grace gets a bunch of dishes and a cloth to wipe and stack.
Cleaning? I use non-toxic cleaners that are mostly homemade and stored in spray bottles, so Grace gets her own spray bottle with water in it.
Get the idea? If I'm doing something that Grace can help with, she helps. If she can't help, then I set her up with a similar activity.
Plan lots of creative time
Grace never tires of coloring, drawing, painting, cutting, and gluing. I plan time for these activities several times a day. No Time for Flashcards is a great place to find these activities.
Toys in every room
I am one of those parents. You know, the ones whose children envelope their entire lives? I thought those parents were disgusting before I became one of them, and now, I can't imagine things being any different.
Grace has toys in every single room of our house. No matter where we are, she can find some of her stuff to play with. She's two. She has a short attention span. She does really well moving from one activity to the next, especially when there's lots to do.
Field trips
When Grace says, "Let's go go!" I know it's time to get in the car and get a change of scenery.
Grace loves to shop, even if we don't buy anything significant. The grocery store is shopping, as far as she is concerned. We do a lot of shopping in the summer.
Go for a walk. We walk in the city. We walk in the state park, the county park, the neighborhood, and at the mall.
Go play. See above. Playing usually involves walking, and vice versa.
Go swimming. We're very fortunate to have a few friends with pools and a few more public pools that are close by.
Get a membership to a museum. When you're a member, you can go for free whenever they're open. One of our favorite museums has a 5 and under floor that is chock full of stuff for little guys like Grace. She loves it.
Grab a bite. We like to go out to eat with my mom, and Grace and I usually share a meal to save a few bucks.
How do you keep your toddlers busy in the summer?