Blogging leaves my heart open. It leaves my soft belly exposed, my wounds on display.
I have developed relationships, close loving friendships, with the women in my blogging circles. It is not an exaggeration to say that we love one another.
My blog friends are comfortable and familiar and beautiful and thoughtful and dear.
Though we meet in person infrequently, they are no less my friends than the people in my town.
For me, relationships are what blogging conferences are all about, old friends and new friends and friends I haven't yet met.
Sure there is learning, and there are sponsors and swag. (I won a microwave last week at Blogalicious.) My kids and husband like the things I bring home.
But the thing that pulls me away from my kids, the thing that makes me travel and primp and put on my nicest (and least comfortable) bra are the kindred spirits I meet while I'm there.
Relevant is no different. Relevant is about my relationship with God as well as my relationship with my blog friends.
My heart smiles to see Cheryl, Rachel, Maureen, Tammie, Kristi, and so many others.
That's what it's all about.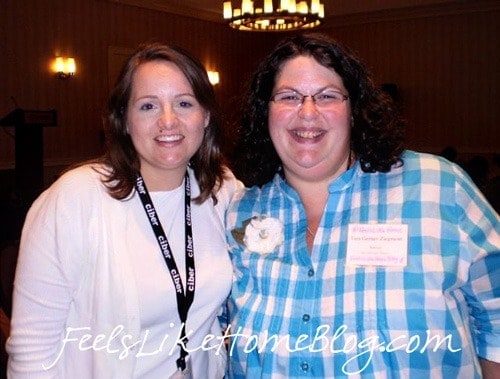 Pin
This is Cheryl and I at last year's Relevant conference.