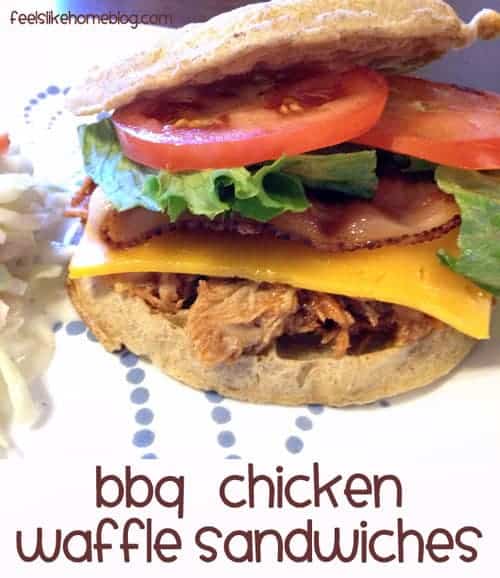 It's a Week of Waffles at Feels Like Home! Being that I'm a Chief Waffle Officer, I'll be posting waffle recipes featuring Eggo Waffles all week - from April 1 to April 7. I'll share some breakfast, lunch, dinner, snack, and dessert recipes, so make sure you come back each day for my most recent creation! (In the interest of disclosure - Eggo Waffles are not gluten-free. In most cases, my family enjoyed my waffle treat while I ate a gluten-free version of the recipe.)
I knew I wanted to try some variation of chicken and waffles during our Week of Waffles, but I didn't want to go a fried chicken route.
If we're going to add a meal into our rotation, I want it to be healthier than chicken fried in oil.
These BBQ chicken waffle sandwiches made for a super simple and quick dinner on Saturday evening.
We'd been grocery shopping and Easter egg dyeing and cleaning up for company almost all day.
By the time we realized, it was almost bedtime. Because we had leftover shredded BBQ chicken in the refrigerator, we were able to put these sandwiches together in less than ten minutes.
If you had to prepare the chicken at the time, it would take closer to 50 minutes. These sandwiches were way better than the ones we had when the chicken was fresh!
In keeping with our quick dinner, I tossed some coleslaw with my dressing (courtesy of my friend Tina's recipe), and we were ready to eat.
Great Eggo Waffle Off
Are you inspired to create your own waffle recipe? Go to Eggo's Facebook page to enter your recipe in the Great Eggo Waffle Off. You might win $5,000! While you're on the Eggo Facebook page, make sure you check out the fun recipe ideas - things like Waffle Turtles, a Waffle Bee, and a Waffle Lion.
Need Suggestions
Do you have an event coming up - snack day at preschool, a birthday party, or a picnic? I'd love to help with your menu! Submit a suggestion in the comments, and I'll choose one for a recipe later in the week.
This post is part of a project called a Week of Waffles from Eggo, sponsored by Kellogg.I have been compensated for creating and sharing recipes using Eggo Waffles.