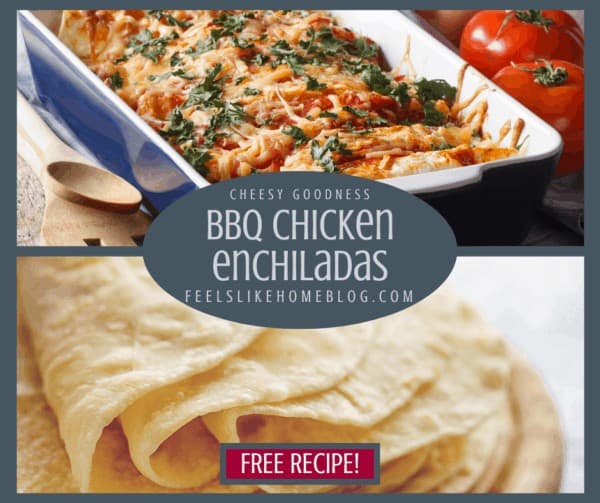 These BBQ chicken enchiladas are my family's favorite because they're loaded with chicken smothered in sweet BBQ sauce and spicy enchilada sauce and topped with generous amounts of cheese.
While I was writing a blog post recently, Joe asked me what we should have for dinner. It was late in the day, and we needed something quick and easy.
I suggested BBQ chicken enchiladas, knowing that we had everything required. Joe thought they sounded good, too, so he got to work.
And then he realized that we didn't have any enchilada sauce, only taco sauce.
Rats. The recipe was already started.
Instead of bagging the whole thing (my mouth was watering for BBQ chicken), I found a recipe for enchilada sauce on AllRecipes.com. Fortunately, we had everything we needed for that recipe, so Joe's enchilada preparation continued.
When those enchiladas came out of the oven, they were gorgeous.
Then we tasted them.
These were the most delicious enchiladas I have ever eaten, and I like enchiladas.
At first, I wasn't not sure if I was absolutely starving or if they were that amazing. I ate the one (one!) that was leftover for lunch on Sunday, and they really were that amazing.
Oh my goodness delicious. The sweet BBQ sauce combines with the slight spice of the enchilada sauce for a whiz bang explosion in your mouth. These enchiladas are the real deal.
What about the enchilada sauce?
This recipe includes homemade enchilada sauce. You can, of course, use a can of pre-made enchilada sauce, but it will not be as flavorful or delicious as the homemade. I promise.
The homemade enchilada sauce takes about ten minutes to prepare, and it will make your enchiladas so very delicious.
We like the homemade sauce so much that we never buy the canned stuff anymore. Only homemade will do around here.