Bariatric gastric sleeve surgery results - This is an update 5 months after gastric sleeve surgery including before and after pictures (or is it before and during?). She is losing weight quickly and eating a healthy diet that she can maintain for life!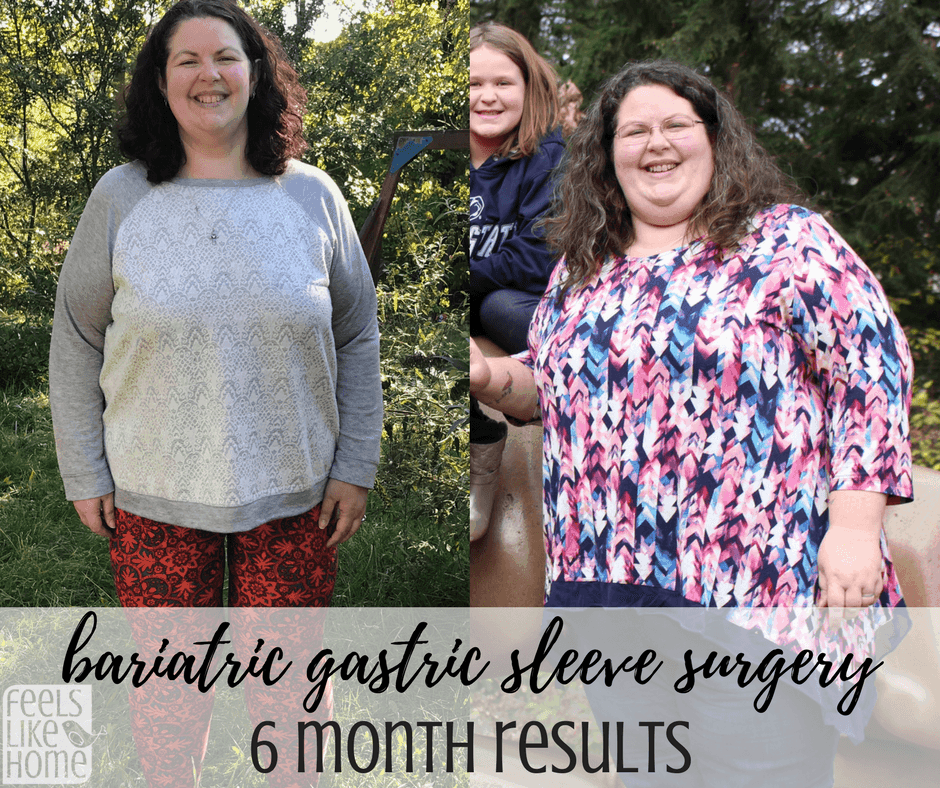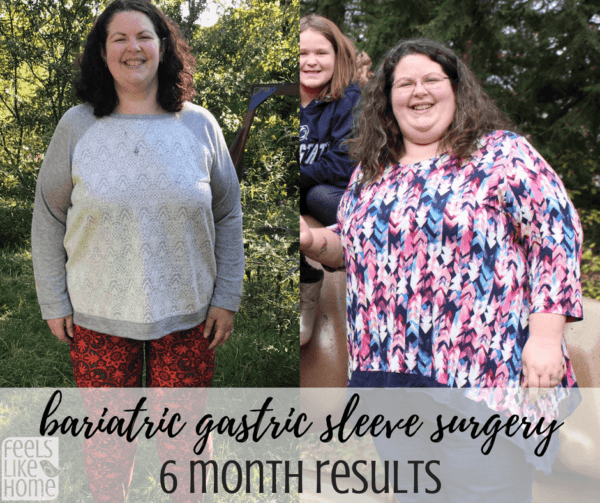 Pin
I think that having bariatric gastric sleeve surgery was the best thing I've ever done in my whole life. I mean, it's the best thing I ever did just for myself. Of course, getting married and having babies were really good things in my life, and they changed my whole life and made it better (I think), but this surgery has been revolutionary in a 100% positive way.
As of last Friday (exactly 6 months to the day after surgery), I am down 131 pounds and 20 points on my BMI. I have lost 13 inches at my chest (should I be sad about this? My boobs are pretty deflated at this point.), 14 inches at my waist, and 12 inches at my hips.
A friend said on Facebook last week, "You have lost my entire 21-year-old body!" and that was astounding to me. To me, that's not a person. To me, that's a small fraction of a person. But to her, 131 pounds was an incredible amount.
I smile all the time. I am so happy with my results so far.
There are a couple of pains (literally) about having lost so much weight. The first is that my tailbone hurts when I sit down. Like, all the time. I spend the vast majority of my time sitting - working in my home office or at the kitchen table blogging. The chairs are regular old chairs, but my butt actually hurts after I've been sitting for a half hour or so. Getting up and walking around doesn't help. It still hurts. I invested in the Royal Purple Seat Cushion to try to get some relief. It seems to be making sitting easier, but it just came today, so I haven't made up my mind about it yet.
The excess skin all over my body just hangs in wrinkles. My arms and legs haven't shrunk much yet because there is so much skin just hanging around them. This makes it hard to wear smaller clothes that fit well because my arms and legs are still so big around.
But really? Those two things pale in comparison to the great gains I've made.
I am wearing a size 18/20 most of the time now, although some of my shirts are still 22/24. Down from a 30/32 in the picture above.
I am walking about 1.5 miles per day which takes about 35 minutes.
Down 131 pounds. Can I just say that again? 131 pounds!
I'm still losing weight pretty fast which I didn't expect. I thought it would have slowed down quite a bit by now, but I'm thrilled that it hasn't. I lost about 21 pounds this last month, so it clearly hasn't slowed down! I'm hoping to lose a total of 200-220, so I will take as much quick loss as possible.
I am still eating a no carb diet (except for vegetables and very limited fruits - more on fruits below), and I still plan to do that forever. I have had more moments of longing (lust?) over desserts, like at our monthly 4H meeting last night where everyone brought a dessert, and there was pumpkin cake with cream cheese frosting (my favorite!), brownies, Tasty Cakes, and chocolate chip cookies. I wanted to indulge in the worst way, but I didn't, and I'm glad I didn't.
I had a slice of a very ripe pear this week with my breakfast. I have been eating essentially the same breakfast for months now (one "fried" egg cooked with a small pat of butter in the microwave and an 80-calorie co-jack cheese stick), and I love it. When we were at the Great Wolf Lodge, I craved my normal breakfast.
Anyway, I added ¼ of a ripe pear to my normal breakfast this week. It was sweet and delicious, and good for me or so I thought. Within an hour, however, I was starving. I mean absolutely ravenous. Drinking a glass of water didn't help. I made myself wait until my normal shake time to eat again, but I realized that there must have been a lot of sugar in that pear because it really wreaked havoc on my hunger. I'm not sure if I'll eat a slice of pear again, or if I do, definitely not one that is bordering on overripe.
I don't eat much fruit at all these days because fruit has sugar, and I am avoiding sugar. Even though it's natural sugar, it still does weird things to me. I don't drink regular cow's milk for the same reason, too much natural sugar.
I have found a great way to avoid overeating. I weigh out every meal on my food scale. (I had to buy a new one because the tare function stopped working on the old one.) I eat about 3 ounces of protein, and then I add another 2-3 ounces of veggies for a total of 5-6 ounces of food. I always start with the protein - a big rule for bariatric patients - and eat all that plus whatever veggies I want until I start to feel full. I am feeling overfull much less since I started doing this.
I also bought a travel food scale which has proven to be very helpful when we're eating out which is something we do with some regularity. It is tiny, and it has a cover to protect the scale in my purse. I ask for a small saucer or plate (which is what I eat on at home anyway), and then I weigh out my portion and eat from the small plate. It is working very well.
I'm still overspending (trading food for a different vice), although I do have a better handle on that than I did last month. I did buy myself a new Fitbit Blaze smart watch  which Joe says I did not need, but now that I have it, I'm keeping it. It's a much fancier Fitbit than my old Alta in that it has a heart rate monitor and some other bells and whistles, but Joe is right that I really didn't need it and we are supposed to be saving money for our cruise.
Clothes are a big weakness of mine where spending is concerned. Before my surgery, I could pretty much only shop at Woman Within or occasionally at The Avenue's website. All of my clothes came from the internet because no stores carried my size. Now, I can shop in any plus size store or department - Walmart, Target, Kohl's, you name it. It all fits. This can be a problem because, as I mentioned, I love clothes. I have a great wardrobe at my current size, and I've been investing in some Lularoe pieces that are stretchy and will allow me to shrink quite a bit before they are too big.
We went to The Great Wolf Lodge a couple of weeks ago (and had a great time!), but all of my bathing suits from 20 years ago were saggy and too big. Surprise, surprise, right? Every single one of them hung off my butt like an old pair of panty hose. It made me feel very self-conscious, but I wasn't about to buy a new suit at their on-site store for $100 or more. So I made do. I have already ordered 3 new suits on clearance a size down from what I'm wearing now so that I have some to wear on our cruise in December.
Well, Joe is harassing me to get moving because I have to take my computer to the Apple Store as Allie spilled milk on the keyboard earlier this week. I will sadly be without a computer for a week or so, but I have already scheduled some posts and you will not be without my witty-ness. ha.
Thanks for reading!
Looking for other updates? See the whole series here.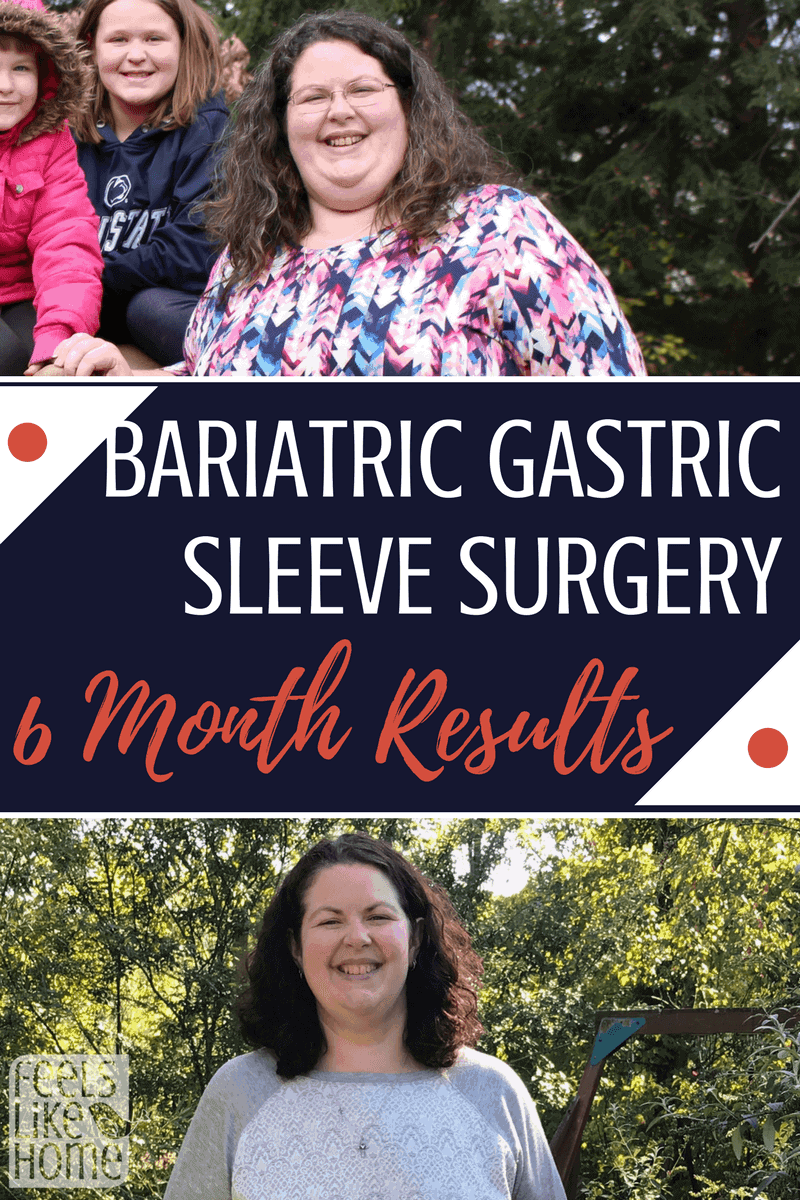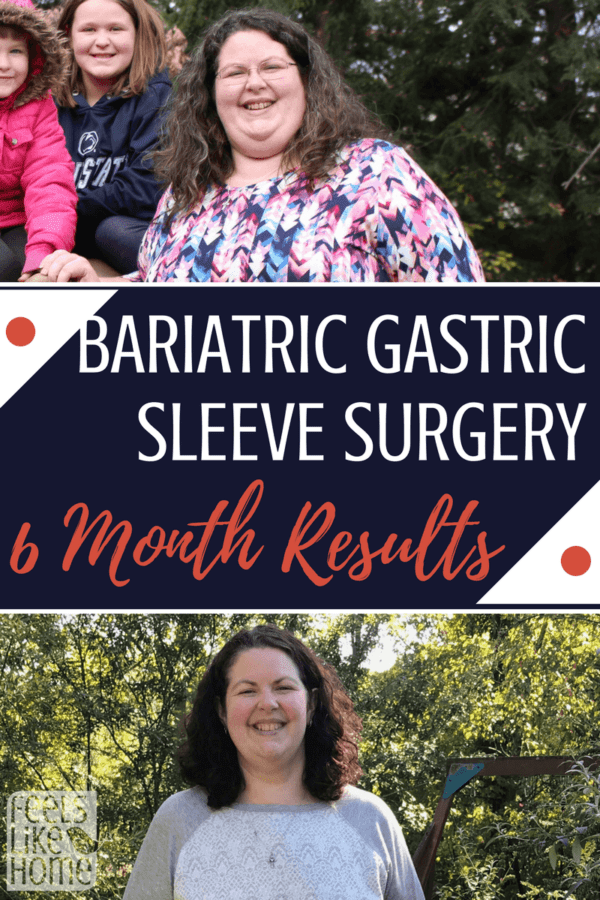 Pin