How to make the best spicy baked brie recipe with peach jam - This super simple and easy recipe is the perfect sweet and savory appetizer for Thanksgiving, Christmas, or any occasion! Includes almonds or pecans as a topping.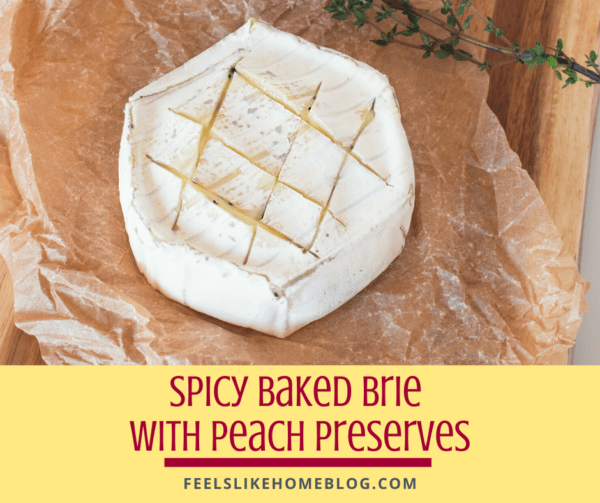 When I was in high school, I taught French to fifth graders two years in a row. There was a program at my high school that sent upper-level language students to do some after-school enrichment at the elementary school. We were responsible for lesson planning, activities, and materials. It was a neat experience.
I thought it would be fun to share some French food with the kids, so I bought a round of brie, cut it into wedges, and served it. It was terrible; we all thought so.
Most of the children spit it out into the trashcan.
I choked mine down, but it tasted like nail polish remover. I never ate brie again.
And then, I found this recipe in one of my cookbooks from The Pampered Chef, and I was intrigued enough to give it a shot.
The first time, I made it for a family get-together. At least if it was lousy, I could convince my family to eat it and wouldn't have to feel guilty about throwing food away.
The result was so delicious that it was gone before dinner even started. It's been often requested every family meal since, and I imagine that I'll be making it for Christmas dinner this year.
Or maybe for Christmas Eve.
Or maybe for both.
Don't plan on having leftovers.
Working with jalapeño peppers
All hot peppers contain capsaicin oil; it's what makes them hot. This oil burns your tongue, and it will seriously burn your eyes, nose, and other soft, tender parts if it comes in contact with them.
When I was in college, I once cut up a jalapeño pepper without wearing gloves or washing my hands. It was hot outside, and there was no A/C in my dorm, so I wiped the sweat off my face around my mouth and nose. Within a few minutes, my face was burning with the fire of a thousand suns. It was awful.
The only thing I could think to do to relieve the burning was to spray my face with sunburn relief spray, so I did.
There is a reason that stuff says DO NOT INGEST. I don't know why I didn't foresee this, but the spray went up my nose and in my eyes and made my entire face and throat numb.
I had an anxiety attack and called poison control, and they told me to relax and that I probably wouldn't have to go to the ER or die. They said to wait to see if the numbness went away, which it eventually did, and I learned my lesson about hot peppers.
So learn from my nonsense and either wear disposable gloves when handling the hot pepper or wash your hands very thoroughly right after handing it with an oil-dissolving soap like dish soap (hand soap will likely not be good enough).
And, for the love of all that is holy, don't touch your face, neck, or ears, and especially don't wipe your butt until after you have washed the capsaicin away.
How to make spicy baked brie with peach preserves
Preheat oven to 425º.
Cut the jalapeño pepper in half. Remove the stem, seeds, and the white membrane from the inside of the pepper. This will remove most of the heat without losing the flavor of the pepper. Finely chop the remaining pepper flesh.
Combine preserves and chopped jalapeño pepper.
Slice the brie in half horizontally, and place the bottom half in a small baking dish. Spread half of the preserve mixture over the bottom half, then sprinkle with nuts.
Place top half of brie on top of the nuts. Spread remaining preserve mixture over the bottom half, then sprinkle with remaining nuts.
Bake 10 minutes or until brie is beginning to soften.
Serve warm, with wafer-style crackers.
A note about brie
Brie cheese comes with a white rind on the outside. It almost looks like white mold, but it isn't. It is supposed to be there. Don't overanalyze it. Just unwrap it, cut it in half, and fill with your yummy sweet and spicy jam mixture.
Check out these other awesome appetizers while you're here: