Lunch packing tips & ideas for kids or adults - Whether it's back to school time or not, most of us pack lunches every day. Make lunches fun and simple with these good ideas for work, school, picnic, or road trip meals!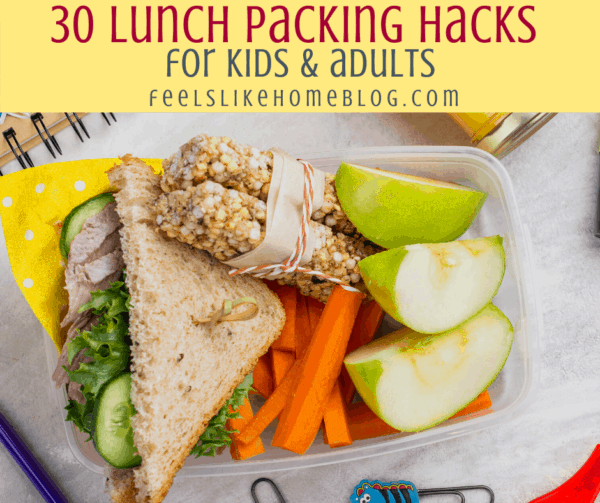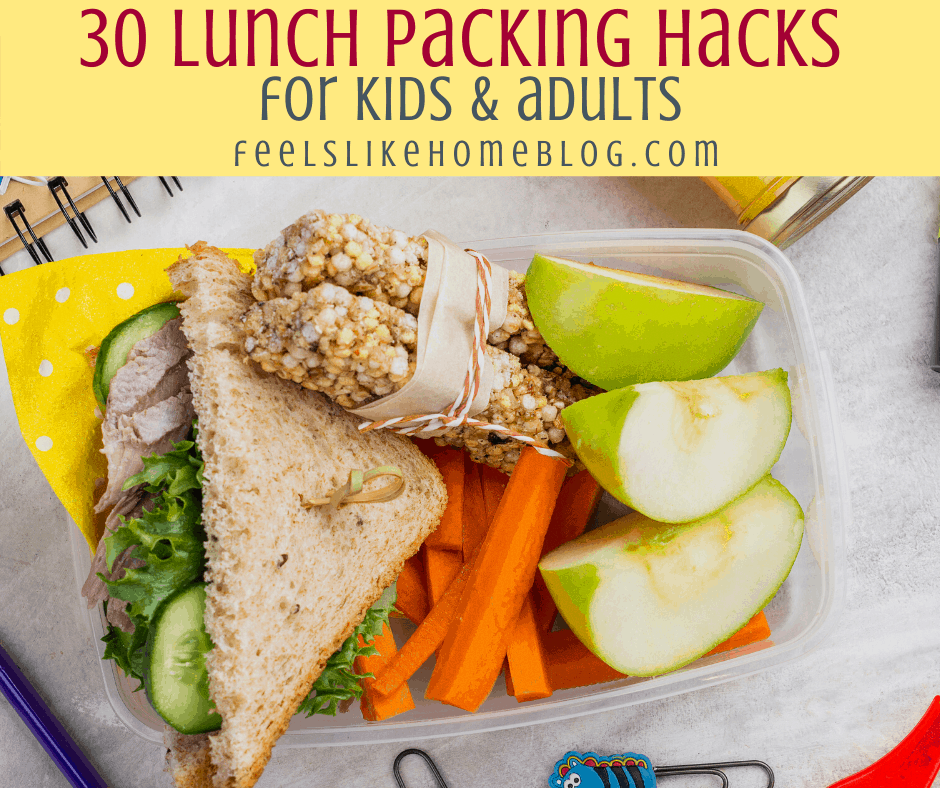 It's Back to School time already.
Personal feelings aside, we have to get ready for the school year ahead. A big part of the school year in our house is packing lunches.
I don't know if you know this, but I taught astronomy at a large public high school for ten years, so I've had my share of lunch packing adventures.
As a kid, I ate the same thing day in and day out. My mom was definitely not creative in the lunch department, but then what mom was in the 80s and 90s? None that I remember. I ate a ham and cheese sandwich with Miracle Whip every day, and she always packed me some cookies and a package of fruit snacks. I look back now and wonder what, if anything, my dear mother knew about proper nutrition. I wouldn't dream of packing a lunch like that for my own kids or for myself for that matter.
As an adult, I almost always packed myself leftovers from the night before's dinner. We always make big meals so that there are leftovers, and I package them up to take for lunch the next day. I always had access to a microwave and a refrigerator at school, so heating leftovers was no big deal.
Joe has not always been so lucky. Since he works at construction sites, he generally does not have access to a refrigerator or a microwave. We did find the Barocook for him, and it is a wonderful invention. It is a plastic and metal container, and you half fill it with plain old water, and then you plop in one of their heating packs. The heating pack has a chemical reaction with the water and boils it for 15-20 minutes. It is phenomenal for working outside in cold weather because it allows Joe to put leftovers in the tray and steam them until they're hot. The only downside to the Barocook is that the heating packs around roughly $1 a piece, so he doesn't use them every day. But it is an option for him, and he does use it at least once a week during the fall, winter, and spring.
Some of the tips below apply more to kids' lunches than adult lunches, both most are good for both.
Plan ahead to make mornings less hectic.
There are a lot of things you can do on the weekend (and some you can start doing now) to make school day mornings a little less hectic.
Prep on the weekend: When you're rushing around to get out the door in the morning, you don't have time to pack five different foods into individual-sized baggies or containers. The process is so much easier if you do it on the weekend.

Get your bulk containers out on Sunday night. Pack individual servings into bags: 5 bags of veggie sticks, 5 bags of crackers or pretzels, 5 containers of cheese (skip these if you're using pre-packaged cheese wedges or sticks or containers of yogurt). You'll be all set for the week ahead.
Notice I did not say to prepackage fruit or meats. Save those for the day of or the night before, at the earliest. In my experience, those things don't always keep all week when they've been cut and prepared too far in advance.

Organize the night before:

Have backpacks packed and sitting next to the door
Prepare as much of the lunches ahead as you can (obviously, the cold parts will wait until the morning, but anything that doesn't need to be refrigerated can be in the bag, as can all of the containers you will need)
Have breakfast ready to eat. Don't try to cook an elaborate breakfast from scratch unless you enjoy getting up an hour or two before your kids.

French toast sticks, waffles, and pancakes can all be made ahead and frozen. Microwave or pop in the toaster oven in the morning for hot, homemade breakfast.
Make peanut butter sandwiches ahead of time:

Spread a thin layer of peanut butter on two slices of whole grain bread or a whole grain mini bagel (this will prevent the jelly from making the bread soggy)
Spread jelly on top of the peanut butter on one side of the sandwich and cover the other side with thin slices of peach, pear, or apple.
Assemble the sandwich, place it in a resealable bag or little sandwich-shaped plastic container and freeze until you're ready to use.
In the morning, take the frozen sandwich out of the freezer and put it into the lunch bag. It will be thawed by lunch time.

Get individually packed yogurt sticks and keep them in the freezer. Like the sandwiches, these will thaw by lunch time (but will stay cold enough to be safe).
Freeze grapes to keep them cold. If you freeze them in resealable bags or small containers, it will be simple to pop them into the lunch bag in the morning.
The night before, fill a stainless steel or BPA-free thermos ⅓ full with your desired beverage. Freeze it over night. In the morning, fill the thermos to the top and pack it in the lunch bag. The frozen drink will thaw by lunch time, but will still be icy cold for your child to drink.
Preheat the thermos to keep foods hot until lunch. If you've never done that before, carefully pour boiling water into the thermos, put the lid on and leave it for 5-10 minutes. Put hot food into the thermos, cap it tightly, and it will still be nice and warm at lunch time. Likewise, if you have a very cold food, you can put the thermos in the freezer with the lid off for 10 minutes, and the food will still be reasonably cold at lunch time.
Get your kids involved.
Let them choose what they'll eat. I give my kids options as often as I can. They are extremely picky, and giving them options means they have ownership in the process. If that means pink princess Goldfish Crackers instead of regular ones, fine. If it means carrots instead of green peppers, great. The bottom line is that letting them choose means they will actually eat the foods I've provided, and that's my goal.
Put them to work. Meals that kids have prepared will be more likely to be eaten by said kids. Put them to work stuffing baggies, cutting ham into hearts, and chopping bananas (give them a kid knife if they're not old enough to handle a sharp one).
Create a lunch bin in your refrigerator. Storing all the lunch items together just makes sense. Corral all the pre-packaged foods in a bin in the fridge. Include the mayo and mustard if your kids like those on their sandwiches. Or the jelly. Or whatever. Creating a lunch bin allows your kids to pack their own lunches, and that's a big win for everyone!
Create a lunch bin in your pantry. Likewise, store all the non-perishables in a bin in the pantry. We keep peanut butter, fruity snacks, granola bars, fruit cups, pudding cups, applesauce pouches, and the like in ours. You could also pre-make little baggies or containers of Goldfish Crackers, pretzels, and cookies. Or chips. Grace says not to forget the chips.
Also, don't forget the drinks. We usually pack reusable water bottles, but will do juice pouches or drinks for a special treat. Those hang out in our lunches box in the pantry.
Set up a lunch packing station on your kitchen counter. So I'm not the neatest person, but I do like having this stuff sitting out on the counter. Maybe if you had all your junk put away, you'd put these in a bin and hide it in a cupboard. Do what works for you.
The key is to have all of your containers, lids, baggies, love notes, silverware, water bottles, and other paraphernalia in one spot so that lunch packing is quicker and easier for everyone.
Get creative.
Check out this post for 50+ creative school lunch ideas.
Get yourself a set of mini cookie cutters and use them to cut food for your kids' lunches. There is something about star-shaped ham that makes it more inviting than big slices. Another big hit at my house has been large, sandwich-sized cutters that make sandwiches into shapes like puzzle pieces or dinosaurs. Here's another set that has both large and mini cutters in different shapes than those above.
Make the lunch special.
How can you make lunch special if you're not there?
Give your child something that she loves. Put a piece of you in the lunch bag.
No, I don't mean a lock of your hair. That's weird.
Try these:
Make a valentine for your child and tuck it into her lunch box.
Cut a comic that your child will enjoy out of the newspaper and tuck it into the lunch box.
Put a sticker or two in with the lunch.
Write a note or draw a picture for your child and fold it up with the napkin in the lunch.
Get a puzzle book that is appropriate for your kids, and add a puzzle in with the lunch once in a while.
A Hershey kiss with a note about a kiss from mom would make a big impact.
A knock-knock joke, written out by mom or dad, would give your child a chuckle at lunch time.
For a less noticeable gesture, write a small note on her napkin like See you soon! Love, Mom or Hope your day is going well! Love, Mom
There are products out there like these tear off lunchbox jokes and these inspirational notes that have this same goal. They are pre-printed cards that you can tuck into the lunch bag or box making it super easy to make lunch special.
Notes from a person who worked with children for a living -
You know your kids best. If little gestures like this will embarrass them, tread lightly. The idea is to make lunch special, not to invite teasing from peers. If that's a problem, keep your gesture small and inconspicuous.
Don't give your kids something that's going to get them in trouble after lunch. A well-meaning trinket like a whistle or a bouncy ball will be a nuisance when lunch and recess are over, and learning gets back under way.
Don't give your kids anything valuable. It is school, after all, and things happen.