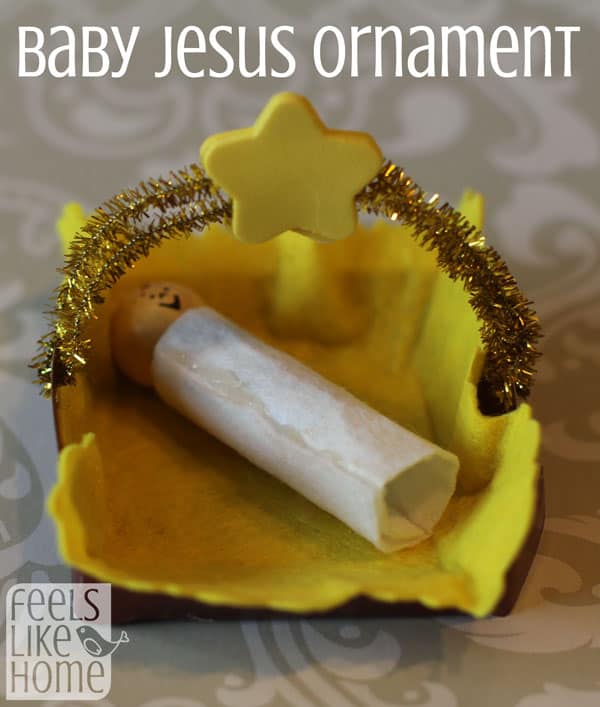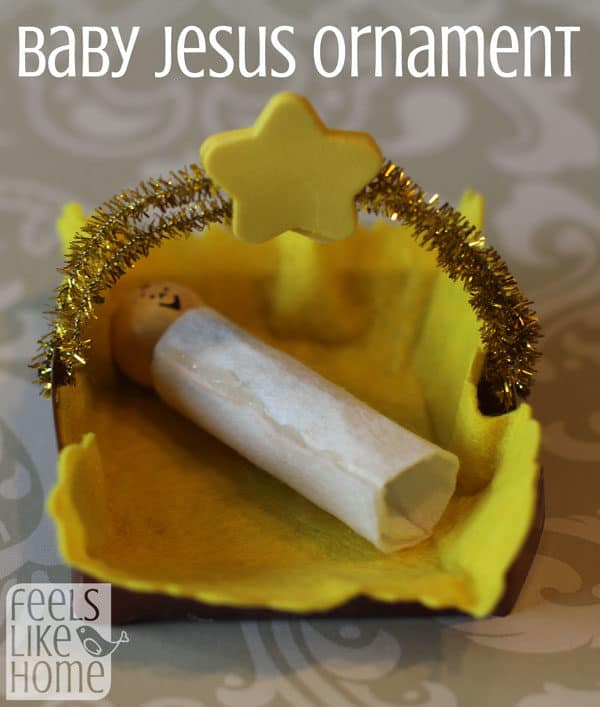 Pin
We were browsing on Oriental Trading for craft projects for our church to do, and Allie saw these little baby Jesus ornaments.
I want to make that, Mom! she said.
I asked why. I sort of thought it was ugly.
Because it's baby Jesus! We could hang him on our Christmas tree and see him for the whole season!
It's hard to argue with seeing baby Jesus all season. I suppose I could've said no, but I had other crafts planned for December, and I knew these would fit right in.
Materials
I love craft kits from Oriental Trading. We buy a lot of them. (This is not a sponsored post.) In this case, I think it would be difficult though not impossible to make the craft without the kit. I'll tell you how, but if you want to save time, go with the kits.
For each baby Jesus:
A square of brown cardstock, folded into an open box
A square of yellow felt (the Oriental Trading yellow felt has a decorative edge to look like hay in the manger)
A square of white felt
A wooden peg or clothespin, painted with a baby Jesus face
A gold pipe cleaner
2 yellow foam stars
Hot glue gun & glue sticks
Instructions
Hot glue the corners of the box together. Ours all popped apart a day or two after we stuck them together.
Hot glue the yellow felt into the box.
Hot glue baby Jesus onto his blanket.
Wait for the glue to cool completely, and then wrap the baby up in the blanket. Secure the edge with more hot glue.
Punch holes in the sides of the box.
Fold the pipe cleaner in half. String the pipe cleaner through the holes so that the crease is on one side and the two ends are on the other side. Wrap the ends around themselves so that the hanger is secure.
Put a dot of hot glue on each side of the hanger in case the paper tears. (We had that happen with a few.)
Hot glue baby Jesus into his manger.
Hot glue the stars together. We initially just stuck them together, but they also popped apart over a couple of days. Just glue them together from the beginning. It's easier.
Add a hook and hang it on your tree. All done!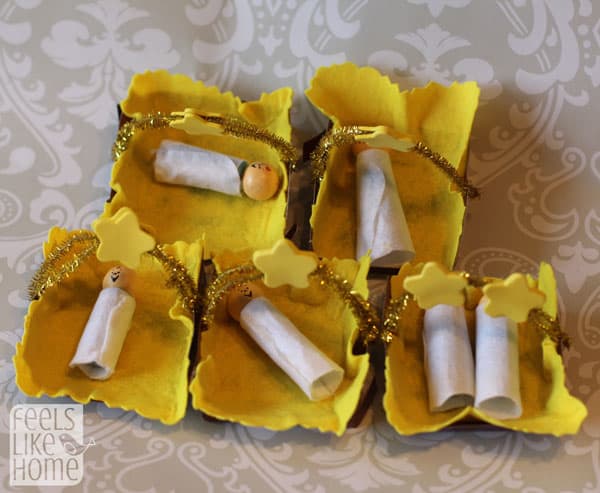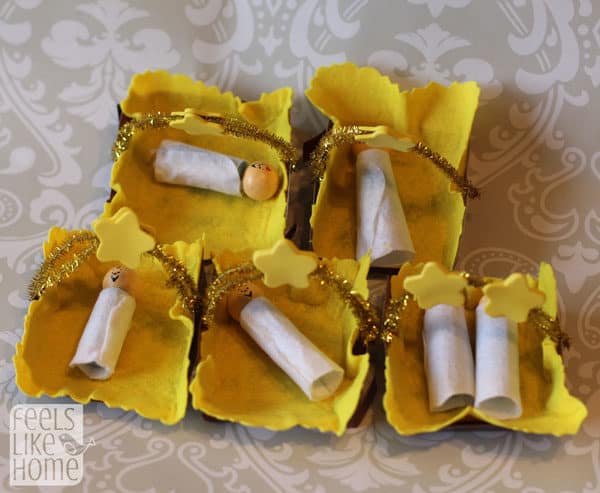 Pin
We have a friend who has 18-month-old twins, so Allie wanted to make a special ornament just for them. That's why there's one with 2 babies in the manger.
I'm not sure this is a great craft for preschoolers. Allie made a bunch of these with just a little help from me, but then she burned herself on the hot glue gun and ended up with a blister that was half the size of her thumb. I recommend saving this one for older kids.