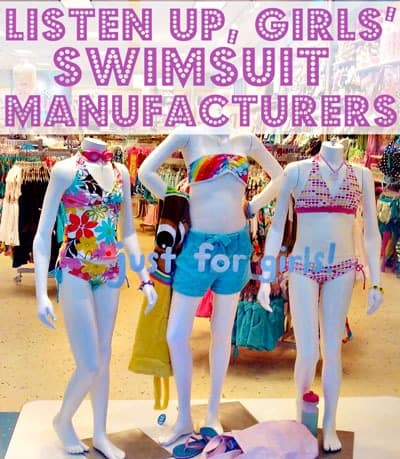 Pin
I take my daughter swimming. A lot.
We swim at least once a week for most of the year. In the summer, we often swim two or three times a week.
My daughter needs to have an assortment of swimming suits (or else I'd have to do laundry every other day, and that's not happening).
The weather is getting warmer, and my daughter's swimsuits from last year are not fitting well. We picked up a nice Speedo suit a few weeks ago, but I have been on the lookout for two or three more.
Today, my mom and I were in a big box store (which shall remain nameless, so don't ask) when we passed through the clothing section.
Grace is really between sizes, fitting nicely into both a 5T or a girls' 5. We found the girls' swimsuits first.
I thought we were in the Victoria's Secret swimsuit section.
I'm not kidding.
There were a total of 10 different styles of girls' bathing suits.
60% were 2-piece suits, belly-baring bikinis.
40% were 1-piece suits. Every single one had cut outs in the sides. Many also had cut outs in the front and back. For the most part, the 1-piece suits were little more than bikini tops attached to bikini bottoms.
I was shocked and appalled. The more I thought about it, I became furious.
Who decided that sexy bathing suits were appropriate for small children?
Would it be appropriate for little boys to wear revealing bikini suits? Of course not. So why are they being sold for little girls?
Did anyone in the supply chain, from designer to manufacturer to store buyer to store manager pause to think about these bathing suits?
We're talking about little girls, beginning with size 4. Toddlers. Preschoolers. Elementary school children.
They don't belong in sexy swimsuits.
We left the girls' department and headed toward the baby and toddler section. We found 3 traditional, respectable 1-piece suits there, all adorned with commercial characters. (Not my favorite but a huge improvement over what we'd just seen.)
We found bikini styles, a halter-style 1-piece, and a 1-piece with cut outs, similar to the ones we'd seen in girls'. Two of them had cups and strings.
Cups and strings!
For toddlers and babies.
I was under the impression that cups were to provide support for breasts, but apparently I'm wrong.
We did find a wonderful 2-piece suit that will be convenient for potty training - wet bottoms are easier to remove than a wet 1-piece when rushing to the potty. It's essentially a tankini, and it will provide full coverage of Grace's little body.
Aside from that one, the pickings were slim.
I was still angry when we left the store.
What's next? Bikini waxes? Thong bikinis?
Who decided that sexy, body-baring bathing suits were appropriate for small children?
I don't know whose idea these swimsuits were, but my daughter will not wear such trash as long as I have a say. I don't care whether she is 2 or 6 or 12, her body will be covered.
Photo credit Svandilari