Telling a story means reliving it. The emotions and the physical feelings, the good and the bad. It all comes rushing back.
For months, I have been reluctant to relive Allison's birth. It was too hard.
I started talking about Allie's birth to my friend Julia not long ago. Talking to Julia about it led to talking about it on Twitter and thinking about it more often.
I am finally ready to accept the experience, to lay out the details, to share it publicly.
It happened. I can't change it.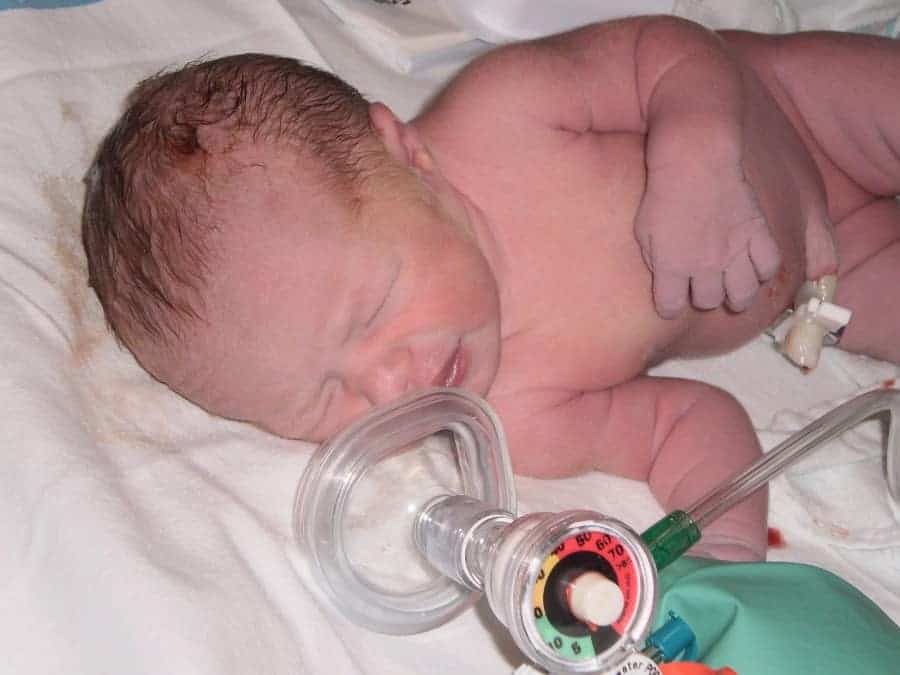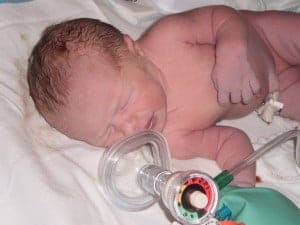 Pin
It happened, and it's okay.
It's about time.
The Back Story
I had heard a thousand times that every pregnancy is different.
Every birth is different.
Every child is different.
I didn't really believe it.
After my blissfully easy labor and delivery with Grace, I was convinced that any subsequent labors would be a breeze.
Delivering a baby? I could do it in my sleep.
No big deal.
In the moments after Grace was born, the midwife had told me that my body was made for birthing babies.
I thought it was all me. I was so good at having babies that the second one would be as easy as the first.
I was wrong.
The Pregnancy & Bed Rest
My second pregnancy was different from my first all the way around.
With Grace, we tried to conceive for months. With Allie, we were not trying to conceive at all.
With Grace, I threw up every day, losing pound after pound as I failed to nourish my body. With Allie, I hardly threw up at all. Quite the opposite, I was famished for months. I ate and ate and ate, especially at the end.
With Grace, I had few restrictions, just a normal, healthy pregnancy. With Allie, I had complications very early on, leading to a slew of restrictions that never went away.
With Grace, my blood pressure was a little high, but never enough to be of concern. With Allie, I was on bed rest from 32 weeks until she was born because my blood pressure was dangerously high for both of us.
I thought bed rest would be great.
It wasn't.
My bed rest instructions changed several times during the first two weeks, but at the beginning of week 34, my instructions became strict. Lie on your left side except when you're going to the bathroom or coming to the doctor's office.
I spent Thanksgiving on bed rest. The entire Christmas holiday season was lost for me, no parties, no shopping, no trips to see Santa. I was still on bed rest on Christmas Eve and on Christmas Day.
My blood pressure was erratic. I was in and out of the hospital. I spent many afternoons being monitored, many days collecting all my urine for protein analysis.
By the fifth week of bed rest, I was hopelessly depressed. I spent very little time online and even less time on the phone. I withdrew from everyone I knew.
By the sixth week, I was crying every day for long periods of time. I was suicidal.
I didn't tell anyone.
The Contractions
In week 35, I started having contractions.
For four weeks, I had painful contractions that felt real. I'd have them every 10 minutes for two or three hours, then they would stop. Each time, I was convinced that I was going into labor.
I worried that it was too early, that the baby would be in danger.
The days were long and difficult and made worse by the pain and anticipation of frequent contractions.
During week 37, there was a question about my amniotic fluid. My obstetrician's receptionist called me at 5 pm on a Friday afternoon and asked me to go to Labor & Delivery for tests and monitoring.
I was sure it meant I'd have the baby that day. My days of bed rest would be over!
False alarm.
Baby was strong and healthy and, though my fluid levels were a little lower than expected, they were within the normal range. I could go on being pregnant for at least another week, maybe longer.
In my brain, that meant I could be stuck on bed rest for another couple of weeks.
My depression got worse, a lot worse.
I wanted to die.
The Induction
Because my blood pressure was so erratic, my obstetrician scheduled an induction towards the end of my 38th week.
By that time, I was having contractions every few minutes. Most were painful; I was convinced that I'd go into labor before the induction.
I didn't.
At my induction appointment, I was having strong, painful contractions every 8 minutes. At the appointment, the doctor gave me a drug to prepare my body for labor and sent me home with instructions to return the following morning for pitocin.
I didn't go home. I went to lunch at Red Robin with my mom and Grace. It was my first outing (aside from doctor's appointments) since I'd been put on bed rest eight weeks earlier.
I felt normal, aside from the contractions that gripping my musculature every 5 minutes or so.
Two hours later, I was back on my couch, lying on my left side and playing with Gracie and the zoo Mrs. Santa brought two days earlier. I was breathing through stop-me-in-mid-sentence contractions.
I got up and walked around. I took a shower. I got a drink. Still, the contractions kept coming.
I started timing them.
Every 2 minutes, each lasting a full minute.
I called the OB's office. The nurse who answered was alarmed and told me to get to the hospital right now!
Despite the near constant contractions, I was not making any real progress in the area that counts.
Hour after hour, doctors and nurses checked me. I was only dilated 1 cm more than I had been early in the morning, before my induction.
"Maybe an epidural would help me progress," I suggested hopefully. "Maybe my body is having a hard time relaxing because I'm in so much pain."
They ignored me.
Finally, the doctor decreed that I could either walk the halls to get things moving along or go home and rest.
How a woman rests when she's having contractions every 2-3 minutes is beyond me. As long as I live, that will not make any sense to me.
Not wanting to endure a whole night of constant contractions, nor the possibility of this baby being born at home or in my car, I chose to walk the halls.
Another side note. I see no wisdom in telling a person who's been instructed to lie down for 24 hours a day for the last 8 weeks to get up and walk around, but I'm not the doctor.
I walked. For an hour. That was 58 minutes longer than I had walked at any one time in the last two months.
Guess what happened.
My blood pressure spiked up to a dangerous level. The doctor had to admit me to the hospital to treat me for pre-eclampsia.
The Labor
The doctor told me to take a hot bath in the jacuzzi and relax for a while while the pitocin helped my body to get things moving.
The hot bath made my cervix change a bit - a ½ cm. My contractions were still frequent and strong. My blood pressure continued to climb, requiring intravenous blood pressure meds and a heart monitor.
To ease the tension, my sister recounted a funny story that made me laugh. Once I started laughing, I didn't stop. My hysterical laughter shook my jiggly body all over, making all of the monitors slide off in places they weren't supposed to be. Alarms went off and everything went awry.
The nurse was not pleased. I wasn't allowed out of bed; I wasn't even allowed to sit up. My entire body hurt; it felt like every muscle in my body was cramping or having spasms. I begged for an epidural. I couldn't have one because I was only dilated to 3 cm.
Wanting to move the process along, the doctor broke my water.
My contractions before the ruptured membranes were painful and intense. The very first contraction afterward was excruciating, knives stabbing and twisting in my back, pelvis, hips, legs, even my chest.
Sweat trickled off my skin, dripping in my hair, down my neck, into my eyes.
I moaned and writhed and couldn't breathe and wasn't allowed to get up.
After 45 minutes of agony, the anesthesiologist appeared, sent by the doctor who thought a reduction in my pain might help lower my blood pressure.
Sitting up was sweet relief until the next contraction. I leaned over the tray table, held still by my nurse, and moaned as the anesthesiologist babbled about risks and complications of the epidural.
I would have given him permission to amputate my arms and legs if it would have made the pain go away. I didn't care about his risks and complications.
Searing, burning pain as he inserted the needle into my spinal column. Lightning down my right leg. The epidural was in the wrong place.
He tried again. More searing, burning pain as the needle pierced my spinal column. More lightning, now down my tailbone.
A third try. More contractions. Arms and legs quivered, beyond my control. I was moaning, my face lying in a puddle of sweat on the tray table.
Satisfied that the epidural was placed correctly, the anesthesiologist taped it to my skin, and the nurse told me to lie back down.
"I can't lay down! I have to get up! I have to go to the bathroom, and it really hurts."
The pain. I remember the pain so clearly.
I pushed the button to give my epidural more medicine. I pushed and pushed and pushed the button.
"What do you mean, you have to go to the bathroom? Do you have to urinate?" the nurse asked.
"No, I have to poop. I have to push." I said.
"You have to push?!" she repeated, moving toward the foot of my bed. "Let me check you." Not yet an hour had passed since I was 3 cm dilated.
My sister was holding my right hand, and the nurse yelled at her. "Push the call button! We need the doctor in here right now! She's having this baby!"
I screamed. I cried, moaned, whimpered. My eyes stung with sweat, and I squeezed them shut.
I have never experienced pain so severe. I couldn't breathe. My entire body was wracked with unbearable agony. My feet kicked up in the air, beyond my control.
The nurse tried to coach me. "Push, Tara. Bear down. Come on now, push your baby out. You can do this."
I pushed, clinging with soaked hands to the hope that the pain would ease once the baby emerged.
Oh, the pain.
The doctor rushed through the door just in time to catch the baby and plop her onto my stomach.
"Here's your baby! Look at your beautiful baby!" someone said.
I couldn't open my eyes. The pain did not ease, not even a little. My eyes were puddles of sweat, burning and stinging, and my body was gripped with pain.
I couldn't look at the baby.
My arms and legs and torso shook uncontrollably. I was hot and soaked with sweat and my toes were freezing.
I couldn't open my eyes and I was in more pain than ever before in my life and I was jerking wildly, my body out of my own control.
"Tara, look at your baby. She's right here! Look," my sister said, shaking my right hand.
"You did so great, honey. Don't you want to see the baby?" Joe asked, holding my left hand.
I tried to peek at the baby, but all I could see was sweat. It pooled in between my eyelids and stung my eye balls.
I could breathe, so I did. I lied in the darkness of my squeezed shut eyes, relaxed and thankful it was over but still in writhing trembling pain.
Deep breath in. Deep breath out.
Just breathe.
I don't remember anything else of my labor. I don't remember the cord being cut. I don't remember delivering the placenta or being examined or cleaned up. I don't remember baby cries or footprints or weight and length.
At some point, the doctor said, "You did great, Tara. No tears or stitches," and I said, Thank you, Lord, for small favors.
And that was it.
I just breathed and tried to block out the pain. For twenty minutes.
It takes the epidural twenty minutes to kick in.
By the time Allie was cleaned and measured and all wrapped up, someone had dried my face and I was able to open my eyes and see my baby for the first time.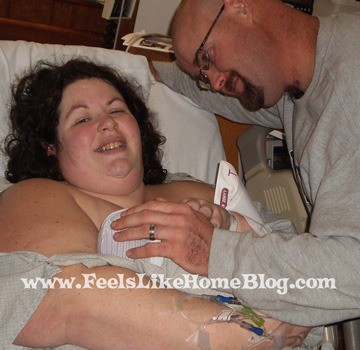 Pin
Allie's first order of business after being born and cleaned up?
She wanted to eat.
When I held her for the first time, I said "Hi baby," and she smiled at me.
Her smile didn't take the pain away, but it was a start.
Immediately, she began rooting, turning her head this way and that way, trying to find a nipple to suckle.