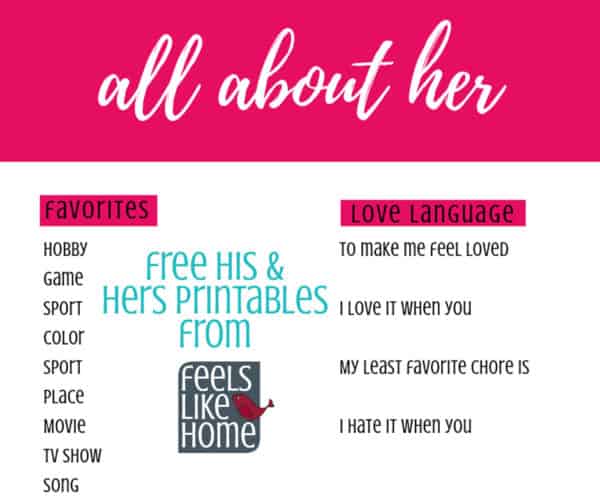 I'm super excited for this week because, in honor of my 13th wedding anniversary, I am relaunching my amazing resource called the Marriage Builders Toolkit, a 105-page collection of carefully curated content designed to make your marriage the best relationship it could possibly be!
In the pages of the Marriage Builders Toolkit, you will find resources like date night planners and prayer calendars, conversation starters and Bible verse cards, love letter prompts and a full-length ebook on the puzzle pieces of a strong and healthy marriage.
This collection has the potential to radically change your marriage and make it the sweet respite your soul longs for!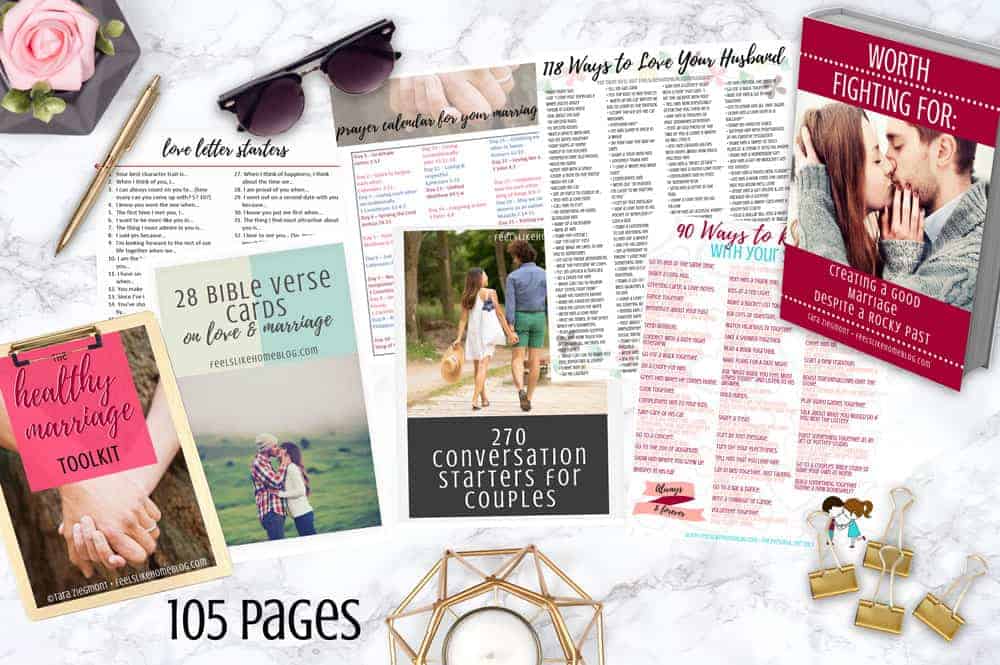 Here's what one reader, a licensed counselor, had to say about the collection:

You can also check out the other marriage posts in this series:
And, as if My Healthy Marriage Solution and those posts were not enough goodness for your marriage, read on for another awesome printable that I'm offering.
---
At my bridal shower over thirteen years ago, we played a game where I had to guess Joe's answers on certain questions. I remember one specifically that I got wrong was his favorite type of food. It is seafood, and I think I said steak because in the moment, my mind went completely blank.
Today, I know most of his favorites. He likes blue and football and basketball and Star Wars. But there's so much more to knowing a person than just knowing what he likes to eat and what his favorite color is.
There's knowing his heart, am I right?
There is a lot in the Healthy Marriage Solution about getting to know the heart of your spouse. It will guide you through a series of activities and date nights that will help you to know and understand your husband's heart in a whole new way. Look for that on Monday, July 29 with some awesome bonuses and a special sale price!
As part of my blog series on marriage, I wanted to create a little cheat sheet of sorts that I could have Joe fill out to let me in on his heart. It has, of course, spaces for his shoe size (which I never remember - embarrassing at the bowling alley!) and his favorite song, but it on the second page, it has spaces for the secrets of his heart, things like his biggest challenge and what he's most proud of.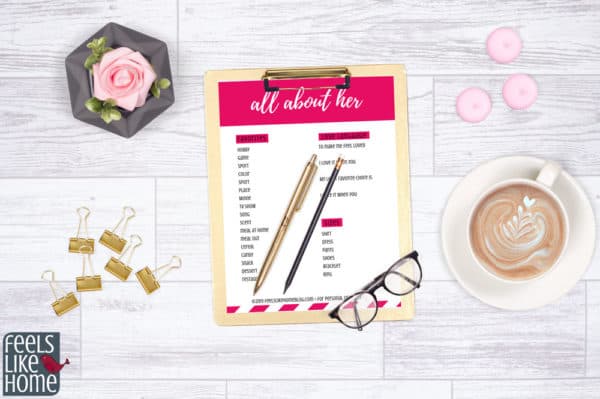 There's a his and hers version of this little getting to know you survey, so he can learn more about you and your heart, and you can learn more about him and his. I broke the responses out by person so that you can fill out your two pages and he can fill out his two, and then you can swap.
Honestly, I don't know if Joe will keep the two pages I filled out (probably not), but I know that I will keep his, in my bullet journal where I can refer back to them often.
Like when we are headed out to the bowling alley. Ahem.
The greatest thing about these printables is that they will spark conversations. Maybe you already know what he loves you for you to do, but I bet you don't know what he hates. You can use this as an opportunity to find out and get to know one another better, which will invariably improve your relationship.
Plus, having a long list of his favorite things in your pocket will allow you to surprise him with little gifts and thoughtful acts of service, both of which will go a long way in improving the intimacy and overall feeling of well-being in your relationship.
Let's be honest. These little printables may not have the potential to completely overhaul your relationship, but they most certainly can move it a couple of steps in the right direction.
How to use the questionnaires
Print out the his and hers forms, and mark out 30 minutes in your calendar to complete them with your hubby. Do them at the same time so that neither of you is swayed by the other's answers.
When you're all finished, swap papers, read over the answers, and talk about anything you find interesting.
Store the papers somewhere convenient, and refer to them any time you want to surprise him or reach out with a thoughtful gesture.
That's all there is to it!