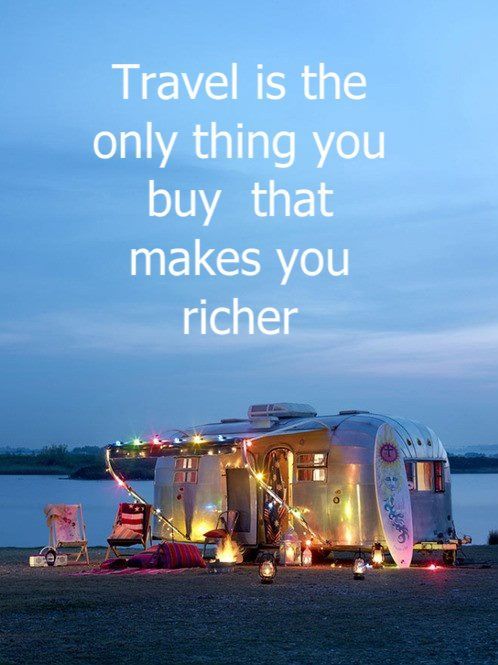 Pin
My family has been having quite the busy summer. This was the first time since 2009 that I didn't create a summer to do list - because we didn't need one. We've been going, going, going, not even making it to Hersheypark as much as we'd like. We're too busy.
One of the things we're busy spending our time on is traveling. I love the quote above; it reminds me of the value of experiences with my kids.
Because we're going on day trips, I am going to share some central Pennsylvania and Maryland day trips with you. You may decide to tackle some this summer, or you may decide to wait until school is back in session (for my fellow homeschoolers who prefer to visit museums and the like when the crowds are smaller).
At any rate, I wanted to highlight some of our region's best attractions for families with younger kids. I'm going to share them with you over the next few weeks.
Our Visit to Adventure Aquarium
First up is Adventure Aquarium in Philadelphia. (Actually, it's in Camden, New Jersey, just across the river from Philly.) We visited Adventure Aquarium last year in August.
The big draw at Adventure Aquarium is Hippo Haven. It is a huge hippopotamus enclosure boasting two gigantic hippos who swim among schools of fish and play with tires and eat whole cabbages and loaves of bread.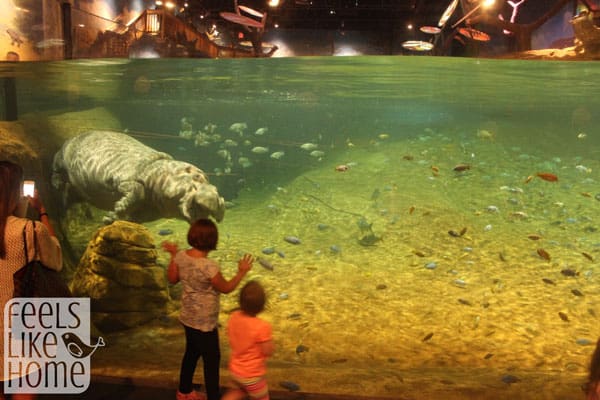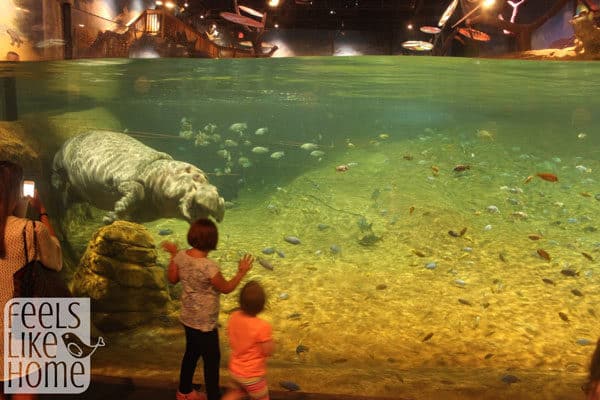 Pin
It is easy to forget that these serene manatee-looking creatures are the deadliest animal in all of Africa. They are fiercely territorial and can run almost twenty miles per hour. If you're in Africa and come upon wild hippos, get away!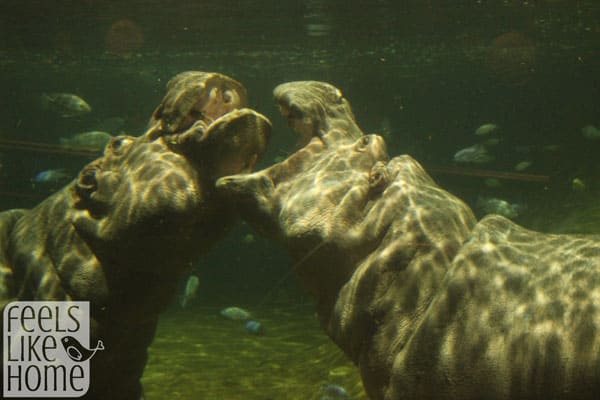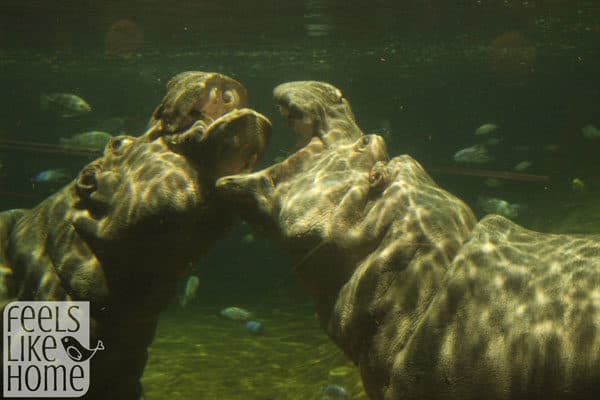 Pin
But, like I said, at Adventure Aquarium, the hippos reminded me more of manatees than murderous savages. They were so quiet and peaceful.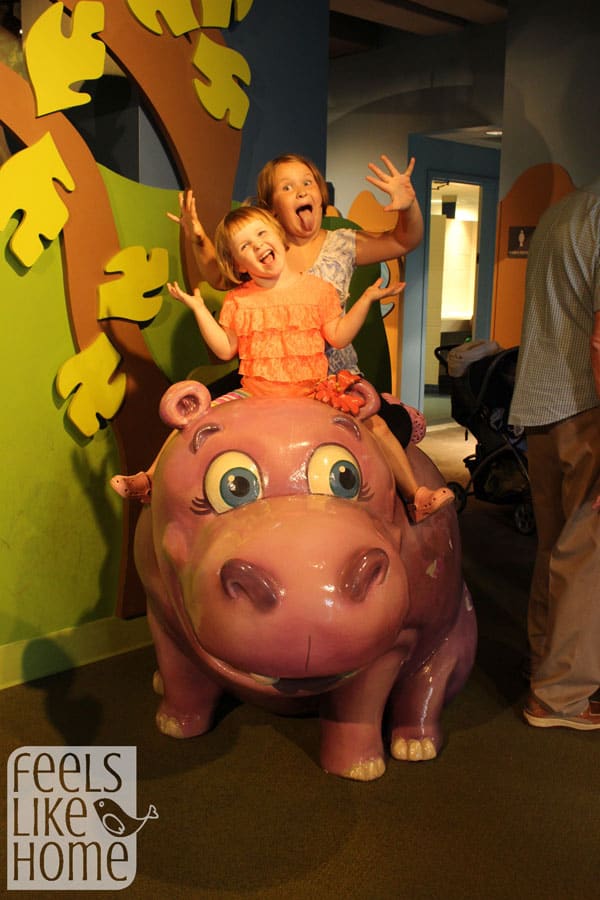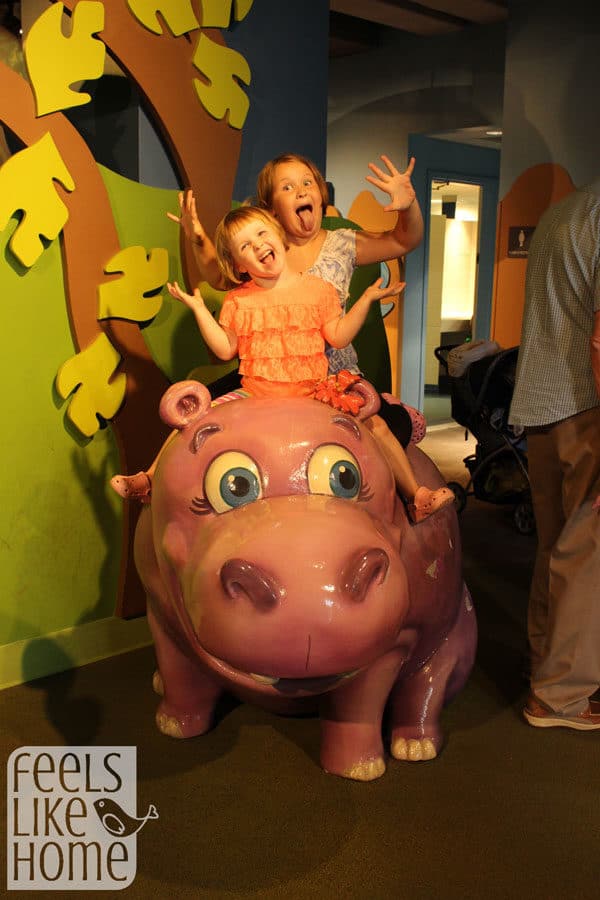 Pin
The four of us spent a half hour gazing at them. We just couldn't get enough. The hippo feeding is especially interesting. The aquarium educator fed both hippos, and they came right up to the glass. We got to see their feet and faces in great detail. It was a little intimidating to see that a child could fit right into their gigantic mouths.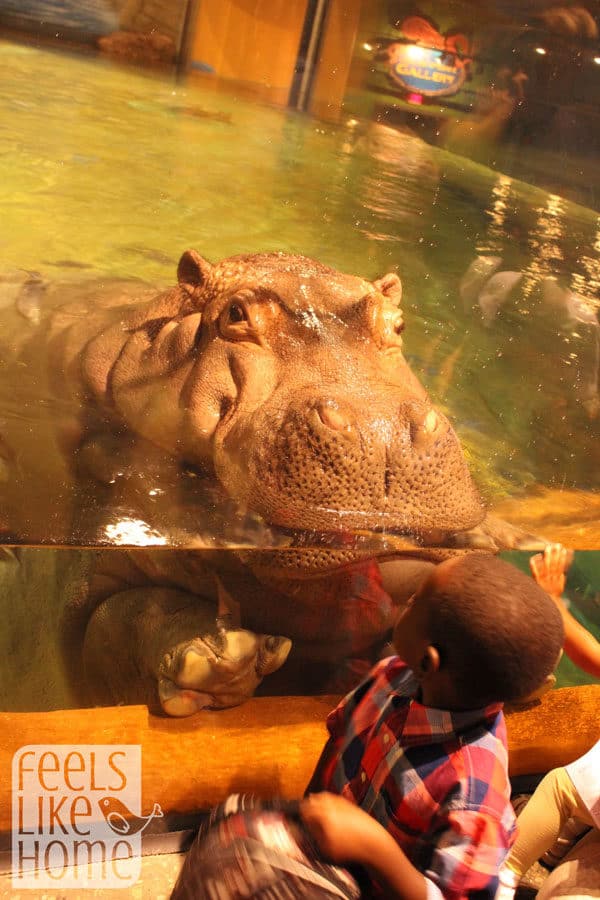 Pin
After the hippos, we ran into these super cool jellyfish. There's something mesmerizing about watching jellyfish, isn't there?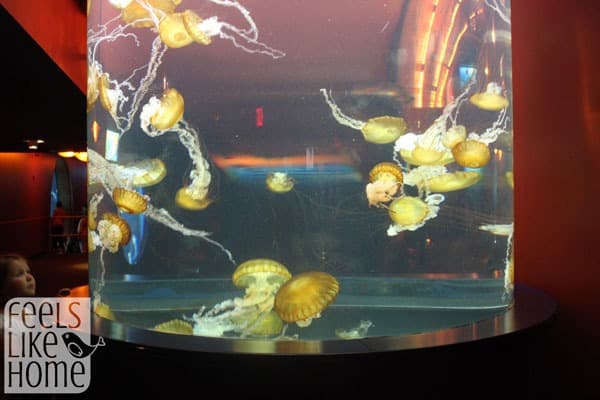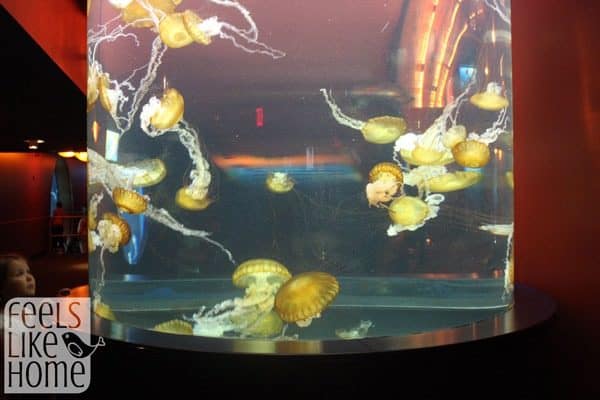 Pin
There is a huge tank of sharks in the center of the Adventure Aquarium (I think it was the center). We sat and watched them for a long time, too. We saw giant sea turtles, giant hammerhead sharks, and a myriad of other big and small aquatic life. We even saw this guy, who made us laugh.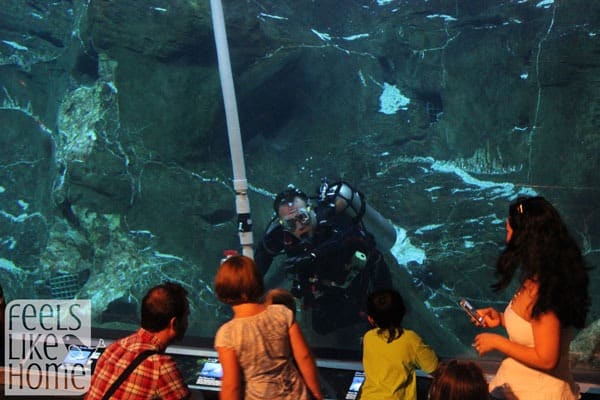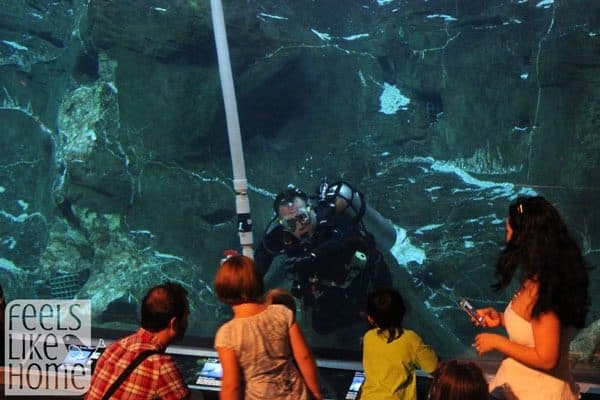 Pin
All throughout the Adventure Aquarium, we found touch tanks. There were touch tanks for the stingrays and sharks and touch tanks for the sea stars and for sea cucumbers and all sorts of other things. The kids loved these!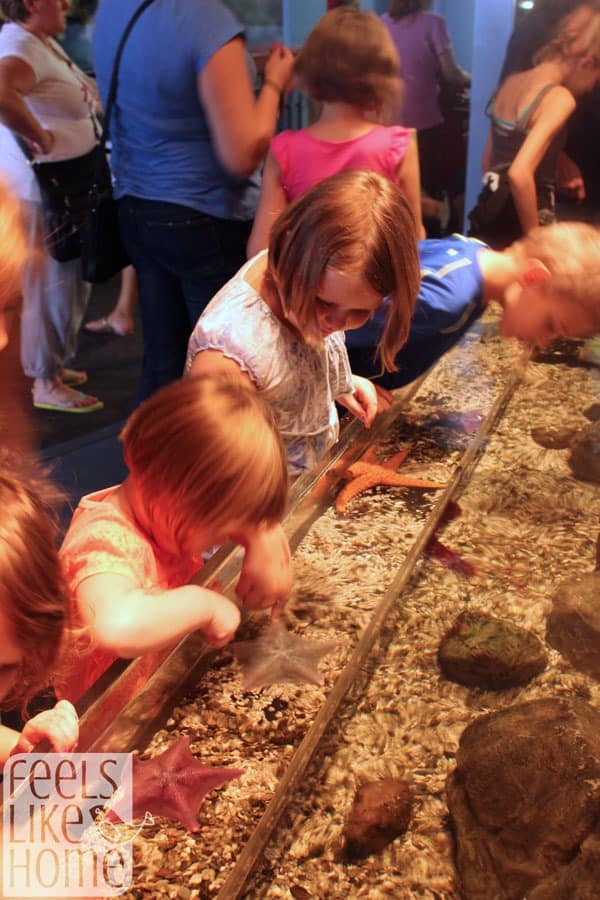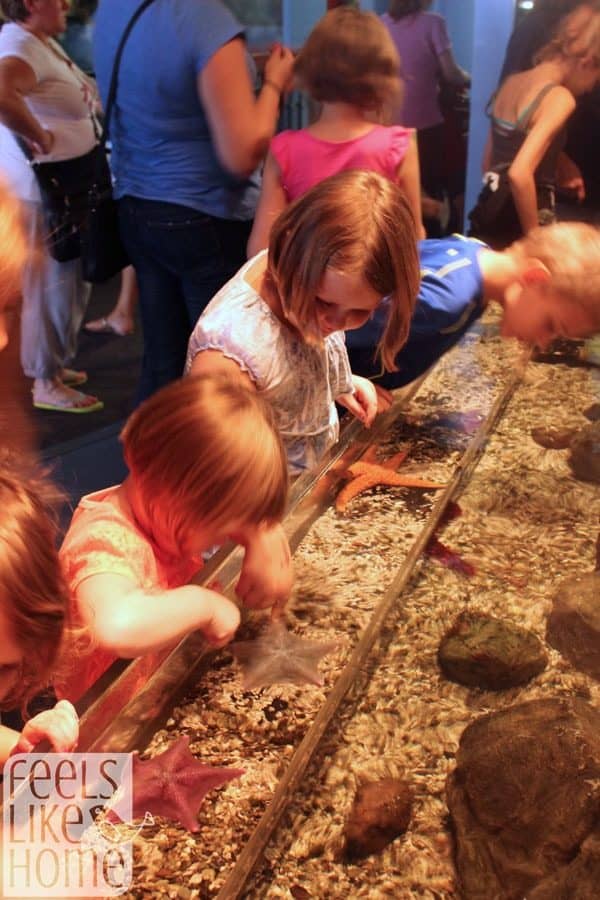 Pin
The top floor of Adventure Aquarium houses a nice children's area. There are exhibits that the kids can interact with and climb on, including the hippo above, the drums below, and this:
(I don't know what to call it. Can you tell what's happening? There's a bubble inside the tank where kids can climb inside and view the fish from inside the tank. My kids thought it was super cool.)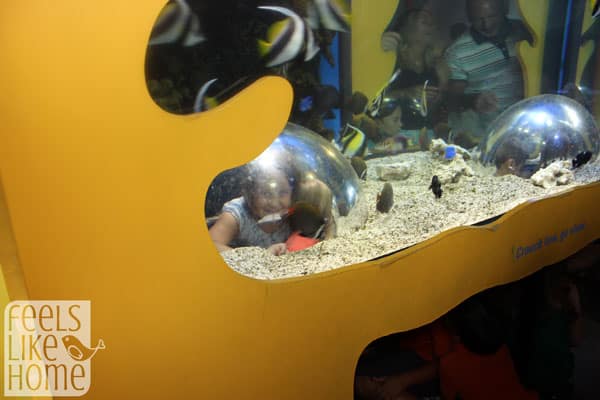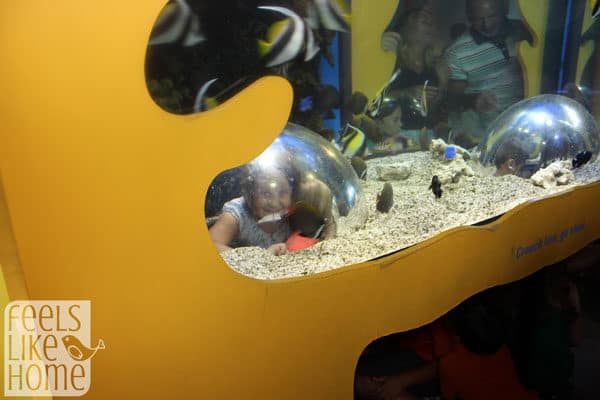 Pin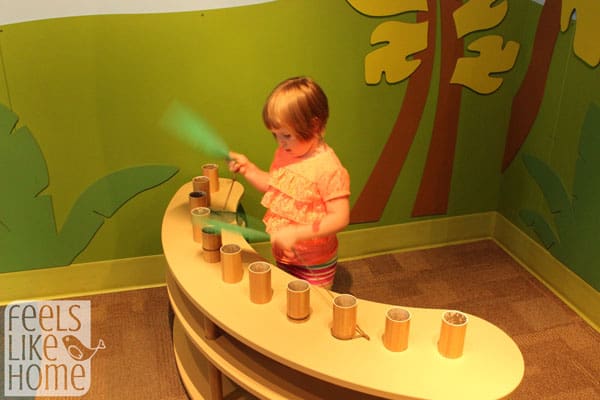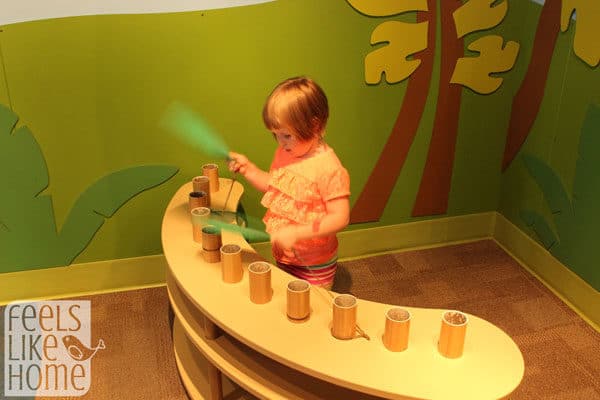 Pin
While we were at the Adventure Aquarium, we got to see a penguin demonstration. While we watched, the staff fed the penguins, talked all about them, and cleaned the penguin enclosure. We loved that!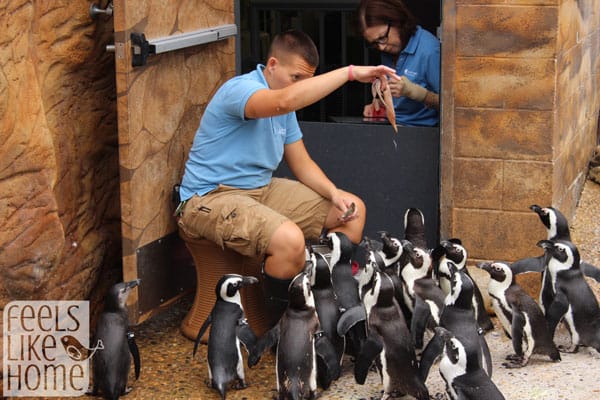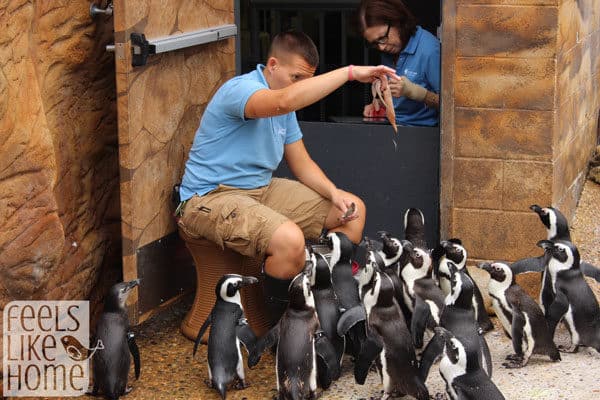 Pin
We also saw a reptile demonstration, an axolotl exhibit with two live axolotls, and many, many other fish and animals. It was really a great trip.
I would recommend the Adventure Aquarium to any family!
More about Adventure Aquarium
There are always more new things to see and do at Adventure Aquarium, minutes from downtown Philadelphia on the Delaware River waterfront.
Visitors can get up close and personal with sharks and stingrays they can touch. They can also explore one-of-a-kind exhibits, including hippos, penguins and a shark tunnel. Adventure Aquarium opened in 2005 and strives to offer world-class, learning experiences and moments of magic for their guests.
Featuring more than 8,500 aquatic species throughout two million gallons of water, it's the only aquarium in the world to exhibit hippos and is also home to the largest collection of sharks on the East Coast - including a Great Hammerhead Shark.
Adventure Aquarium is an accredited member of the American Zoological and Aquarium Association, holding the Aquarium to the absolute highest standards in animal care and exhibition.
Adventure Aquarium is open 365 days a year, from 10:00 am to 5:00 pm.
For more information, call 856.365.3300 or learn more at http://www.adventureaquarium.com.
Follow Adventure Aquarium on Twitter and on Facebook.
I received four free tickets to Adventure Aquarium to facilitate this review.