I love Christmas.
I love all kinds of Christmas music, sparkly Christmas decorations, the warmth of Christmas dinners, and Christmas presents. Everything is joyful and festive and decadent.
Unfortunately, loving a glittery Christmas can easily mean losing the religious nature of the holiday. It's too easy to miss the solemn and thankful in the midst of the light and festive.
One of my goals for the Christmas season has been to celebrate every night of the Advent with Grace and Joe.
Our Advent Wreath
Advent is the four weeks (give or take a couple of days) before Christmas. If you count backwards from Christmas, Advent begins on the fourth Sunday prior to the holiday. This year, it began on November 29.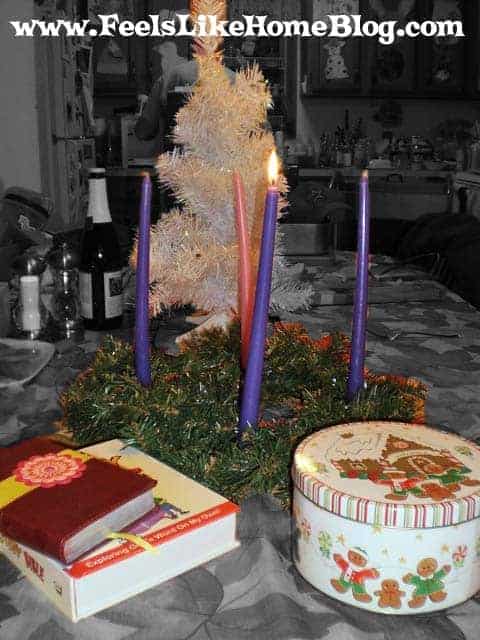 PinAn Advent wreath is used during worship each night of the Advent. We created ours from Joe's memory of the one his family used when he was a kid. It is basically a ring of candles - three purple and one pink - surrounded by evergreens.
How the Advent Wreath Works
Our church uses an Advent wreath as part of worship during December. A family reads a short devotional and a longer prayer and then lights the candle which is extinguished by the pastor after the service is over. We use ours a little differently.
On the first Sunday of the Advent, we lit the first purple candle before dinner. We ate, read a Bible story related to our Jesse tree theme of the day, said a prayer, and hung our ornament on the tree. When we finished, Grace snuffed out the candle.
Each night this week, we lit the same candle. We'll continue to light it through Christmas Day.
This coming Sunday (the second Sunday of the Advent), we will light the first candle and the second purple candle. We will continue to light both candles all next week.
On the third Sunday of the Advent, we will light the two purple candles and the pink one. We'll light all three candles all that week.
On the fourth Sunday of the Advent, we will light all four candles. We'll do the same on Monday, Tuesday, and Wednesday of that week.
Thursday of that week is Christmas Eve. After dark, we will add a white pillar to the center of the wreath to signify the birth of Jesus Christ, and we'll light all five candles.
If it weren't a crazy fire hazard, we'd leave the five candles lit all night. Since it is, we'll snuff them out when we go to bed on Christmas Eve and light them again on Christmas morning. I'm not sure how long we'll leave the candles lit.
The Advent wreath was easy to set up, and it's given a nice structure to our evening worship. I'm pleased with how it's going. Grace especially looks forward to helping me to light the candle and then to snuffing it out at the end, so it keeps her involved, and I love that it incorporates a tradition from Joe's childhood.
I bought some glittery decorations for our evergreen wreath from the floral section of the craft store, and I wrapped them around the greens. I know Joe's Advent wreath from decades ago didn't have glittery decorations, but I wanted to make it my own, and I'm a glittery girl.
This post was originally written in 2009. Since then, Advent wreaths have become a lot more common, and you can now buy one that's already decorated with glittery baubles. This one is my favorite. I'm thinking about chucking our plain one and buy it this year.
Advent candles can be hard to find in brick and mortar stores, but you can always get them on Amazon. I like candles that actually burn, but you can also get reusable flameless candles on Amazon. I have not purchased them myself, but they have really high ratings which gives me confidence in recommending them to you.