Before the vandalism of my gardens, I had been taking pictures of my garden at least two or three times a week. I haven't been keeping up as much since it happened; I've been dealing with phone calls related to the lawsuit, phone calls related to our broken oven, doctor visits related to Allie's bronchitis, and a plethora of other stuff.
Plus, it's been 90 degrees or hotter for the last 14 days in a row. The heat's kept me out of the gardens, too.
About half of my flowers and all of the raised garden beds are in the backyard, so they survived the destruction while I was away.
Here's what's growing (or was growing, in some cases) in my garden:
This first collage is from early spring, back in late April. I had irises, bleeding hearts, salvia, and a begonia blooming.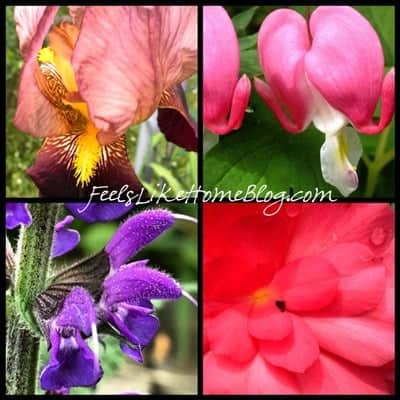 Pin
My poppies were spectacular this year. I had seven huge blooms, staggered through April and May. Each one was bigger than my head.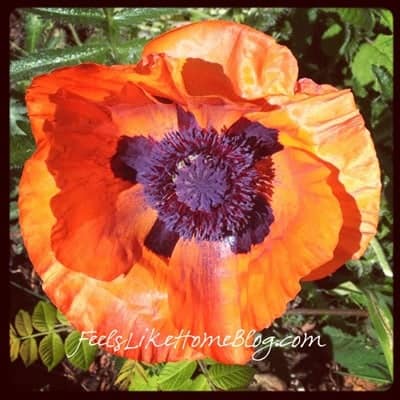 Pin
In May, we harvested lettuce, watercress, itty bitty radishes, carrot greens, spinach, and some other stuff to eat in salads and on sandwiches. The radish greens were the most interesting; they had a very pungent and spicy flavor.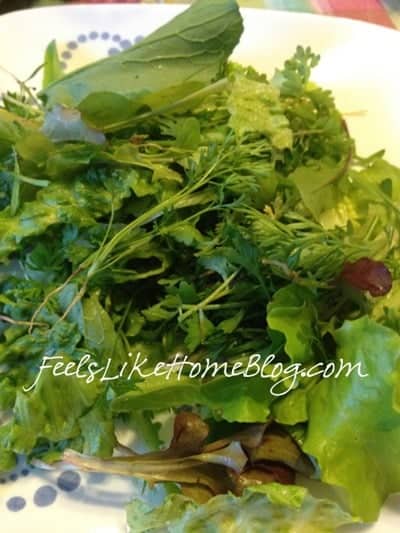 Pin
My roses began blooming in May, too. I have a dozen rose bushes of all different varieties. The light pink one below is an old English rose, and it is has the sweetest aroma of any rose I've ever smelled. Unfortunately, it doesn't bloom very long, just a week or two in May. The dark pink one at the top is loaded with blooms all summer long. It's really spectacular.
The flower with the pointed orange petals is called a red hot poker plant. It gets 15 of those spikes, and the hummingbirds love them.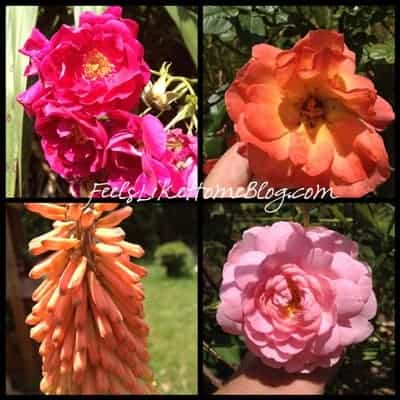 Pin
These flowers began blooming in May, and are still going strong. The top ones are dianthus and shasta daisy and the bottom two are snap dragons. We had such a mild winter this year that last year's snap dragons survived and greened back up this spring.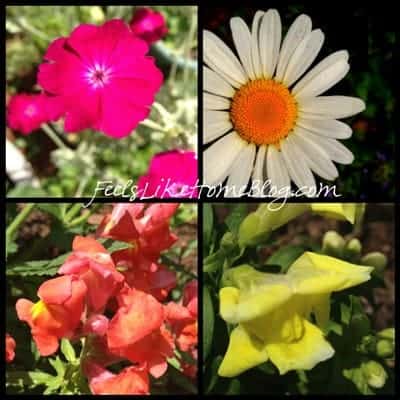 Pin
I planted a lot of things in March, so our beets are ready to pull, our cucumbers have been bearing fruit for weeks (even though they aren't in this picture), and we've picked 6 or 7 zucchini squash so far.
The green thing in the top row is a peanut plant. We've never tried to grow them before.
Also in this photo is one of our blueberry bushes. We just put them in last year, so we only got a handful of blueberries this year.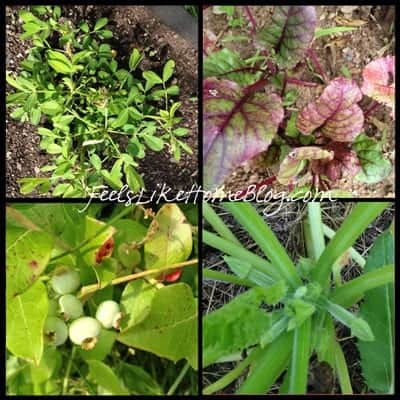 Pin
In the top row is one of a very small number of annuals I buy each year. It's a mosquito plant, technically some kind of scented geranium. It doesn't get flowers, but its leaves have a very strong citronella-like scent that keeps mosquitos away. I have them in pots all around our backyard swing. The movement of the swing rustles the leaves enough to make the scent waft around, and the mosquitos leave us alone. It's great.
The purple flower is centaurea. It's a fairly aggressively spreading perennial (Joe would say that's a euphemism for weed), but I keep some around because I like the flowers it gets.
On the bottom is a geranium I got at Easter time for $7, and a purple coneflower the day before I left for Type-A. The coneflowers were all chopped down. The finches will miss them; they always pluck out every coneflower seed in September and October.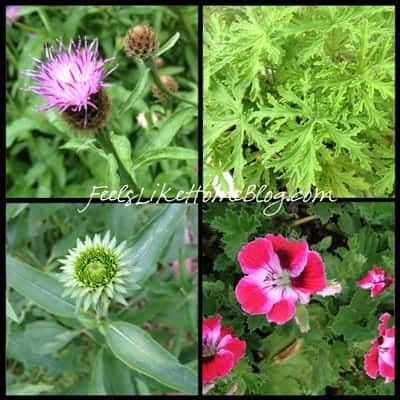 Pin
More from the vegetable garden. Joe made a teepee for the green beans to climb, and he thought it would be a perfect escape for the girls to play in. The problem with the teepee is that deer come by every other night or so and eat all of the beans and bean leaves. There are a couple of morning glories on the teepee, though, and the deer leave them alone. They are filling in between the poles of the teepee, so it might become a fun play space after all.
Also in this picture are cucumbers, butterfly bush, and my hardy kiwis, sometimes called gooseberries.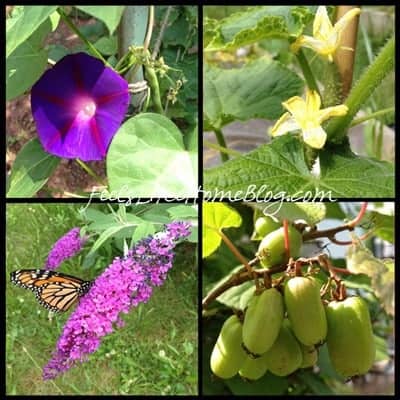 Pin
I tried for years to grow bee balm (also called monarda) and never had any luck. Suddenly, this spring, I had it growing in 4 separate places! Two of them are gone now, but the ones in the backyard remain. Its flowers are so brilliantly intense that this picture doesn't do them justice.
The orange rose is one of my oldest bushes. I planted it in the center of the backyard when I was single, and we ended up having to move it to put up Grace's swingset three years ago. It has been very, very slow to recover from being transplanted (and then run over by the lawn mower, twice), but it's finally gaining some momentum this year.
The light pink flower on the bottom left is tall garden phlox, and the dark pink and white flower is a dahlia that Joe gave me for Mother's Day.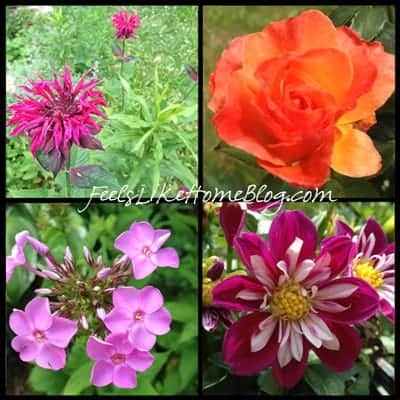 Pin
We planted a variety of sunflowers this year. Some of them were called Kid Sized and were supposed to get only 4 feet tall. The rest were in a mixed sunflower pack. I don't know which was which, but they all grew to be 4 feet tall, and the deer like to nibble on their petals.
Pin
The purple flower on the top left is a balloon flower. This is another one the day before I left for the conference; they're all gone now. Balloon flowers are really cool because the buds start out small and green then expand and turn purple over a couple of days until they pop open like a balloon bursting. They are a neat flower. I'll miss them.
Beside the balloon flowers are Grace's strawberries. I think she's gotten three berries so far this year. I'm not sure what we're doing wrong with those berries, but they were a dud.
The pink flowers on the bottom are on an ice plant. It's a succulent in Grace's fairy garden.
The boot was Joe's idea. A few years ago, we cut up this old boot, filled it with dirt, and planted hens and chicks (another succulent) inside. Every spring, I pull off the spindly babies and plant them in a pot on their own. I love hens and chicks.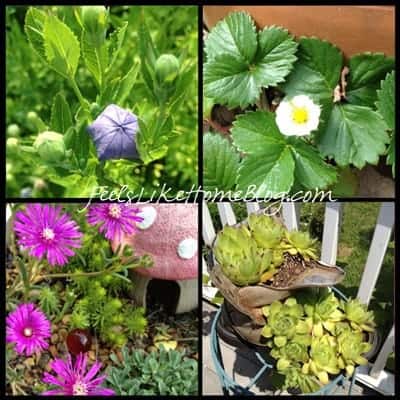 Pin
This is the last photo. I took a wide angle shot of the whole vegetable garden area to give you some perspective on the whole place. The sunflowers are spread all over, in between cantaloupe and watermelon, cucumbers and squash, tomatoes and peppers, and weeds. On the bottom, the little A-frame trellis was for peas. The deer wouldn't leave them alone, so we pulled them out and put tomatoes in the spot.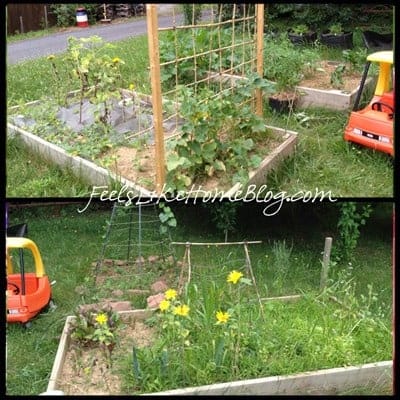 Pin
What's growing in your garden?