A Prayer for My Children - How to pray for your kids for their protection and Christian spirit. Includes a short sample prayer.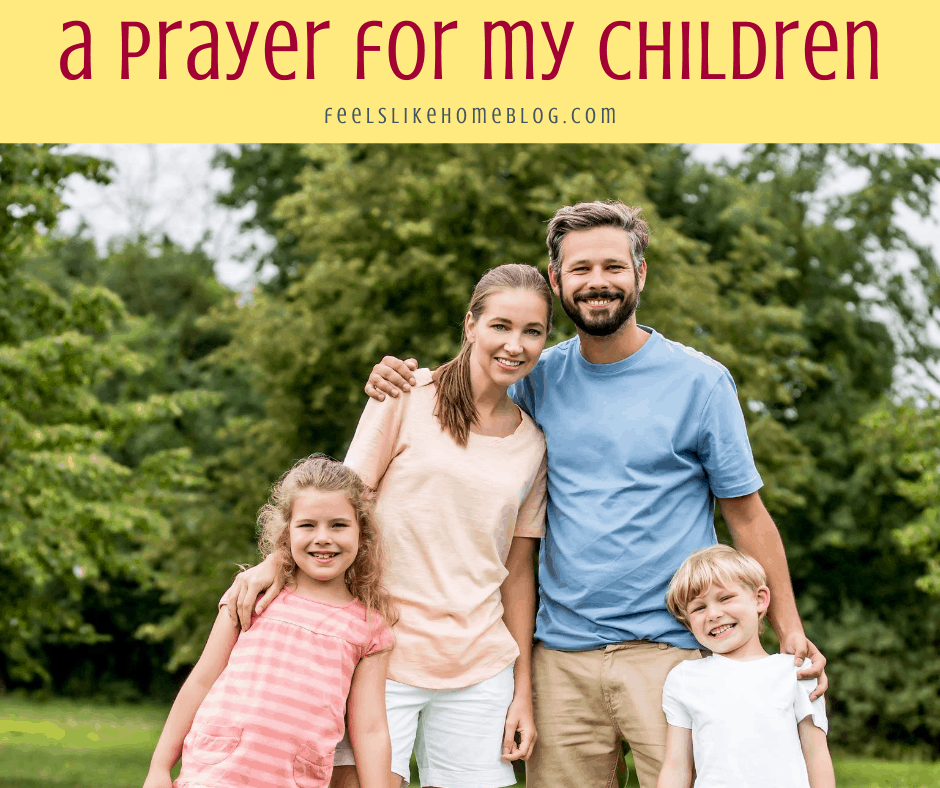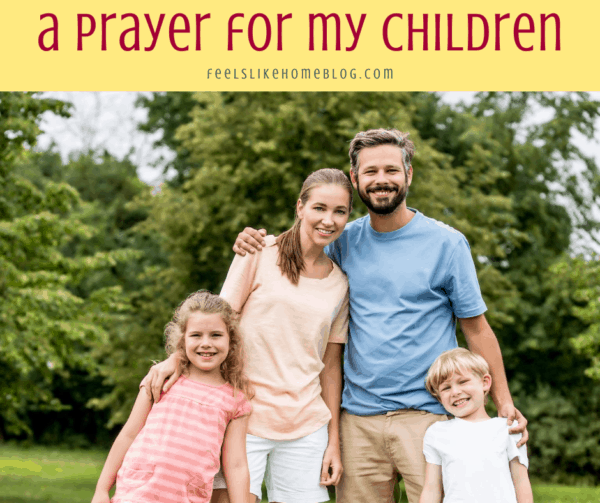 I don't know about you, but I pray for my kids daily. If prayer has power, and I believe it does, then I want all of God's power directed at the little people he's entrusted me to raise.
I pray for my kids' walk with God, for their precious hearts, for their brains, and for their education. I pray for myself as their momma, that I will do the best for them individually and together and that I will bless them with love, affection, structure, and discipline as they need.
I also pray for my kids' futures. I pray that they will grow up to be responsible and productive. I pray that they will marry godly and good men who take care of them and their future children with kindness, gentleness, and great affection. I pray that they will raise my grandchildren to have hearts for Jesus.
Finally, I pray for their qualities, especially for the fruit of the spirit. I pray that they will be kind and gentle with other people and with animals. I pray that they will have self control and temper their anger in all situations. (This is something that they both struggle with at times, but frankly, who doesn't?) I pray that they will be loving and beloved all their lives and that they will have both happiness and joy but enough sadness to make them appreciate the good times and make the strong. I pray that they will have peace in their hearts and minds and be free from anxiety and confusion.
I don't pray all of this every day. In fact, I don't pray all of it every week. I pray for whatever I feel led by the Holy Spirit to pray that day, although I do keep a prayer binder to make sure I'm praying for each of the areas at some point on a semi regular basis. I don't want to let them down in any certain area.
The thing about prayer is that it changes the pray-er too. I know that God has great power to work in my kids' lives, but in praying for them, He also works in mine. As I pray for my children to be kind and gentle, I feel more kind and gentle towards them. As I pray for their future husbands and children, I feel responsible to shape them to be worthy of those people. (I mean, I know they are and always will be worthy, but I want them to become responsible adults who can handle the wonderful people God puts in their lives with grace, love, and care.)
A lot of readers have asked me over the years what I say when I pray for my kids, so I wrote out a simple prayer below. I wrote it when they were a lot younger than they are now, when I was in the midst of the wild little years that required so much hands on time and patience, but it is equally appropriate now that they're a tween and a teen. (Well, maybe there aren't any more sloppy kisses, but pretty much everything else is still true.)
If you're struggling with what to pray for your kids and how to pray it, I would encourage you to start with the simple prayer below and work up from there. You could pray this prayer every day and have a good go of it, and I promise that you will eventually start interjecting your own thoughts and desires for your own kids as you go along. It will come if you make the faithful effort to start the habit.
A Prayer for My Children
Dear heavenly Father,
Thank you for the beautiful, active, ornery children you've blessed me with. Thank you that they are healthy and strong. Thank you for their mischievous streaks and their kind hearts.
Thank you for sweet cuddles and sloppy kisses and warm hugs. Thank you for making me their mother.
Remind me, oh Lord, that my children aren't really mine but yours. Help me to open my hands and offer them to you. Dedicate them to your service.
Please be with my children today. Please guide their steps and open their hearts to the leading of the Holy Spirit. Keep them on the right path, and protect them from the enemy as he tries to steal them away from your flock.
Keep your words on their lips and in their minds, Lord, and keep them walking toward eternal life with you. Help them to grow in relationship with you each day.
Help me to be the mother my children need and deserve, slow to anger and quick to love. Help me be patient and fun and to nurture their delicate spirits.
Teach them Lord. Nurture them. Keep them company and remind them that they can call on you in everything.
In Jesus' precious name,
Amen
Here are some other resources on prayer that you might be interested in: