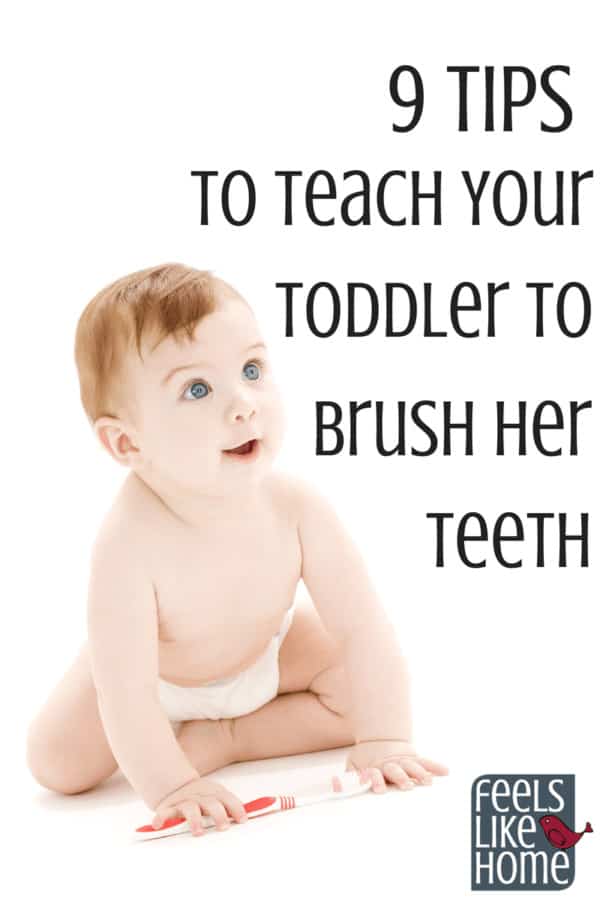 Pin
I know firsthand how hard it can be to get tiny tots to brush. At the same time, I know how important it is.
When she was 4, Grace had 10 cavities. 10! A combination of poor genetics and less than stellar brushing habits left her with a huge mess.
She had to have anesthesia to have them fixed and ended up with a handful of root canals and crowns. Not only was it scary and unpleasant for her, it was scary (and expensive) for me.
And talk about guilt!
Seriously. It's my job as her mother to make sure her teeth are clean, so if she has cavities, I feel like it's my fault.
In the years since the cavities fiasco, we have tried and failed and tried again to find ways to make her brush her teeth. Fortunately, we won the war, and she now brushes with nothing more than a gentle reminder.
Thanks to her genetics, she still gets cavities, but she does brush and floss the way she should.
At first, Allie didn't want to brush, either, but she's finally got a routine, too. Here are some of the things that contributed to our success:
Make brushing fun, not a chore. Set a timer, play some music, dance while you brush.
Making brushing a family affair. Everyone brushes in our tiny bathroom at the same time, even the tiniest member of the family.
Use a toothpaste that tastes good. Allie loves Aquafresh Training Toothpaste and would eat it on a spoon if I allowed it.
Let your toddler brush her own teeth and then run the toothbrush over them "just to check."
Make a sticker chart where she gets to put a sticker in a square every time she brushes.

Tie bedtime books to tooth brushing. No brushing, no stories. One minute of brushing, one story. Two minutes of brushing, two (or three!) stories.



Use a light touch. Brushing too hard hurts tender gums. If toothbrushing hurts, no one is going to do it willingly.

Make tooth brushing into a game, pretending there are germs/animals/dinosaurs in her mouth that you are attacking. This worked so well with Grace; I would say, "Oh, wait a minute! I see a puppy dog back there in the corner. Let me get him!" and I would brush that section. Then I'd see another puppy dog somewhere else. It sounds ridiculous, but this is how we escaped from holding her down (which is below) to actual voluntary brushing.



And, when all else fails, hold her down and brush her teeth by force. This is obviously a last resort, but the teeth have to get brushed. Our by-force method of choice was recommended by the girls' pediatric dentist. She said to hold Allie in my lap, facing me, then lean her backwards into Joe's lap, holding her securely so that he could brush her teeth.
Aquafresh Training Toothpaste
Your baby's tooth enamel is 50% thinner than yours. That's why you need the expert protection. Aquafresh is made by the little mouth experts –especially for babies and toddlers from 6 to 24 months old or until they can spit out their toothpaste reliably.
Allie still eats her toothpaste with regularity, so she's still using training toothpaste.
*Please use product as directed on label.
Disclosure: This post was sponsored by Aquafresh through their partnership with POPSUGAR. While I was compensated by POPSUGAR to write a post about Aquafresh, all opinions are my own.