This week's Honoring the Man They Call Daddy theme is setting the stage. What can we do to make our homes more welcoming and more comfortable for our husbands?
I wasn't sure where to start, so I asked Joe what that would look like.
"Uh, I dunno," he answered.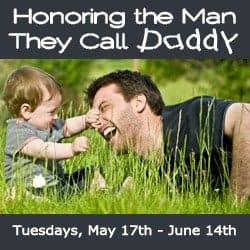 Pin
Not satisfied with that answer, I pressed, and he said, "I don't really need too much. A little pampering, maybe. A foot massage." Here's what else he said (plus a few things I added in on his behalf).
How to make your home more welcoming for your husband
Greet him with a smile and a smooch when he walks in the door. When I asked Joe what would make our home more welcoming to him, he grinned and said, "Well, if no one was screaming when I opened the door, that would be a good start."
The last week or two have been that rough, Dear Reader.
Then he said, "It would be nice if everyone could smile at me and say hello." You know what? That would be nice. I greet strangers with a smile and a kind word, so why not greet my husband that way?
Why not, indeed.
There have been many days when I didn't greet him at all, let alone greeting him kindly.
Clean it up. The stereotype is that men will live in filth, but I think they notice when the house is tidy and neat or if it's a complete wreck.
We had a discussion about this not long ago because Grace had been strewing her toys all over the living room just before he came home. Even though I picked up the toys three or four or five times every day, the only thing that mattered to him was that they were all over the place when he came home from work.
Now, I let the toys lay in the morning, and I make a concerted effort to clean them up just before I expect him to arrive home.
Have dinner waiting when he gets home. When Joe said this, I gave him a stern look. I almost said, "Seriously? You must be kidding. I am working from home and taking care of these two needy children, and you want me to cook, too?"
I refrained.
I'll try to do this, but I can't make any promises.
Keep snacks and drinks that he likes on hand and protect them from the children. I may not be hopeful about making dinner for him every night, but I sure can have snacks that he likes in the cupboard. String cheese? Check. Tortilla chips? Got 'em. Salsa? Yep.
Kick the children out of his chair. There is a chair in our living room in which Joe has always liked to sit. He sat in that chair before we were married, before he lived here. There's nothing special about it; it's rather old and shabby.
But he likes it.
And.
So does Gracie.
They fight over the chair, my strong-willed girlie and my people-pleasing husband. I'm going to step in and keep Grace out of it when he's home.
Make room for his hobbies. Joe loves to do three things at night, after the kids are in bed. He likes to play college football on his Play Station. He likes to play a basketball-related board game. He likes to watch tv shows.
Out of respect for my kind and generous husband, I make sure he has enough space and time to enjoy them.
Turn off the lights and burn some candles. Joe would never admit this, but he loves candles. When we met, he had all sorts of candles around his house. He would love it if we ate dinner or watched tv or played a board game by candlelight.
Give him the remote. Joe likes to have the remote. If it's that easy to make him happy, I'm delighted to give it to him.
Setting the stage for your man is important to making him feel loved and respected. Think about what you can do today to make your life and your home more welcoming to him.