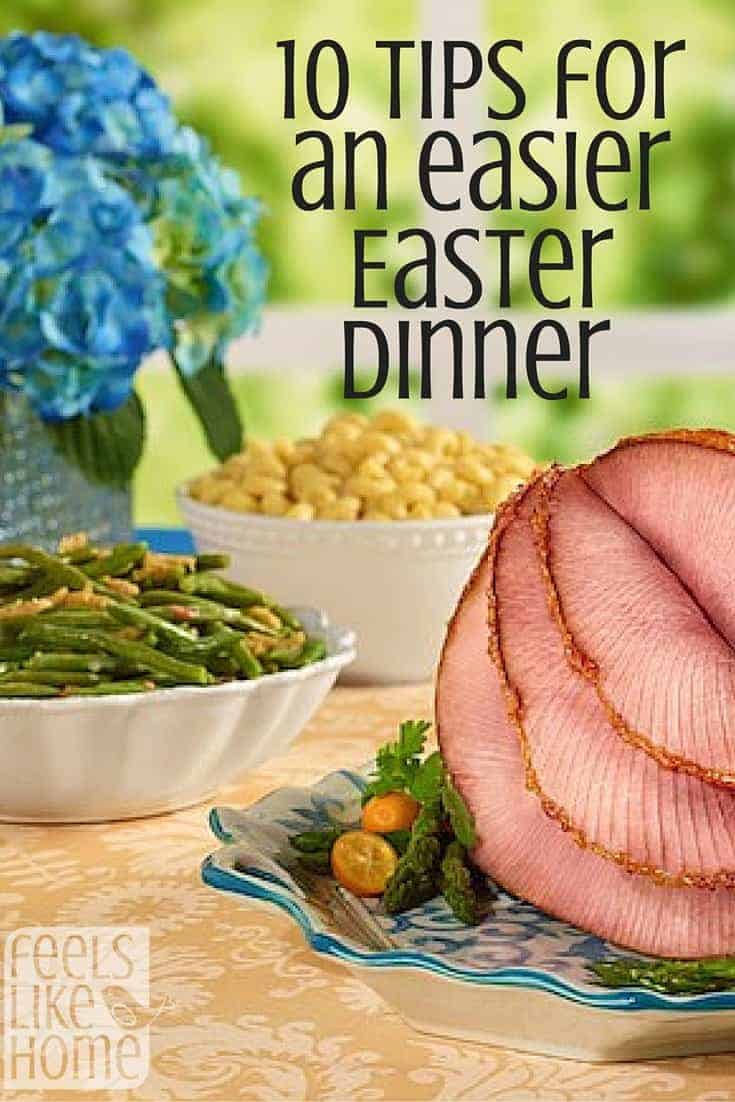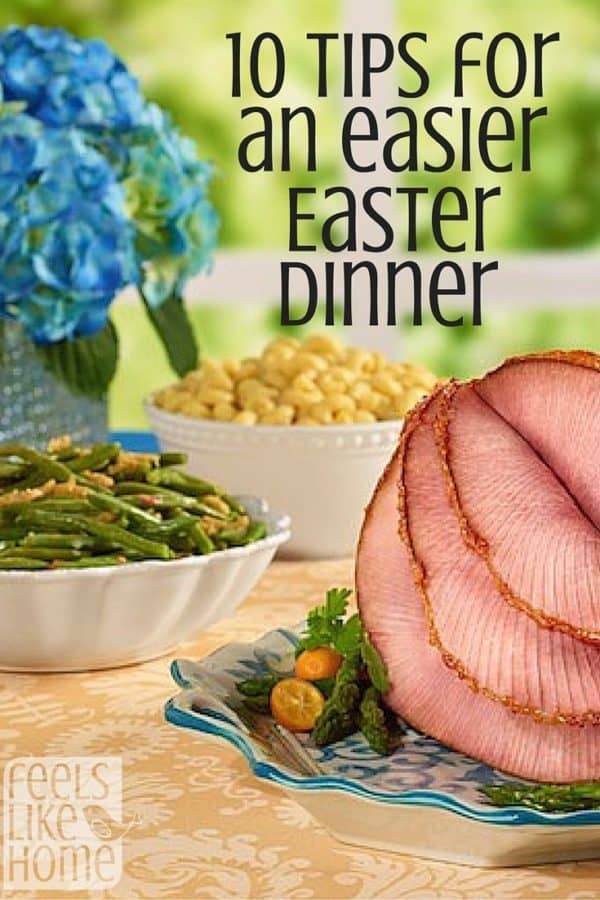 Pin
Easter is about the resurrection of Jesus just like Christmas is about His miraculous birth.
But I would be remiss if I failed to mention the Easter bunny, the basket-hiding, the candy, the presents, the new pretty dresses, the egg hunts, and the big family dinner.
According to a recent study done by HoneyBaked Ham, almost 90% of us spend Easter with our families, so we aren't the only ones who plan for a big family meal.
In my family, Easter is a holiday celebration rivaled only by Christmas. We do Easter big.
Even when we do it at the last-minute. Check out this old post for some last-minute tips for celebrating Jesus and Easter.
My favorite Easter menu includes things like HoneyBaked Ham, fried apples, hashbrown casserole, asparagus salad, carrot soufflé, deviled eggs, baked pineapple, and pickled beets with pickled eggs.
11 Tips for Making Easter Dinner Easier
Plan ahead. This goes without saying, right? You need to plan your menu ahead of time, make a shopping list, and check to make sure you have all the necessary ingredients.
Start early. Pickled eggs need to go in the pickled beets at least 3 days ahead of time, preferably longer. That means now. Hard boiled eggs are easiest to peel if you cook week-old eggs.
Choose the right recipes. You must use recipe you have made before. (Notice how I put must in both bold & italics? It's that important. This should not be your first time making the recipes.) In my holiday meals ebook, I explain how you can easily make most of your holiday meal ahead of time and simply heat them for dinner. The recipes above will lend themselves to being made the night before with one exception - make the dressing for the asparagus salad on Easter morning. It will become too tart if you let it sit overnight.
Choose the right ingredients. Consider buying pre-cut hash browns instead of cutting your own potatoes, for example. Buy canned pineapple and green beans. Go for convenience here where you can.
Want to really streamline your Easter dinner preparations? Order a HoneyBaked Ham. Plan for a half pound per person. You can order online or pick it up at a HoneyBaked Ham store. The ham is precooked and spiral cut to make dinner simple and easy. You can even serve it straight from the fridge! Also, Consumer Reports named HoneyBaked Ham their top pick for spiral cooked ham, calling it "flavorful and consistently moist and tender."
Keep it simple. Choose recipes without a bunch of fancy preparations or complicated processes. The idea is to satisfy your guests' hunger with a delicious meal, not to wow them with your culinary amazingness by stressing yourself out.
Remember the kids. Have activities planned to keep the kids busy while they're waiting to eat and while they're waiting for the grown ups to finish eating. Provide them with a couple dozen plastic eggs to hide and seek, print out some Easter puzzles, or get a couple of coloring books with washable crayons or markers. Or all of the above, as we all know most kids have a short attention span.
Skip the salad if you're serving lots of veggie-heavy side dishes like we do. You can probably skip the bread, too.
My dad needs to have bread with his meal, so we have it every year.
Set the table the day before. Even if you have kids or pets, like I do, you can clear the table, clean it, spread the tablecloth, and set the table the day before. If you're really worried about pet hair, put your normal tablecloth overtop overnight.
Forget about fancy table decorations or centerpieces. If you'll be putting the food on the table, you won't have room for fancy centerpieces. They'll be taken off the table before dinner. Use your kids' colored Easter eggs or a pretty vase of spring flowers to decorate the table until it's time to put the food out.
Relax. Remember that Easter is a day to remember the resurrection of our Lord and Savior, Jesus Christ. It's a day to spend with family and friends. Do as much work as you can ahead of time, relax, and spend the day enjoying your loved ones. It won't be perfect, but it will be lovely.
This post is sponsored by HoneyBaked Ham, but all opinions and text are mine.