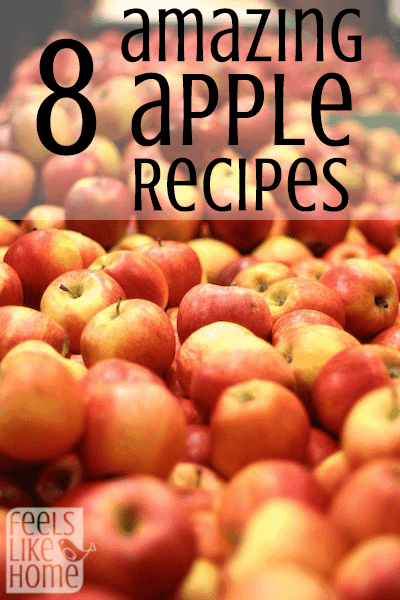 Pin
Row after row of peck baskets full of apples lined the farm market last week. There were Johnagolds and Macintosh, Red Delicious and Gala. Honeyscrisp, my personal favorite, is already done for the season.
Everything's in season at Walmart, of course, but I try to buy my produce locally.
Anyway, in the heart of apple season, my favorite apple recipes have been getting a healthy workout.
In the last couple of weeks, we've made:
Apple ring pancakes - This is one of my favorites. Imagine an apple ring filled up with pancake batter and then cooked. Yes, that. It's pretty much dessert for breakfast.
Baked apple pecan pancakes - This is another dessert on a plate thing. It's a 9x13 pan-sized pancake full of diced apples and pecans. I like to serve it with eggs or sausage for a more filling meal.
Pan fried apples - My mom says she used to make these all the time, but I have no recollection of that. They come out like apple pie filling, totally delicious.
Homemade apple butter and homemade applesauce - These are crazy easy when you make them in the crockpot, and they are so much better than the stuff you buy in a jar.
Apple crisp - This is my go-to apple crisp recipe. It always comes out perfectly. Try it with vanilla ice cream.
Caramel apple strudel - The classic dessert made the easy way.
Wormy apple snack - This isn't a recipe so much as instructions for an awesome snack that your kids will love.
What are your favorite apple recipes? Leave a comment!