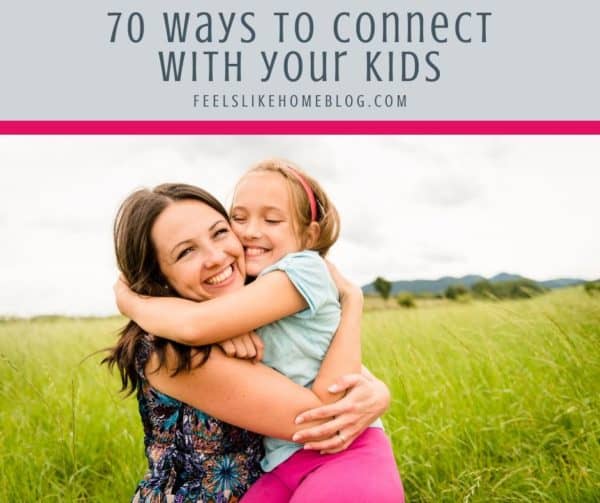 Pin
Joe and I are taking a weekly class on intentional parenting at our church. It's been really good so far, confirming a lot of the things I already believed about spending quality time with your kids, affirming and encouraging them, and lavishing them with affection.
When I was working out of the home full-time, I felt like I was totally absent from my kids' lives. I left the house before they were awake, and I got home at dinner time. We did minimal schoolwork, then ate, then got ready for bed. They spent all their time with a nanny. I was miserable, and they missed me.
Now that I work from home, I am more or less available to them throughout the day, but that doesn't mean that I am present with them throughout the day. I am still working in my home office, often on conference calls, and they are playing or learning or reading elsewhere in the house. It's still not ideal, but it is our life, and it is the best possible scenario for our current financial situation.
Given all that, I have to be really intentional about the time I spend with my girls during the evenings and weekends. I make it a point to be fully present with them as often as possible, and I plan fun family activities at least once a week. It's hard, and it makes life busy, but it's my priority.
And also, my house is a dirty wreck, so please don't think I am doing everything that needs to be done.
With that admission out of the way, let's talk about how I spend intentional time with my kids, how I am present with them in a way that is meaningful to them - without making a point of "now, I'm going to spend some quality time with you" because that would feel lame and fake.
70 Ways to Connect with Your Kids
Put down your phone. Put it totally away in a spot where you won't be tempted to look at it. Give them a full 15-20 minutes where you are not distracted (outwardly) by anything.
Tell her what you love about her.
Be physical together. My kids love it when Joe plays steamroller with them. They both lay on the bed, and he literally rolls over top of them. I don't get it, but they love it. They also love the paddywhack machine, where they crawl between his legs and he playfully whacks their behinds.
Use funny voices when reading a bedtime story. I have compiled a list of 101 picture books every child should read and 101 chapter books every child should read. These posts are gold mines, and I promise that you will find something that will interest your whole gang.
Add special touches to their meals, like sprinkles on their oatmeal or using a sandwich cutter for their ham and cheese on whole wheat.
Play the horsey ride game. Bounce them on your knee while you sing, "This is the way the baby rides, the baby rides, the baby rides. This is the way the baby rides all through the town." Then bounce them a little higher while you sing about the momma and bounce them highest when you sing about the daddy.
Sing with them.
Dance with them.
Play with them on the floor.
Write in a gratitude journal together. Make sure they know you're writing about them.
Make eye contact when you talk to her.
Slow down and match her pace instead of rushing her to finish the task at hand.
Just for 15 minutes, ignore the laundry, the dishes, and the sweeping to play with them. It's only 15 minutes, and you can do the chores when you're finished.
Ask her what she wants to do and then do it for 15 minutes. Set a timer if you need to.
Exercise together.
Take a class together - art, exercise, cooking, foreign language.
If she goes to school, volunteer in her classroom (even if you have to take a ½ day from work!).
Chaperone a field trip. Both Joe and I took off yesterday from our work to go on a homeschool field trip with our girls, and it was magnificent. Normally, my sister takes them on their field trips, but we made this one extra special by taking off work for it.
Attend their events, and pay attention instead of looking at your phone or reading a book - plays, sports, concerts.
Build a Lego set together. Here's a fun Lego set for girls (on my kids' Christmas lists already) and a fun Lego set for boys.
Take turns telling jokes. Here's a great joke book that my kids have had for years and love.
Find ways to say "yes" instead of "no."
Do a science experiment together.
Make slime together.
Apologize when you've lost your temper or spoken harshly.
Buy a cake and have a family party for no reason. 
Start fresh. Ask for a do over when things are going awry, either because of them or because of you.
Play Simon Says.
Go  star-gazing in the backyard.
Go to the zoo together.
Go to a museum together.
Make ice cream sundaes.
Go swimming together and let her hang on you for a bit. (This makes me cringe, but both of my kids love to swim with their arms around my neck. I can only handle it in small doses.)
Feed the ducks or geese together (only if it's allowed where you live).
Plant a tree for her in your yard, together of course. Make sure she knows that it's her tree and that you will always remember that. But don't forget that she probably won't water it so make sure you do that for her.
Blow bubbles together.
Do something she's always wanted to do. Don't know what that is? Just ask her!
Do a craft together.
Paint a picture together. 
Play a game together. I have gathered ideas for the best games for preschoolers and the best games for non-readers and the best games for older kids.
Help with her chores. You don't have to do them for her, but just work alongside her while she's working.
Tell her a story from your childhood. Our kids love to hear our stories!
Listen to her stories. Be enrapt. Ask questions. Ask her if you can write it down while she tells it and keep the writing in a notebook.
Go for a walk together and chat.
Go outside and see what kinds of creatures you can find in your yard. If you're having trouble, lay down in the grass and use a magnifying glass.
Tell her you are thankful that God made you her momma.
Look at her baby book together.
Tell her about her first days at home after she was born.
Look at a family photo album together.
Watch videos from when she was younger together.
Hug her and don't let go until she does.
See the positive in her and name it out loud to her.
Catch her doing good and tell her about it.
Go on a lunch date.
Go roller skating together, and hold hands if she'll let you.
Go ice skating together, and hold hands if she'll let you.
Go to the library together, cozy up, and read to her or play with her. (Do all libraries have cool toys? Ours does.)
Tell her why you chose her name.
Ask her what she wants for dinner and help her to make it for the family.
Plan a family picnic together.
Play with her at the playground or at the park.
Lay with her in bed at night, even just for a few minutes. Some of our best conversations happen when the lights are off.
Bake something together.
Go on a bike ride together.
Ask her what she wants to be when she grows up, and thoughtfully listen to what she says.
Learn how to play her favorite video game.
Talk about your next family vacation, and ask her what she'd like to do while you're there.
Learn a new hobby together.
Let her cry on your shoulder when something is bothering her.
Forgive yourself for all the ways you've screwed up and just be with her today. Confess your sins to her and to God if you need to (but I bet it won't be necessary with your child who has probably already forgotten the wrongs), but then move on and start fresh.