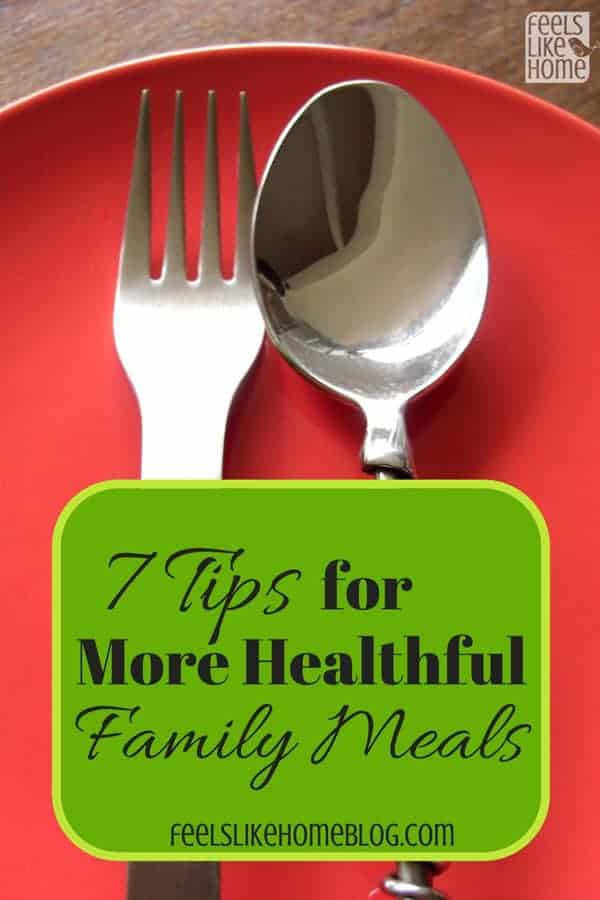 Pin
Since I began publishing Feels Like Home in 2007, I have advocated for family meal times – making time for them, making cooking them easier, encouraging picky eaters to eat, and savoring the mealtime itself.
When Facts Up Front asked me to do a post about their label, it was a no brainer. The Facts Up Front program is the most significant food labeling change to happen in twenty years, bringing important nutritional information to the front of food packages.
You should already be seeing Facts Up Front labels in your grocery store because more than 50 different manufacturers are already displaying them. Store brands from Wegmans, Kroger, and Hy-Vee also display them.
Here's a 2-minute video about how Facts Up Front can help you to build a better mealtime:
Many of the tips from the video are things I have been repeating here over and over and over:
Plan meals ahead. We have tried many different systems, but Google Calendar has worked the best for us. eMeals is really good, too, because they plan your meals for you.The key to effective meal planning is to have a list of recipes and to repeat that list at some interval. Every three to four weeks has worked best for us to avoid recipe burnout.
Plan meals around a variety of foods. Plan meals around the foods in your pantry, whether they're convenience foods (for nights when you need something super quick) or whole foods (for when you have time to linger in the kitchen). You might also plan around the foods that are on sale.
Make your favorite recipes healthier with minor substitutions. Including whole grains instead of processed ones, increasing the fruits and vegetables in a recipe, and substituting lower fat dairy products for higher fat ones are quick and easy ways to make your recipes healthier without compromising taste or quality. We have done this in nearly every recipe we've made over the last couple of years.
Fill your plates half full of veggies and fruits. Whether you serve a salad with your casserole, add vegetables to the casserole recipe, or serve a fruit salad alongside your burger, you can never go wrong by adding vegetables and fruits to your meal.Incidentally, it doesn't matter whether your vegetables and fruits are fresh, frozen, canned, or dried. They're all nutritious and count towards your daily totals.
Make each meal include 3 of the 5 food groups and snacks include at least 2 of the 5. No matter what the fad diet of the month says, your meals really need to include a variety of foods. Your body needs protein and carbs and dairy in addition to vegetables and fruits. At the same time, you don't have to eat every food group in every meal as long as you eat them all through the course of the day.
Watch portion sizes. We in America have a big problem with big portions. When you start measuring your portions, you will see that you're really eating two or three servings of each food at a time. That huge apple you had with lunch? Probably 2 servings, maybe more. The giant baked potato that came with your steak in a restaurant? Definitely more than 2 servings. Here are a couple of quick guidelines:

A 3-ounce serving of meat is about the same size as a deck of cards.
A baked potato should be able the same size as a computer mouse (and not a jumbo one!).
A 1-ounce serving of nuts is a small handful over which your fingers can close.
A 1.5-ounce piece cheese is the size of your pointer finger (think string cheese size) or nine cubes about the size of dice.
A bowl of noodles or rice should be smaller than a handful or a tennis ball.
A tablespoon of peanut butter is about the size of your thumb; two tablespoons are about as big as a ping pong ball.
A pancake should be about the size of a DVD.
A "medium" piece of fruit should be about the size of a tennis ball.

Get your kids in the kitchen. This one is less for planning meals and more for handling picky eaters. Get your kids into the kitchen when they're really little if you can. Grace was helping to pit cherries at 14 months. Or, she thought she was helping to pit cherries. It didn't matter. She had a bowl of cherries and a spoon. I had a bowl of cherries and a pitter. We each had a side of the sink. We both stood at the sink all afternoon and played with cherries.Allie was a little older when she became interested in helping in the kitchen, but it was before she was two for sure.Grace will be seven soon, and she extremely picky. If she helps to make the meal, she is much more likely to eat it. If she gets to taste test the food while we're cooking, she is more likely to eat. Getting kids into the kitchen to help prepare the food is a sure way to get them to eat the meal when the family sits down together.
The Facts Up Front label displays the key nutrition information that you need to make the best buying decision quickly and easily.
You can visit the Facts Up Front website to learn more about the label, how to read it, and how to build a healthful diet. You'll also find an interactive label (like the one above), nutrition quiz, and activity calculator while you're there.
You can also follow Facts Up Front on Facebook and Twitter.
FactsUpFront.org is a great resource you can use to understand how to read product labels, use a nutrition calculator, and find great recipes and tips.
This is a sponsored conversation written by me on behalf of Facts up Front. The opinions and text above are all mine.