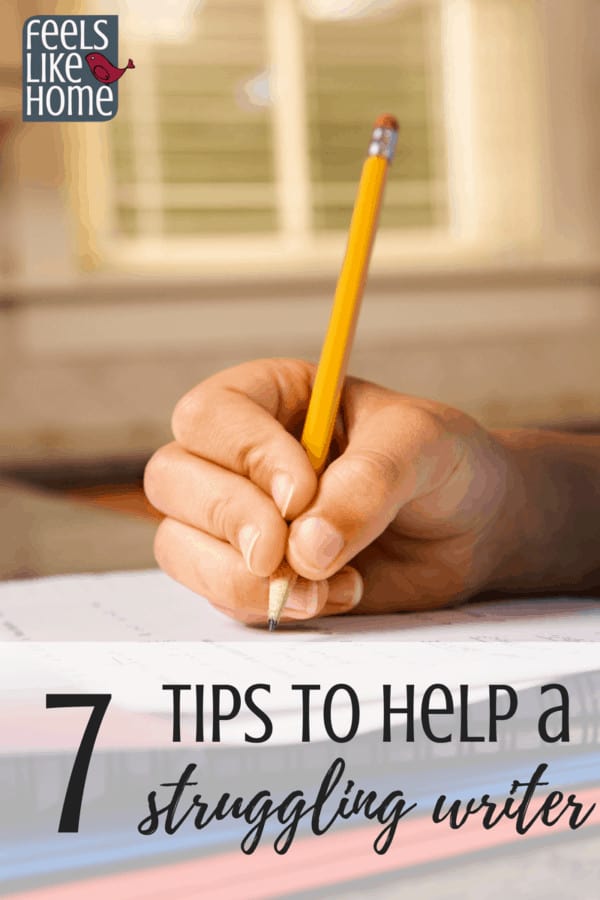 Grace and I have long used a journal during our homeschool time. When she was much younger, she wrote just one sentence and dictated the rest to me. That worked pretty well.
All along, I have helped her to sound out her words and reminded her to put finger spaces between the words and add the capital letters and periods.
She's in second grade now, and I think she should be taking on more of the responsibility for the writing (spelling, format, and punctuation), and that is causing a lot of friction between the two of us.
In fact, Grace and I are struggling to homeschool right now. It's day 25 of the cyberschool's school year, but we are just beginning lesson 8.
It's not going well at all.
The easy answer to the problem is to go back to "helping" her with the writing part, but I'm that's the right answer.
For the record, I don't think Grace is unwilling to write. I think she's unwilling to make a mistake (this is a common problem with exceptionally gifted kids), and she is overwhelmed by all the parts of writing. She can't do it perfectly, so she refuses to try.
It's a work in progress.
Today, I made her write 3 or 4 sentences in her journal (about a story we'd read together), and the only things we corrected were capital letters at the beginning of the sentences and periods at the end. I left all the spacing and spelling issues alone, fodder for another lesson far away.
The thing is that Grace can read at a level far beyond what she can write. She can spell orally far better than writing words. She can identify parts of sentences and edit written sentences but cannot construct her own.
I'm perplexed by all that, and I'm a little concerned that it indicates a dyslexia-type learning disability. I'm going to consult my experts on that.
Anyway, back to journaling.
I am asking Grace to take more of the responsibility for her writing, especially in journal writing.
However.
I want Grace to continue to work on her composition skills independent of her handwriting and physical sentence structure skills. I want her to compose thoughts fluently - sentences into paragraphs and paragraphs into pages - even if she can't write them down yet.
I started with the struggle of writing words and sentences because I want to stress that we're working hard on that, but I also want to stress that we're not ignoring her higher order writing skills.
7 Tips for Helping Struggling Writers
1. Begin with a compelling assignment or journal. Grace and I are currently working through a Mom and Me journal because it is exactly the kind of thing that Grace craves - time to really connect with me. She asks to write in our journal almost every day because she wants time with me, outside of school time or even playing time.
2. Help her to compose her thoughts. Ask questions if you need to. Our Gadanke journal (no longer available) is good for this because it begins each page with a prompt or question. Talk through the question and help her to organize her thoughts into a few big ideas (what would be the paragraphs if she were writing it out herself). I will say that some of the prompts in this journal are too abstract for Grace at this age, but she'll definitely grow into them in the years to come.
3. Allow her to dictate to you. Do the writing for her. It is so important for her to learn to put her thoughts into sentences and her sentences into paragraphs and her paragraphs into essays, and if the physical act of writing is a problem for her, then take it out of the equation.
Most important, write exactly what she tells you. Don't clean up the construction. Don't add words or delete words. Leave her run-on sentences alone, same with sentence fragments. Just write her thoughts.
As I mentioned above (extensively), you still have to work on the act of handwriting and the mechanics of writing sentences and such. But those two skills are entirely different from composing thoughts and writing, and you shouldn't let the former limit the latter.
4. Ask questions. Ask a lot of open-ended, probing questions. What happened next? Then what? Where else? What else? The purpose of asking questions is to elicit more details for the story. Struggling writers often have trouble getting beyond the bare bones basics of the story. Asking questions prompts them to add more.
5. Compliment her. When you're having a hard time with something, you want to hear that you've done a good job. Right? Find something in the composition to compliment her on. Find something that she's done well, and tell her.
6. If you think she's ready for it, have her copy part of the composition. Start small, just a few sentences at first. Help her pay attention to the correct spelling, mechanics, and formatting of what you have written. Copywork is really good for learning to write better.
7. The next step, after she's comfortable copying what you've written and is gaining confidence in her own writing, is to create a word bank for her to use in her own writing. When she can refer to a list of words or phrases, she'll feel better equipped to write her own sentences.
How do you encourage your struggling writers?
For more writing advice, check out the Reading & Writing Index.