These 35 Bible verses on love and marriage are encouraging scriptures for all believers but especially those in committed and married relationships.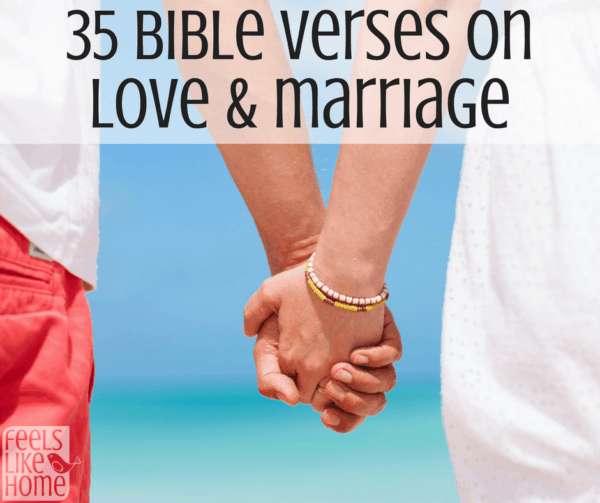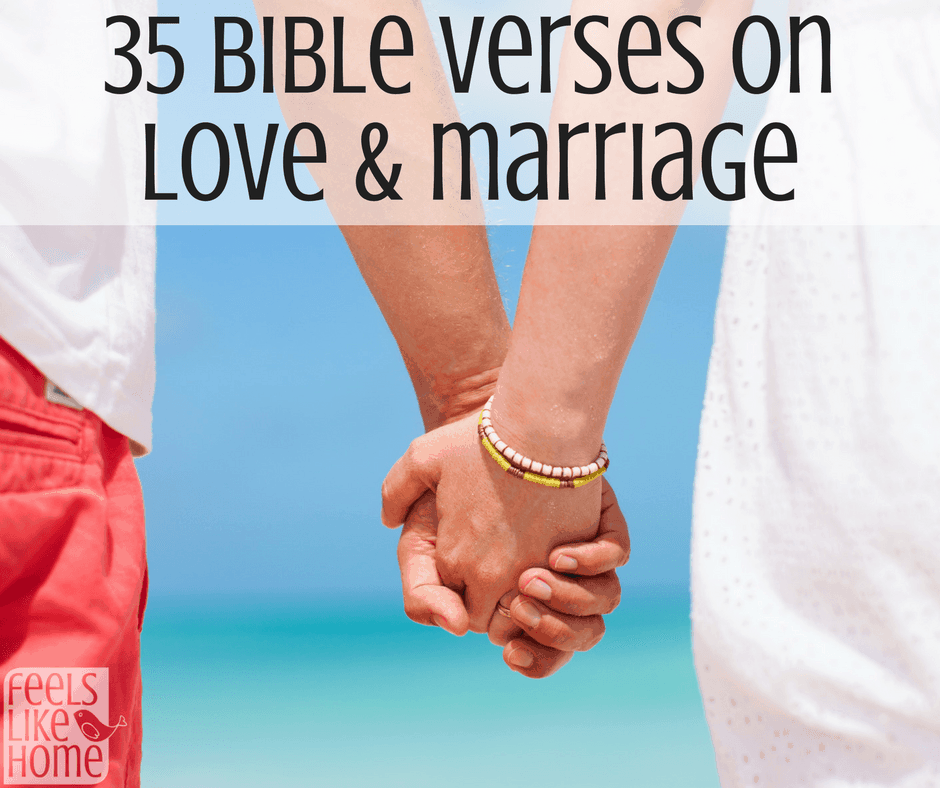 Have you heard someone say before that God created marriage as a gift to men and women? I would like to think that's true, but marriage is hard work. Am I right?
Joe and I are committed to each other and to our marriage, but that doesn't change the fact that we both (as introverts who don't like to talk about our feelings) find it a formidable challenge most days. We squabble about the kids, we squabble about money, we squabble about my overcommitting the family. Sometimes, we bicker about nothing.
It takes a lot of work and effort to bring ourselves back to a the place where God intended - to peace and love and harmony. We have to forgive and reconnect and go on frequent date nights (usually at home since we have two small children). We have to look past the spats and get back to looking at each other.
I believe God did intend marriage as a gift. He intended us to have someone to lean on, someone to support us, someone to be a partner through the ups and downs of a busy and stressful life. It is intended to be a blessing, but you have to remember to look for the good.
Take a look at the following Bible verses, and share your favorites in the comments.
Bible verses about marriage
Though one may be overpowered, two can defend themselves. A cord of three strands is not quickly broken. -Ecclesiastes 4:12 (Do you know who the third strand is? It's God.)
Two are better than one, because they have a good return for their labor: If either of them falls down, one can help the other up. But pity anyone who falls and has no one to help them up. Also, if two lie down together, they will keep warm. But how can one keep warm alone? -Ecclesiastes 4:9
With all humility and gentleness, with patience, bearing with one another in love, eager to maintain the unity of the Spirit in the bond of peace. -Ephesians 4:2-3
And over all these virtues put on love, which binds them all together in perfect unity. -Colossians 3:14
I have found the one whom my soul loves. - Song of Solomon 3:4 (This entire book is about a marriage.)
I am my beloved's and he is mine. - Song of Solomon 2:16
For husbands, this means love your wives, just as Christ loved the church. He gave up his life for her. - Ephesians 5:25
In the same way, husbands ought to love their wives as they love their own bodies. For a man who loves his wife actually shows love for himself. No one hates his own body but feeds and cares for it, just as Christ cares for the church. - Ephesians 5:28-29
As the Scriptures say, "A man leaves his father and mother and is joined to his wife, and the two are united into one." This is a great mystery, but it is an illustration of the way Christ and the church are one. So again I say, each man must love his wife as he loves himself, and the wife must respect her husband. -Ephesians 5:31-33
Husbands, love your wives, as Christ loved the church and gave himself up for her, that he might sanctify her, having cleansed her by the washing of water with the word, so that he might present the church to himself in splendor, without spot or wrinkle or any such thing, that she might be holy and without blemish. - Ephesians 25-30
He who finds a wife finds what is good and receives favor from the Lord. -Proverbs 18:22
Houses and wealth are from the parents, but a prudent wife is from the Lord. -Proverbs 19:14
Who can find a virtuous and capable wife? She is more precious than rubies. Her husband can trust her, and she will greatly enrich his life. She brings him good, not harm, all the days of her life. - Proverbs 31:10-12
Therefore a man shall leave his father and his mother and hold fast to his wife, and they shall become one flesh. - Genesis 2:24
Therefore what God has joined together, let no one separate. - Mark 10:9
The husband should fulfill his wife's sexual needs, and the wife should fulfill her husband's needs. The wife gives authority over her body to her husband, and the husband gives authority over his body to his wife. - 1 Corinthians 7:3-4
But for those who are married, I have a command that comes not from me, but from the Lord. A wife must not leave her husband. But if she does leave him, let her remain single or else be reconciled to him. And the husband must not leave his wife. - 1 Corinthians 7:10-11
For the believing wife brings holiness to her marriage, and the believing husband brings holiness to his marriage. Otherwise, your children would not be holy, but now they are holy. - 1 Corinthians 7:14
Wives, submit to your husbands as is fitting in the Lord. Husbands, love your wives and do not be harsh with them. - Colossians 3:18-19
Marriage should be honored by all, and the marriage bed kept pure, for God will judge the adulterer and all the sexually immoral. - Hebrews 13:4
Then the LORD God said, "It is not good that the man should be alone; I will make him a helper fit for him." ... So the LORD God caused a deep sleep to fall upon the man, and while he slept took one of his ribs and closed up its place with flesh. And the rib that the LORD God had taken from the man he made into a woman and brought her to the man. The man said, "This is now bone of my bones and flesh of my flesh; she shall be called 'woman,' for she was taken out of man." That is why a man leaves his father and mother and is united to his wife, and they become one flesh. - Genesis 2:18-25 (Who else knew Outlander quoted the Bible here???)
In the same way, you husbands must give honor to your wives. Treat your wife with understanding as you live together. She may be weaker than you are, but she is your equal partner in God's gift of new life. Treat her as you should so your prayers will not be hindered. - 1 Peter 3:7
May your fountain be blessed, and may you rejoice in the wife of your youth. A loving doe, a graceful deer may her breasts satisfy you always, may you ever be intoxicated with her love. - Proverbs 5:18-19
Set me as a seal upon your heart, as a seal upon your arm, for love is strong as death, jealousy is fierce as the grave. Its flashes are flashes of fire, the very flame of the LORD. Many waters cannot quench love, neither can floods drown it. If a man offered for love all the wealth of his house, he would be utterly despised. - Song of Solomon 8:6-7
Bible verses about love
Love is patient, love is kind. It does not envy, it does not boast, it is not proud. It does not dishonor others, it is not self-seeking, it is not easily angered, it keeps no record of wrongs. Love bears all things, believes all things, hopes all things, endures all things. Love never ends. As for prophecies, they will pass away; as for tongues, they will cease; as for knowledge, it will pass away. - 1 Corinthians 13:4-8 (1 Corinthians 13 is known as the Love Chapter. We had it read at our wedding.)
If I speak in the tongues of men and of angels, but have not love, I am a noisy gong or a clanging cymbal. And if I have prophetic powers, and understand all mysteries and all knowledge, and if I have all faith, so as to remove mountains, but have not love, I am nothing. If I give away all I have, and if I deliver up my body to be burned, but have not love, I gain nothing. - 1 Corinthians 13:1-3
Let love and faithfulness never leave you; bind them around your neck, write them on the tablet of your heart. Then you will win favor and a good name in the sight of God and man. - Proverbs 3:3-4
There is no fear in love, but perfect love casts out fear. For fear has to do with punishment, and whoever fears has not been perfected in love. - 1 John 4:18
And so we know and rely on the love God has for us. God is love. Whoever lives in love lives in God, and God in them. - 1 John 4:16
Be completely humble and gentle; be patient, bearing with one another in love. - Ephesians 4:2
Above all, love each other deeply, because love covers over a multitude of sins. - 1 Peter 4:8
No, in all these things we are more than conquerors through him who loved us. For I am sure that neither death nor life, nor angels nor rulers, nor things present nor things to come, nor powers, nor height nor depth, nor anything else in all creation, will be able to separate us from the love of God in Christ Jesus our Lord. - Romans 8:37-39
My command is this: Love each other as I have loved you. - John 15:12
A new commandment I give to you, that you love one another: just as I have loved you, you also are to love one another. By this all people will know that you are my disciples, if you have love for one another. - John 13:34-35
And now these three remain: faith, hope and love. But the greatest of these is love. - 1 Corinthians 13:13
Love must be sincere. Hate what is evil; cling to what is good. - Romans 12:9
You have captivated my heart, my sister, my bride; you have captivated my heart with one glance of your eyes, with one jewel of your necklace. - Song of Solomon 4:9
No one has ever seen God; but if we love one another, God lives in us and his love is made complete in us. - 1 John 4:12
Entreat me not to leave you, Or to turn back from following after you; For wherever you go, I will go; And wherever you lodge, I will lodge; Your people shall be my people, And your God, my God. Where you die, I will die, And there will I be buried. The Lord do so to me, and more also, If anything but death parts you and me. - Ruth 1:16-17 (Note - this verse is taken slightly out of context, but the theme is appropriate here. It is actually a daughter-in-law speaking to her mother-in-law after her husband has died. The MIL tries to send Ruth away, back to her own family, as they are both destitute, but Ruth refuses to go, instead taking care of her MIL until she dies. It is a model of love and affection that we could all follow.)
Don't just pretend to love others. Really love them. Hate what is wrong. Hold tightly to what is good. Love each other with genuine affection, and take delight in honoring each other. - Romans 12:9-15
Most important of all, continue to show deep love for each other, for love covers a multitude of sins. - 1 Peter 4:8
Hatred stirs up conflict, but love covers over all wrongs.- Proverbs 10:12
Be kind to each other, tenderhearted, forgiving one another, just as God through Christ has forgiven you. - Ephesians 4:32
Love suffers long and is kind; love does not envy; love does not parade itself, is not puffed up; does not behave rudely, does not seek its own, is not provoked, thinks no evil; does not rejoice in iniquity, but rejoices in the truth; bears all things, believes all things, hopes all things, endures all things. - 1 Corinthians 13:4-7
For God so loved the world that he gave his one and only Son, that whoever believes in him shall not perish but have eternal life. - John 3:16
We love because He first loved us. - 1 John 4:19
But the fruit of the Spirit is love, joy, peace, patience, kindness, goodness, faithfulness, gentleness, self-control; against such things there is no law. - Galatians 5:22-23
If I have the gift of prophecy and can fathom all mysteries and all knowledge, and if I have a faith that can move mountains, but do not have love, I am nothing. - 1 Corinthians 13:2
But God shows his love for us in that while we were still sinners, Christ died for us. - Romans 5:8
The Lord appeared to him from far away. I have loved you with an everlasting love; therefore I have continued my faithfulness to you. - Jeremiah 31:3
You shall not take vengeance or bear a grudge against the sons of your own people, but you shall love your neighbor as yourself: I am the Lord. - Leviticus 19:18
These Bible verses on love and marriage are excellent for a wedding ceremony.
If you're planning your nuptials, you might want to consider one or more of the verses above. Some of them are used often to celebrate the covenant of marriage (like the love chapter I mentioned having been read at my own wedding), but many are less obvious.
Really though, you can't go wrong. Honoring God by reading any scripture during your wedding ceremony is going to be a pleasing offering.
A last word about these scriptures on love
It's worth noting that the love verses about don't specifically refer to love within the bonds of marriage but to love of your fellow human beings - all of them, your enemies, your neighbors, your friends, the homeless man on the street - or to the love of God. We are called to love all people the way Christ Jesus loves us.
Still, I think it is really useful to think about your spouse in terms of these verses because we are often the least kind and loving to the people who are closest to us, are we not? We let our guards down and our sinful nature shines through. We are unkind. We are harsh. We don't treat our spouses with the love, respect, and admiration that they deserve. So take a moment to consider these verses in light of your (second) most important relationship, the one with your spouse.
Get these Bible verses on love and marriage in a convenient black and white printable below. You can work on memorizing and meditating on them, one at a time.
See these other Bible study posts while you're here: