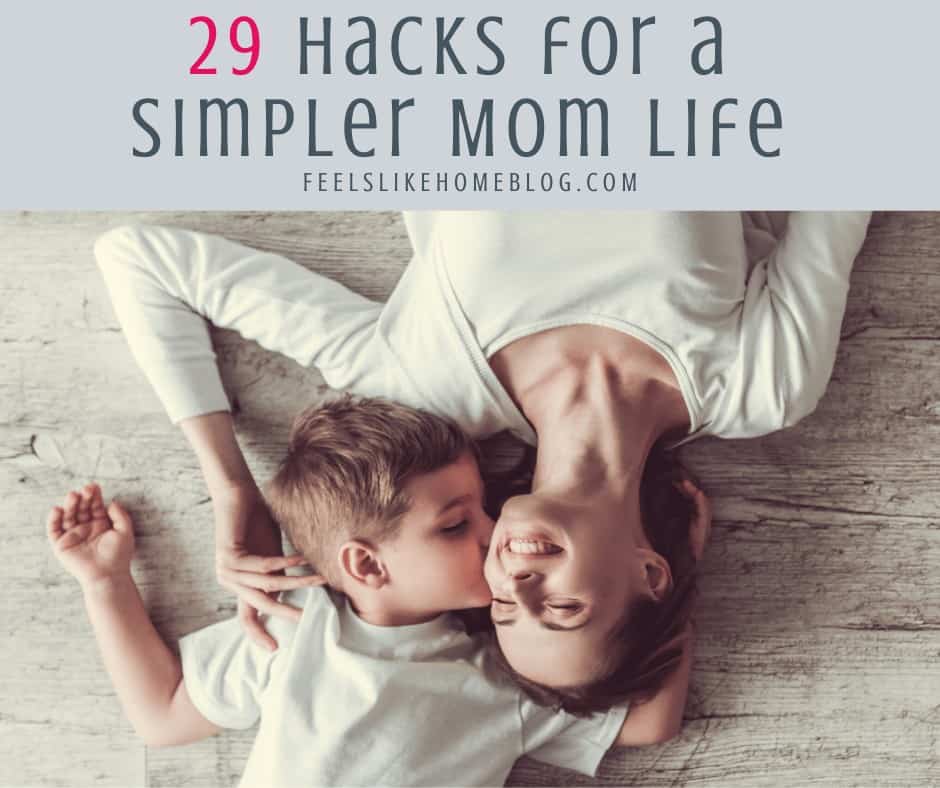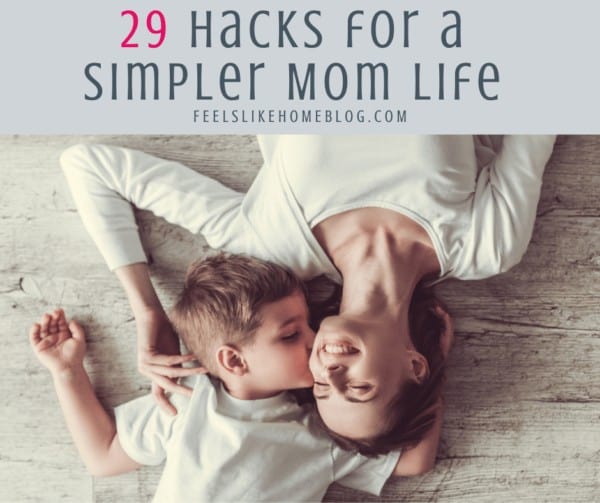 Pin
These 29 hacks will help moms to simplify their busy lives using tips and tricks that every woman should know. There are great ideas for morning and evening routines and organization.
Mom life is rough. I know I'm preaching to the choir here, but just think about everything a mom does in the day:
Wake up & rouse people for the day
Get dressed & talk with people about their outfits (often involves argument)
Make breakfast for more than herself
Study the Bible & pray & work with people so that they learn to do the same
Go to work & get people off to school (or teach them herself!)
I could go on and on and on and on but you already know the deal. You basically have to do everything in your life twice, once for yourself and once for your people. It can be exhausting even if you absolutely love every minute of it. (And if you do love every minute of it, please let me know your secret.)
So what I have done below is to share some of my little tips – my life hacks, if you will – as well as the tips of others across the internet that will make your life a little easier as you go through your daily life with people.
Your Routines
Routines should be your best friend. I'm not talking about the kind of rigid "routine" where everything has a time associated with that. Those things are inflexible prisons that you can never follow in the longterm. A routine though, is just an order of doing things. You probably have routines that you don't even notice, like how you brush your teeth and how you take a shower. Don't try to totally overhaul everything you do, but do think about how you could tighten up the routines you already have and make them more efficient.
Your morning routine. Think about what you need to do every morning, from brushing your teeth to eating breakfast to exercising to getting dressed. Do you ever leave the house having forgotten to do something? Make frenzied mornings a thing of the past by taking the very simple Make Over Your Mornings course from Money Saving Mom. Crystal will walk you through a few easy steps that will make your morning routine work for you instead of leaving you hanging time and time again. (NOTE: This course is on sale for 50% off in the month of February 2019!)
Your evening routine. A successful morning begins the night before, and Crystal's extension course for Make Over Your Mornings is her Make Over Your Evenings program. Both of these courses are very low cost, very well produced, and very effective. If you follow her steps and adjust them to fit your life, you will really improve your morning and evening routines and make your life a lot easier. (NOTE: This course is on sale for 50% off in the month of February 2019!)
Listen to audiobooks. Most people want to read more. Reading is good for your soul, whether you read fiction or non-fiction, and it's good for your brain and your imagination. The problem is that few of us have an extra hour or even an extra thirty minutes every day when we can sit down with a good book or an e-reader. It's just not a luxury we have. But what we can do, often very easily, is listen to audiobooks: in the car (this is when we do family "read-alouds"), when you're cleaning, exercising, gardening, or any other number of things that don't require intense focus and concentration. My favorite time of the day is often my daily walks when I listen to juicy fiction like The Guernsey Literary & Potato Peel Pie Society, Erotic Stories for Punjabi Widows, and The Last Mrs. Parrish. Check my Audiobooks for my daily walks page and my audiobooks for families page for expanded, annotated lists.
Make time for fun. We play games often, at least weekly. I generally play different games with Grace who is 11 than I do with Allie who doesn't read very well yet, but there are a few that we can all play together. Here are our favorite tween and teen games and our favorite games for non-readers.
Your Sleep
Set your alarm based on your bedtime. Most adults sleep in 90-minute cycles, meaning that it's easiest to wake up after 6 hours, 7.5 hours, or 9 hours. If you set your alarm to sleep for 8 hours, you will wake up groggy and tired because you roused yourself during deep sleep. If you set your alarm for 7.5 or 9 hours, you will be in a light sleep state and will wake up refreshed.
Get the noise out of your head. Keep a notebook next to your bed, and do a brain dump every night before you lie down. If there's anything that's especially bothersome, write down how you're going to solve it. And, if you find yourself stuck on something after you lie down, grab the notebook and explore it before trying to go back to sleep. You'll probably need a light to write, but don't use one that's super bright or you'll disturb your sleep even more.
Stretch before going to sleep. If you stretch before bed (whether standing, sitting, laying on your mattress, or a combination of all three), you will help your muscles to relax and set yourself up for a more restful night of sleep. Studies have shown that people who stretch before and after rest actually sleep better and more deeply than people who don't.
Read fiction before bed. I already said that I don't have time for reading, but there is a time and a place for the written word, particularly for someone who has trouble falling asleep (which I never do). Reading makes your eyes physically tired, so doing it right before going to bed tricks your brain into feeling tired because your eyes are fatigued. It works with paper books and e-readers, but only if the e-reader is in night mode where it has a yellowish cast (blue light has been shown to have an energizing effect on the brain which is obviously exactly the opposite of what you're going for).
Your Purse
Like things together. Get some small zippered pouches to hold similar items together in your purse. Maybe you have one for lip balms and glosses and another for snacks and a third for papers and receipts. Whatever collects in your bag should be grouped together - and the zippered pouches should all LOOK DIFFERENT! It won't help you if they are identical.
Put together a purse emergency kit. Keep an emergency kit wherever you are most frequently. I keep mine in my purse which is almost always in the car. Inside the emergency kit, I have a small package of tissues, a travel-sized box of band-aids, a few floss picks, my favorite lip gloss, a small pair of scissors, a tiny manicure set, an emory board, breath strips, a couple of ponytail holders, a Poise pad, a period pad, bug bite spray, matches, Tylenol, and a tiny sewing kit. It might sound like a lot, but it all fits into this zippered pouch and has kept me sane on more occasions than I can recount to you. Bonus to using that pouch is that I can plop this bad boy into my pool bag in the summer without even having to think about it.
Punch a hole in all those store cards with a heavy duty hole punch and put them on a large keyring in your purse. It will keep them all together, and you can just grab the wad of them whenever you need one. It might be a pain to alphabetize them, but if you do it when you put them on the ring, it will be a lot easier to find the one you want when you want it.
Around the House
Prevent toilet paper build up. If you have kids, you know what I'm talking about. Kids use too much toilet paper. My kids also neglect to flush, but I don't have any advice for that. This mom made a sign for her toddler, but I am going to make one for my much older children who still use too much. Love this.

Do a quick clean up. We do this in two different ways, depending on circumstances. Either everyone picks up 10 items or everyone picks up for 5 minutes. It is quick and easy but makes a big difference because our joint efforts are compounded.
Easy declutter. Ask each child to go to her room and bring back two things that are broken, don't fit, or that she just doesn't need or want anymore. Set a good example and pick a few things of your own to get rid of.
Keep track of medicine. I just bought my daughter a pill organizer so that she could keep track of her own meds on a day to day basis, and that works very well for pills, but what if your kids need liquid meds? Here's a great solution that I have personally used. The photo came from here.

Color code your home. This is a trick I learned from a friend with many children. In her home, each person has her own plate, bowl, cup, washcloth, towel, etc, and they are all the same color. This way, there is no dispute when a towel is left on the floor because there is only one person who belongs to it. I think it's brilliant.
Fix the hole in your favorite leggings. Sometimes, when my cats jump on me, they leave tiny holes in my leggings or t-shirt. Now that I have seen this genius step-by-step trick on YouTube, I know how to fix them in no time. This may well be the most useful hack on my whole list.

Food & Eating
Make eating easy. Keep a pack of paper plates and plastic silverware in the cupboard for those days when you can't bear to or don't have time to load the dishwasher. Yes, these disposable options are a little more expensive than your permanent ones and yes, they are terrible for the environment, but let's be real. Sometimes you need to eat, and you don't want to do dishes. Give yourself a free pass to use paper on those days.
Easy menu planning. Ask each person in your family to come up with two meals she wants to eat in the next week. Even after you weed out the completely nutritionally devoid items, it will surely give you enough options to make up a meal plan that doesn't repeat the same old stuff.
Plan snacks ahead to avoid the drive thru. We used to eat fast food way more often than I wanted, in part because we were always busy and unprepared. My kids would suddenly be starving, and we didn't have any food in the car, so we had to stop for a Happy Meal. Not anymore! Now I keep a snack box in the car, complete with packs of cheese or peanut butter crackers, a few bananas or Cuties, a tin of flavored almonds, and a large package of bottled waters with Crystal Light packs.
Plan meals ahead to avoid takeout. Keep at least two extra meals in the freezer: a bag of frozen cooked chicken breasts, a pan of frozen lasagna (whether you made it yourself or bought it), and some frozen prepared taco meat would be a great start, and they would keep you from resorting to takeout when you're pressed for time or get home late. The Healthy Meal Planning Bundle is perfect for this purpose.
Bubble gum in your kids' hair? I personally would cut the hair, but if that's distasteful to you, my mom used peanut butter to get it out.
Laundry
Give up on socks. Okay, don't give up on socks all together, just give up on matching socks. Pile all your kids' socks into a basket or bucket, and let them either match the socks on their own or wear mismatched socks. Stores sell mismatched socks these days, so your kids will be in vogue or else they will do the soul sucking chore of matching them for themselves. You win either way.
Take color coding a step further. Use colored thread or even colored Sharpies to make a dot on socks and gloves so you will know who lost her gloves or didn't put her socks away.
Your Car
Clean up filthy cup holders and prevent new messes by lining them with silicone cupcake liners. When the inevitable spills happen, you can pluck the liner out and throw it in the dishwasher. Just don't forget to put it back after it's clean.
Keep a stash of necessaries. Keep a few sets of plastic silverware and napkins in a zippered bag in the glovebox of your car.
Install a leakproof trash can in your car. I feel like my car becomes a dumpster if I let down my vigilance for even a few days. This trash can hangs on the back of your seat, and this one is hard-sided to stand on the floor. Both keep up to 3 gallons of crap off the floor and use plastic grocery bags as liners for easy disposal.
Get a full first aid kit for your car. Hopefully you will never have to use it, but there's a good chance that you will. It should contain at least gauze squares, a roll of gauze, medical tape, rubber gloves, a variety of bandaid shapes and sizes, aloe or burn cream, and some pain relievers. Your first aid kit may duplicate a lot of the stuff you have in your purse emergency kit, but better to be covered than not, in my opinion.
So there you have it, my top 29 tips for making mom life a little easier.
Have another great tip? Share it in the comments!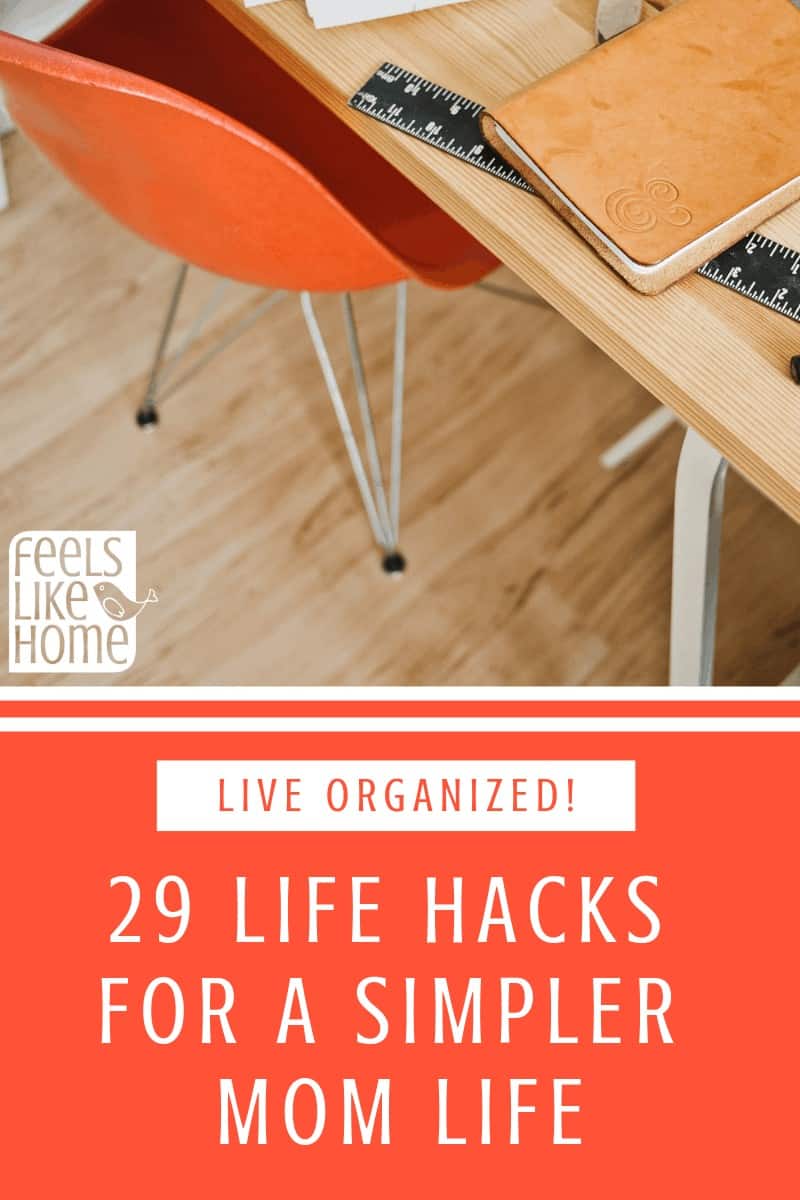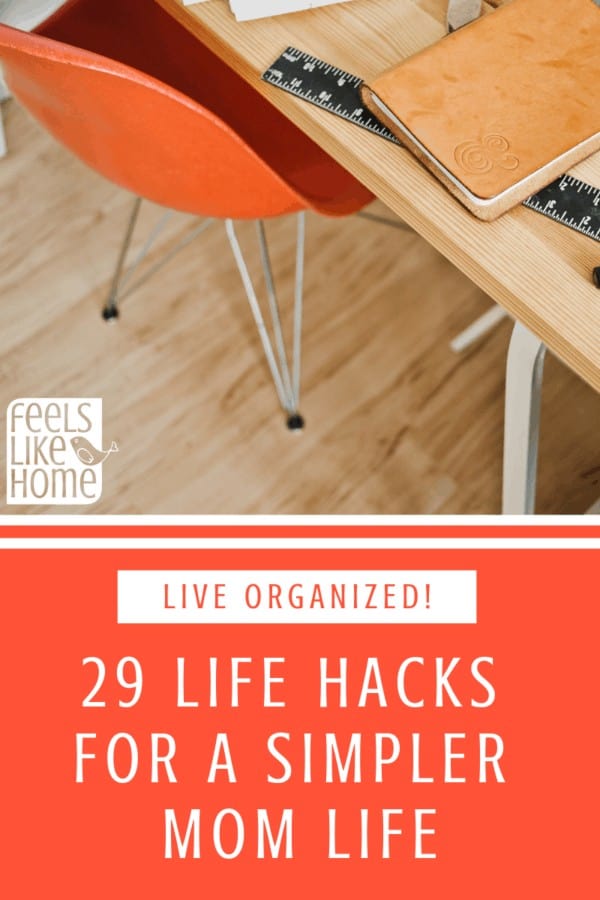 Pin