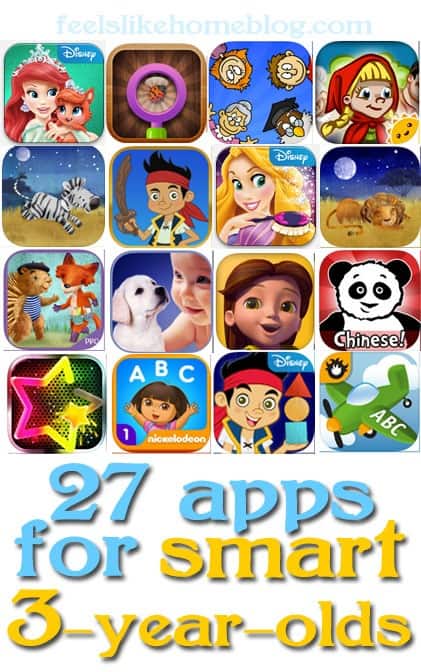 Pin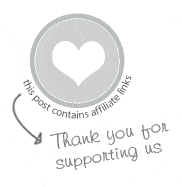 Pin
I swear that I am not that mom who wants her 3-year-old to know all the letters and numbers and sounds. Okay, so Grace did, but she is exceptional (in both good and bad ways), and I want Allie to just be whoever she is and learn at her own pace.
In fact, I hid them all in a folder on the iPad that said "Allie learning apps."In the last couple of months, I did put a variety of learning apps on the iPad for her to experiment with at her leisure (and a lot of them I never took off from when Grace played with them), but I never, ever, ever pushed or even brought her attention to them.
So there.
She found them all. Some she plays, some not. Here are her favorites, both educational and just plain fun. Any of these would make a great gift for the tot in your life.
AlphaTots - $2.99 - This is Allie's favorite app. She plays it almost every day. The gist is that each letter has a little game to go along with it. Like S. For S, you stack a bunch of rings like the traditional stacking game. M is mixing. They're all good. It's not annoying, either.
Dora ABCs Vol 1: Letters & Letter Sounds - $4.99 - Allie is obsessed with Dora, so if Dora is tracing letters and numbers in the sky with Tico and his airplane, then that is what Allie is doing, too. It's like dot to dot, except that some of the puzzles make letters and some make pictures.
Leo's Pad: Preschool Kids Learning Series - Appisode 1 is free; 2-4 are $2.99 each - This app is awesome! It's part tv show, part game, part puzzle. You  join a young Leonardo da Vinci and his friends (including Marie Curie) on big adventures, and you play learning games that are woven seamlessly into the stories. This is one of my own current favorite apps.
Disney Princess Royal Salon - $4.99 - Imagine playing dress-up with your favorite Disney Princesses. That's what this is. Except, you aren't limited to the clothes they wore in the movie. You pick a princess and a situation, and then you get all kinds of hair and wardrobe choices to put on. Of course, there are accessories and even pets. Grace plays with this for long periods of time, budding fashion designer as she is.  There's also a Disney Princess Palace Pets (free) that's pretty similar but features the princess's pets. Grace loves it, too, but it has in-app purchases, and that kind of bugs me.
Jake's Never Land Pirate School - Free - I can't believe this app is free. It is really engaging and has a ton of activities. Allie really loves this app. In her favorite part, you have to find objects in the dark using a spyglass. It has a bunch of other parts, too - digging for gold, making music, tracing shapes. It's a great one.
Jake's Never Land Shapes and Patterns - $2.99 - I think the thing Allie likes most about the Disney apps, including Jake and the Never Land Pirates, is that the voices are the same ones she knows from the tv show. This app is really good for fine motor skills because it has some tracing and shape recognition. You can play in two ways - just play the games or play the games as part of an interactive story.
ZOOLA Animals - $3.99 - This is the coolest app, and both Allie and Grace play with it. It contains over 500 animal photos, each with an appropriate, real sound. (There's not a person saying "neigh;" there's a horse whinnying.) There are pictures of moms, dads, and families. There are games, too. A friend recommended this one to me, and it was well worth the money.
Tozzle - $1.99 - This was the best two bucks I ever spent. Ever. The app is like wine. It gets better and better the longer we have it, and (I think) it was the first app I ever bought.
Enough gushing. Tozzle is a bunch of puzzles, and every time there's an update, more puzzles pop up. The more puzzles we get, the more elaborate they get. Some of the puzzles turn into games. Like, remember the old Simon game? For the puzzle, you put it together from wires and microchips. Then you add the frame and the buttons and when it's all done, you get to actually play the game.
It sounds complicated, but it is completely appropriate for a 2- or 3-year-old.
As Allie would say, "I love it. For ever."
I LOVE TOZZLE. FOREVER.
Little Finder - Free - Little pictures pop up on the screen, and a voice tells you what to touch. Sounds easy, right? It is, but it is surprisingly captivating. There's a timer, and you try to beat your score. We all like this one, too.
Little Pim French, Chinese, and Spanish - $2.99 each - I did a Twitter party with Little Pim this past week, and I got to see a sampling of their products for kids. They're really great, and they teach foreign language in a way that is natural and easy to learn.
3D Interactive Pop-up Books from StoryToys - Grimm's Rapunzel, Grimm's Red Riding Hood, Grimm's Puss in Boots, Grimm's Sleeping Beauty, Grimm's Hansel and Gretel, Grimm's Snow White - $3.99 each - My kids play these every time they pick up the iPad. There are interactive storybooks, 3D stickers, and puzzles. If you want to unlock all of the stickers and puzzles, you have to pay $2.99 extra per app, but I think it's worth it. You can do the puzzles with up to 30 pieces, which Allie does pretty much on her own.
Goodnight Safari - Free - This is the sweetest bedtime story ever, but it is so full of games and interactive elements that it's not really a good bedtime story at all. Allie loves it. She plays with the animals and the games and listens to it read the pages over and over.
Goodnight Safari Playtime - $1.99 - This takes the animals from Goodnight Safari, takes them out of the story, and puts them into learning games. It's perfect for preschoolers and older toddlers.
Spatter & Spark - $3.99 - This is based on a New York Times bestselling book, so there's a story and then interactive learning games. Made by the same people as Goodnight Safari, so the graphics are stellar, the story is wonderful, and the games are based on sound educational content. Also, this company allows parents to register and monitor what their kids are learning, all Big Brother-style.
Fizzy's Lunch Lab Fresh Pick - Free - This is supposed to be for kids ages 6-8, but Allie loves it. She likes the games (especially the logic ones where it says person A likes fruit and person B hates carrots, and then you have to give each one something to eat), so I read them to her and we play.
Neon Mania - $0.99 - This is a really cool tracing game in which you trace, as you might have guessed, neon signs. You have to do the parts in a certain order, and you have to trace each piece in the right direction. It's awesome for fine motor skills. Both of the girls like this one.
Bean Bag Kids present Little Red Riding Hood - Free - This isn't as impressive as Grimm's Little Red Riding Hood, above, but it is a good version of the story. It's done like a play, on a stage, with Bean Bag characters. You can listen to the story in English or in Spanish. Kids can read it themselves or have it read aloud by the app. It has a couple of puzzles, too, but no games.
Jellytoons: Bobo's Birthday Challenge and Jellytoons Birthday Countdown - Both free - These are interactive books that teach rhyming, counting, colors, shapes, and other age-appropriate information. I personally think they're weird, but my kids love them, so I put them on the list.
And of course, some of these apps are good for smart tots, too:
The 10 Best iPhone Apps for Preschoolers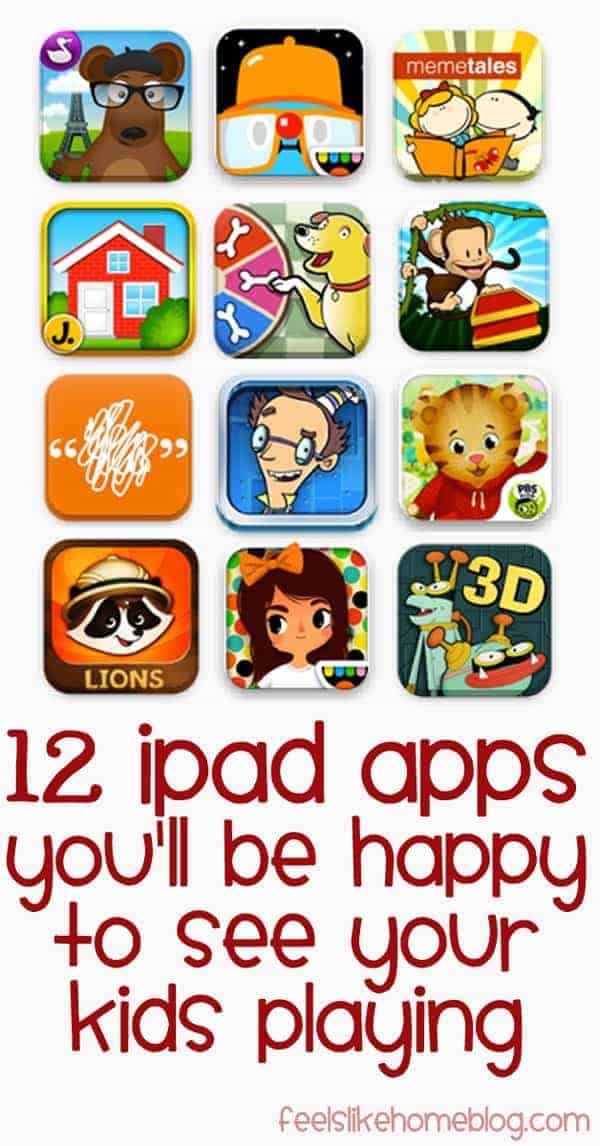 Pin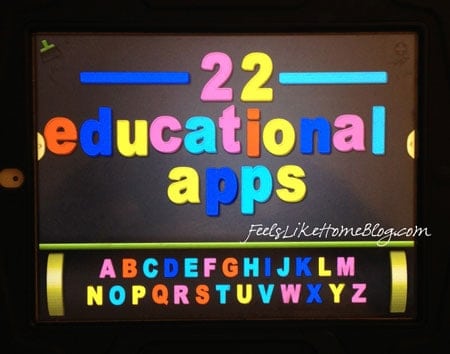 Pin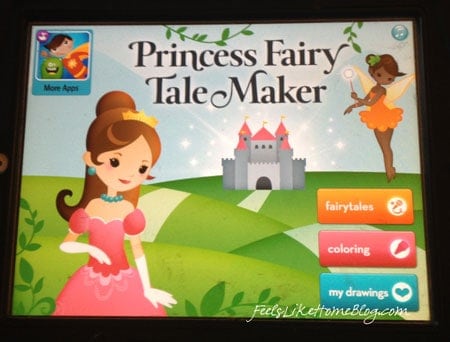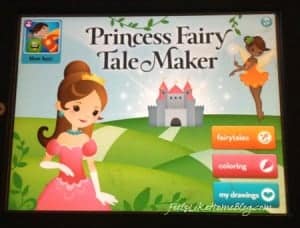 Pin
And, while you're at it, check out more than 50 more kids' gift guides and our group gift guides Pinterest board.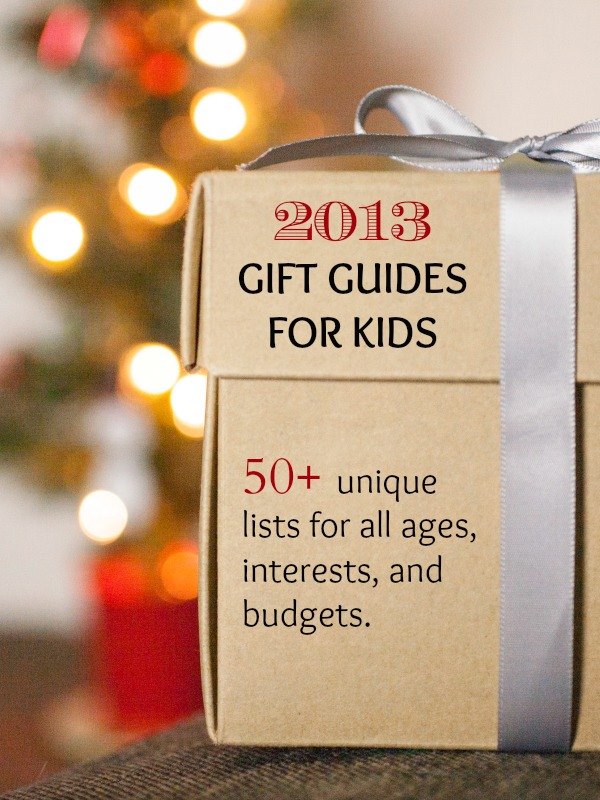 Pin
[wp_eStore_ssf id=1 template="2" button_text="Get it now!"]