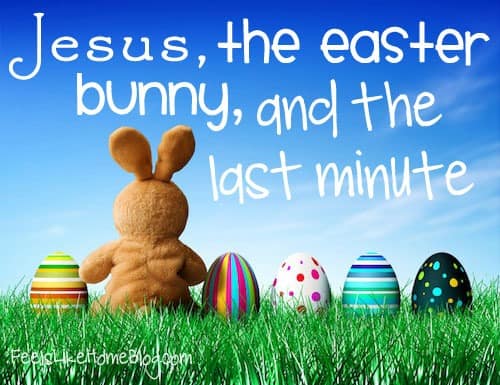 So far this Easter season, Grace has attended an Easter party and an Easter egg hunt, counted a myriad of jelly beans, made an Easter egg out of buttons, played with an Easter egg sensory bin, made Rice Krispies nests, conducted taste tests with jelly beans, grown crystals in Easter eggs, read Easter stories (favorites – The Country Bunny and the Little Gold Shoes
{which I love, love, love, love!} and Fancy Nancy {because she enhances every holiday}
, and crafted countless bunnies with and without baskets.
Living fully, right? We've had a great time.
The thing about living fully is that I can get all caught up in the fun and forget about the important.
Forget is the wrong word. I didn't exactly forget. My mom was in the hospital a couple of times. We got caught up in fun things like Lucky the Leprechaun and Easter bunnies.
I had to clean my house.
I realized that I needed to start educating my first grader instead of just letting her soak up life and subsequently devoted some time to it every afternoon.
I'm the lady who wrote the Jesse Tree devotional, right? We celebrated Jesus for a month before Christmas. It would make sense that we celebrate him again for a month before Easter, right?
Last year, we did. This year, not so much.
I did remember to talk about Jesus at the Easter egg hunt I organized for our church. We made foam crosses that said Alleluia! and little beaded pins that said He has risen!
I just didn't much get around to Him at home.
Last Sunday, we origami-ed our palm branches into crosses (thanks to this awesome tutorial).
Obviously, that is not nearly enough.
I'm playing this up a wee bit. Yes, I failed to mention Jesus and His resurrection most of the days in the last month, but Grace is well aware of our Lord and Savior.
How do I know?
Grace met me at the breakfast table last Saturday (right before the Easter egg hunt) wearing a long black dress over black leggings. She looked like she was in mourning.
"Um, Grace? Usually people dress in pretty, pastel colors at Easter."
"What's pastel?"
"You know, light colors: pink, soft yellow, light blue, lavender."
"Oh. I'm not dressed in pastel colors."
"I noticed that. Do you want to change your clothes before we go?"
"No."
"Are you sure? Why not?"
"Our sins are black stains, and Jesus died to take them away so we can live in heaven forever. I think black is perfect for Easter."
"Oh." I stammered. "I guess you're right. Black it is."
And then we ate our breakfast in silence because what else is there to say?
I the best intentions this year, like all the years before. I meant to count down the days of Lent, doing different activities relating to Jesus each day. Reading Jesus books. Making empty tomb crafts.
What happened this year is that I failed to plan Him into our days.
When you fail to plan, you plan to forget. (I know that's not how it usually goes. I take liberties.)
And I forgot.
Ironically, several weeks ago, I wrote a post for Tommy Nelson (where I am a monthly blog contributor) called 10 Last-Minute Ways to Celebrate Jesus This Easter. It published yesterday.
I wrote it for all the Last Minute Moms, the ones who are too busy and realized a day or two before that they hadn't taught their kids about the real meaning of Easter.
I felt bad for them, because I knew they would be stressed out and feel like failures. I hoped I could give them permission to throw out their expectations and just get started. I shared 10 easy activities that would make Easter meaningful without requiring days or weeks.
I never, ever dreamed I was writing it for myself (and nine days after I wrote about big holidays, no less!).
And yet. Here I am.
Link arms with me, sister; we're here together.
Here's my plan:
Because I'm an overachiever, and I have two days (that would be today and tomorrow), my kids and I are going to attempt #1, 3, 5, and 9. We already have Resurrection Eggs and read the Bible along with that. I'm cutting a cross out of the side of a cereal box for the Paid in Full activity, and the Easter story cookies are going to be our new Easter Eve family tradition.
A little late, but better than not at all.
How did (or will) you bring Jesus to Easter this year?
© 2013 – 2018, Tara Ziegmont. All rights reserved.