My Christmas tree this year has been a disaster.
Not a disaster, maybe. A challenge.
Yes, that's it. My Christmas tree this year has been challenging.
More specifically, having a toddler and a Christmas tree has been challenging. I feel like I've spent every day of my December protecting our ornaments from my busy toddler.
She is a maniac, that child.
Next week, I'm going to share a tour of some of our Christmas tree ornaments, but today, let's talk about what's under the tree.
Actually, there are ornaments under my tree, thanks to the aforementioned toddler.
That's why this card made me laugh. I scoff at the days when the cats were my biggest Christmas tree concern. The cats were no problem at all compared to Allie.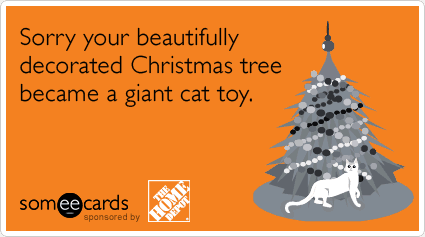 Back to Christmas presents.
These awesomely funny cards are not just online greeting cards. They're Home Depot gift cards. The Home Depot has a bunch of different e-gift card options this year, including Facebook delivery, group gift cards, and gift card tins.
I was thinking that Joe would like a gift card because he wouldn't have to spend his money the next time I give him a project, like the bird feeder I want installed in my front yard, 12 feet off the ground.
I eventually reconsidered the gift card, deciding that supporting his Honey-Do list probably wasn't the most giving of gifts.
I'm considerate like that, you know?
My next thought was to get Joe a new power tool.
Joe believes himself to be is handy, so a Ryobi Lithium Ion tool was the winning idea.
I looked at a bunch of different tools including the hedge trimmer (something I borrow from the neighbor every year) and the chain saw (something Joe borrows from the neighbor every year) but settled on this string trimmer.
We call them weed whackers around here.
Joe complains constantly about our old weed whacker. It's electric, for one thing. It's always out of string, not cutting properly, not reaching far enough into the yard (because it has to be plugged in while you use it), making funny faces at him, or something.
As a result of his incompatibility with the weed whacker, the edge of our lawn, sidewalks, gardens, and trees got trimmed exactly twice all last summer.
You know that house in your neighborhood that you think is empty because the weeds get really tall? You drive by it slowly, looking in the windows to see if there's furniture inside? That's where we live.
Back to the string trimmer.
The first big plus of the Ryobi ONE+ line is that all 50+ tools rely on the same ONE+ lithium ion battery, offering a lot of versatility and value for your money. They don't need to be plugged in during use, and the rechargeable battery is light weight, allowing for smaller, lighter tools.
This new battery provides up to 20% more runtime, holds a charge four times longer, and is 45% lighter weight than a NiCad battery at exactly the same price.
Lithium ion batteries produce a consistent charge throughout the life of the battery, can be charged many more times than other batteries, and are not damaged by leaving the charger on too long. These were all big pluses for me.
Connect with The Home Depot
You can connect with The Home Depot on Twitter or on Facebook.
Win a Ryobi ONE+ String Trimmer!
The Home Depot is providing a Ryobi ONE+ String Trimmer (a $99 value) just like Joe got to one lucky Feels Like Home reader!
To be entered for a chance to win, leave a comment stating your favorite tool in the Ryobi ONE+ product line. You can leave the link to it if you'd like.
Sweepstakes Rules:
No duplicate comments.
You may receive (2) total entries from the following entry methods:
a) Leave a comment in response to the sweepstakes prompt on this post
b) Tweet about this promotion and leave the URL to that tweet in a comment on this post
c) Pin an image from this post, including a message about the giveaway. Leave a comment on this post with the URL of the pin.
This sweepstakes is open to US Residents age 18 or older. Winners will be selected via random draw, and will be notified by e-mail. You have 72 hours to get back to me, otherwise a new winner will be selected.
This sweepstakes runs from 12/13 – 12/17/12.
Good luck!
The Home Depot partnered with bloggers including myself to help promote their Lithium Ion power tool collection. As part of this promotion, I received compensation for my time. They did not tell me what to purchase or what to say about the products. The Home Depot believes that consumers
and bloggers are free to form their own opinions and share them in their own words. The Home Depot's policies align with WOMMA Ethics Code, FTC guidelines and social media engagement recommendations.
© 2012 – 2018, Tara Ziegmont. All rights reserved.