Homemade Taco Seasoning
August 20, 2012 •
By Tara Ziegmont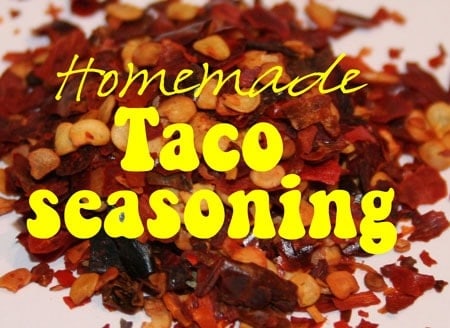 Since my days as a Pampered Chef consultant, I have loved taco seasoning.
We eat a lot of tacos, taco dips, enchiladas, chilis, and other foods that use taco dip, so we go through a lot of it.
I also have high blood pressure, and that pre-made taco seasoning is insanely high in salt.
I've been looking for a taco seasoning recipe that tastes as good as my old favorite, and I've found one.
Homemade Taco Seasoning
Ingredients
1/4

cup

chili powder

2

tablespoons

ground cumin

4

teaspoons

sea salt

4

teaspoons

ground black pepper

2

teaspoons

paprika

1

teaspoon

garlic powder

1

teaspoon

onion powder

1

teaspoon

red pepper flakes

1

teaspoon

dried oregano
Instructions
Combine all ingredients in a jar with a tight lid. Shake until well mixed. Store in a cool, dry place.
Notes
To use: Use 2-1/2 tablespoons in place of a packet of taco or chili seasoning. Sprinkle on nachos with cheese or popcorn. Reprinted with permission from Easy. Homemade.
You know I'm the first person to reach for convenience foods when necessary – pre-made pie crust, whipped cream, and ketchup are high on my list – but we also make a lot of things from scratch. In almost every case, cooking from scratch is healthier and better-tasting. It's almost always cheaper, too.
What do you make from scratch?
Share a favorite recipe in the comments.
© 2012 – 2020, Tara Ziegmont. All rights reserved.
Related