When I was a little girl, my dad bought HoHos® all the time. There was always a box of HoHos sitting on top of our refrigerator, enticing my sister and me to creative problem-solving methods of snack cake theft.
My dad pretended he wouldn't share his HoHos, but he always did.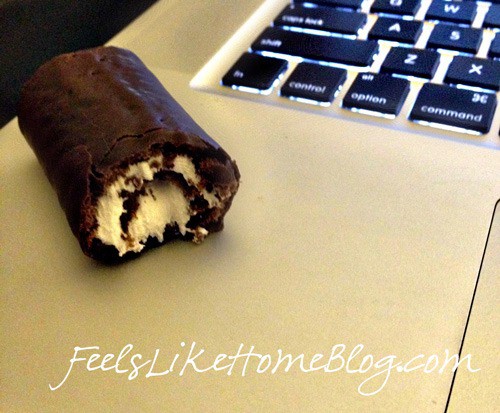 I learned early on that it's okay to have a little sweet treat sometimes. After we ate our supper, my sister and I could have a HoHo. If I remember correctly, there were two to a package, and we split the package between us.
Oh, the memories.
I ate my HoHo whole, enjoying the chocolate cake and white crème filling. My sister peeled the chocolaty coating off hers, one little piece at a time, eating the cake part last.
I also remember, very clearly, when my sister was tall enough to reach the top of the refrigerator. She grabbed that box of HoHos and swiped a whole package for each of us. That was the end of HoHos on top of the fridge.
It's funny what we remember, isn't it?
I recently visited a registered dietician for direction on feeding my kids. She stressed the importance of including a treat in their diets every day-not at every meal, not four or five times during the day, but daily. All healthy diets include sweets in moderation, she said.
Since that conversation, I've started to do the same for myself. It's much easier to eat well and maintain my discipline throughout the day if I know it's okay to indulge after dinner; I save enough calories each day for my nightly goodie snack.
A lot of the time, our snacks come from Hostess®.
Hostess, the maker of my dad's favorite, HoHos, but also Twinkies®, Donettes®, and other snacks, has released a couple of new products: New Chocolate Crème Twinkies® and New Frosted Devil's Food Donettes®.
The New Chocolate Creme Twinkies taste just like the originals, but they have a chocolaty crème filling on the inside. The chocolaty filling is the perfect complement to the sponge cake; I like them better than the originals!
I had the New Frosted Devil's Food Donettes for a snack last night. I like chocolate and devil's food donuts better than plain ones anyway, but these were especially delicious! Mini devil's food cake donuts covered in chocolate-flavored frosting? Perfect!
Did you know Hostess makes enough Donettes mini donuts each year to wrap around the earth three times?
I thought that was an interesting little fact.
Win a $100 Visa gift card!
BlogHer and Hostess are providing me with a $100 Visa gift card to give away to one lucky Feels Like Home reader.
To be entered for a chance to win, leave me a comment telling me about your favorite memory of a Hostess snack.
You may receive (2) total entries by selecting from the following entry methods:
Leave a comment in response to the sweepstakes prompt on this post
Tweet about this promotion and leave the URL to that tweet in a comment on this post
Blog about this promotion and leave the URL to that post in a comment on this post
For those with no Twitter or blog, read the official rules to learn about an alternate form of entry.
No duplicate comments. This giveaway is open to US Residents age 18 or older.
Winners will be selected via random draw, and will be notified by e-mail. Winner will have 72 hours to get back to me, otherwise a new winner will be selected. The Official Rules are available here.
Good luck! This sweepstakes runs from 2/29/12 – 3/31/12.
Be sure to visit the Promotions & Prizes page on BlogHer.com where you can read other bloggers' reviews and find more chances to win!
I was compensated for my time and to buy Hostess products for review. All opinions are my own.
© 2012 – 2018, Tara Ziegmont. All rights reserved.