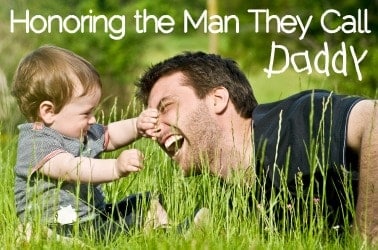 For my third Honoring the Man They Call Daddy post, I asked Joe what we could do to make him feel welcome and comfortable at home. This answer struck me most of all:
"It would be nice if everyone could smile at me and say hello when I come home from work."
So that's what I'm working on right now.
It's not an easy job, but it's important. To all of us.
Did you see the other bloggers' posts about welcoming him home?
JessieLeigh's post on Parenting Miracles this week was about making your home a welcoming haven. Is there anyone (man or woman) who doesn't want to walk into a haven at the end of the day?
You- yes, you- are the biggest asset or liability when it comes to a welcoming home. Â Your attitude will make more of a difference in whether your man can't wait to come through the door or just braces himself for the onslaught. Â Pull yourself together. Â (And I don't mean by getting all dolled up.)
Ouch.
That is something to think about when I start to fall apart around 3 pm. Every day.
Jessica stressed doing the little things that we often reserve for special guests for our husbands on Good (Cheap) Eats.
Whether it's a pitcher of iced tea or lemonade, providing a cool drink is one way to welcome my husband home after a long day. Not only does it quench his thirst, but it also communicated to him that I was thinking of him while he was gone.
I love that! She is a mom who has it all put together.
Amy at The Finer Things in Life gave lots of concrete suggestions for managing the chaos so that her husband sees a smiling wife and children playing happily when he gets home.
Our surroundings are not just physical. What makes the home is the heart. In our home I have the power to set the tone when daddy walks in the door as I choose my own attitude and do my best to control the circumstances.
Mandi shared 5 ways that we can draw our husbands back home, whether they are at work or out with friends. One of her points –
Don't dump on him as he walks in the door.

I used to struggle with this one a lot. After a long day of balancing work, kids and a colicky baby by myself, Sean would walk in the door — after an equally long day of physically tiring work — and I would dump on him, both figuratively with my words and literally as I handed over the fussy baby. I'm sure he couldn't wait to come home to that.
I have learned so much during this series so far, and we're just past half done. Coming up next week – planning an at-home date with your husband.
© 2011 – 2018, Tara Ziegmont. All rights reserved.