Every spring, we borrow our neighbor's hedge trimmer to cut the bushes in our front yard.
Our neighbor is an electrical engineer who is getting married in the fall. I was his astronomy teacher in high school.
It took me a little while to get over that.
Anyway, he has lots of power tools, and he is happy to lend them to us when we need them. I asked him if I could borrow the hedge trimmer last week. The following morning, I asked Joe if he'd grab our big outdoor extension cord and get it set up for me to trim the bushes.
"Sure," he replied, heading for the garage.
A few minutes later, I picked up the trimmer and pushed the button to turn it on.
Nothing happened.
Joe moved the extension cord to the other plug in our outside receptacle. Still nothing.
He moved it to the plug in the garage. Nothing.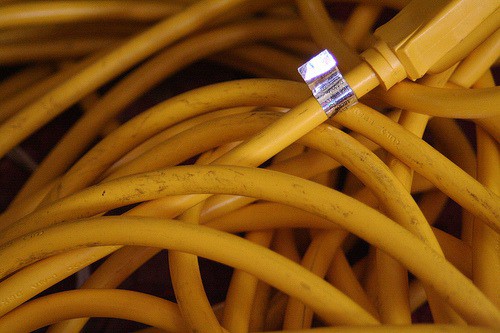 Just as he was about to begin checking breakers, I asked why there were wire nuts on the extension cord.
I wish I'd taken a picture of the ugly way this extension cord had been spliced together. I was too annoyed.
"I nicked it last year when I was trimming the bushes."
"What?!" I snapped, instantly annoyed at his clumsiness and failure to pay attention to what he was doing. "How in the world did you do that?"
He ignored me, instead looking at the splice closely to ascertain whether it was still working. "I think I need to buy a couple more wire nuts and repatch this."
"No. No more wire nuts. Let's go buy a new extension cord."
All four of us piled into the car and headed for the store. Instead of buying a whole new extension cord, Joe found a new end that he assured me would easily splice onto the cord at the break.
Back at home, he fixed my extension cord and I began hacking cutting the overgrown bushes in the front yard.
I had seven bushes finished, and two left to work on when the hedge trimmer stopped working. Thinking that I'd inadvertently pulled the extension cord out, I looked at the handle and noticed that I had nicked the extension cord.
I had been paying attention to what I was doing. I am neither clumsy nor careless.
And yet, I nicked the extension cord.
The irony was not lost on me.
"Hey Joe," I called in the front door, preparing myself to eat crow. "Can you come here?"
He came.
"Can you fix the extension cord for me?"
Looking over the (mostly severed) end, his lips turned up into a smirk.
"I'd be happy to," he said.
And I learned a little something about poise, respect, and goodwill.
Love is patient, love is kind. It does not envy, it does not boast, it is not proud. It does not dishonor others, it is not self-seeking, it is not easily angered, it keeps no record of wrongs. Love does not delight in evil but rejoices with the truth. It always protects, always trusts, always hopes, always perseveres. — 1 Corinthians 13:4-7 (NIV)
© 2011 – 2018, Tara Ziegmont. All rights reserved.