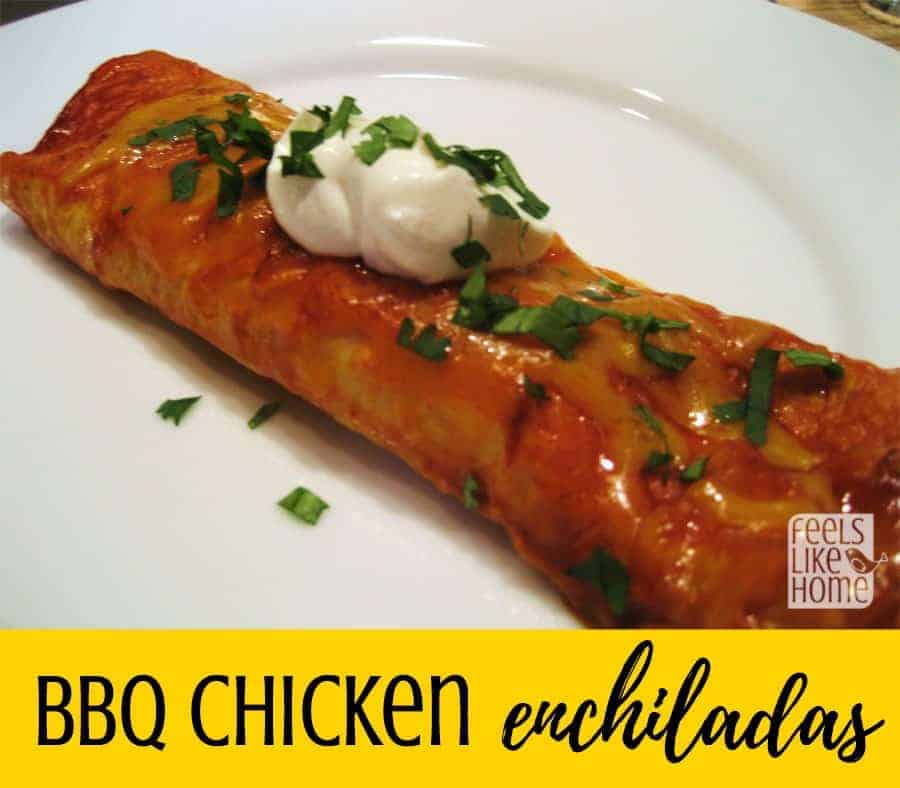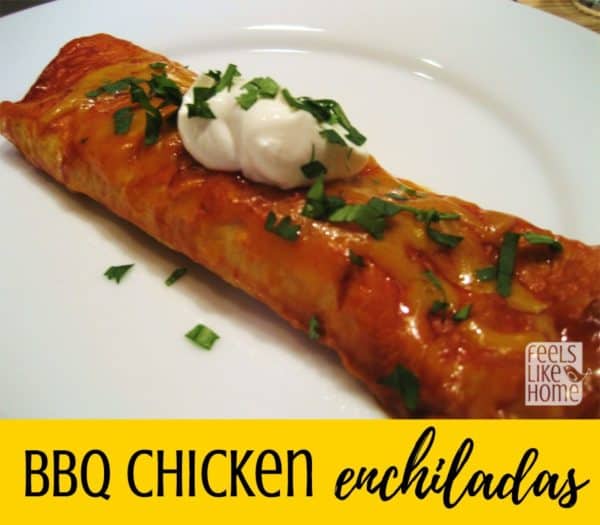 While I was writing a blog post, Joe asked me what we should have for dinner. It was late in the day, and we needed something quick and easy.
I suggested BBQ enchiladas, knowing that we had everything required.
Joe thought they sounded good, too, so he got to work.
And then he realized that we didn't have any enchilada sauce, only taco sauce.
Rats. The recipe was started.
Instead of bagging the whole thing (my mouth was watering for BBQ chicken), I found a recipe for enchilada sauce on AllRecipes.com. Fortunately, we had everything we needed for that recipe, so Joe's enchilada preparation continued.
When those enchiladas came out of the oven, they were gorgeous.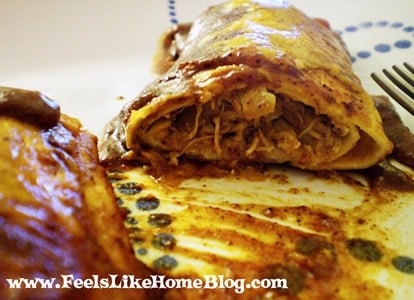 Then we tasted them.
These were the most delicious enchiladas I have ever eaten. And I like enchiladas.
At first, I wasn't not sure if I was absolutely starving or if they were that amazing. I ate the one (one!) that was leftover for lunch on Sunday, and they really were that amazing.
Oh my goodness delicious.
| | |
| --- | --- |
| | |
Heat the oil in a skillet over medium-high heat.

Reduce heat to medium and stir in the flour and chili powder.

Cook until lightly browned, stirring constantly to prevent burning.

Gradually add the rest of the ingredients, continuing to stir to prevent the sauce from sticking and burning.

Cook for approximately 10 minutes, or until sauce begins to thicken.
This sauce was perfect for us, but a wee bit too spicy for Grace. If your family doesn't like spicy foods, you may want to decrease the chili powder, cumin, and/or garlic.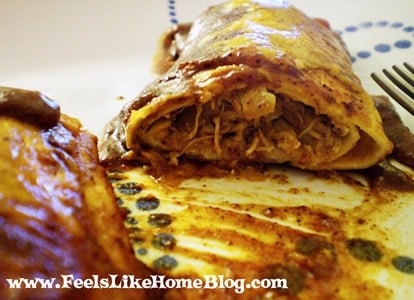 | | |
| --- | --- |
| | |
Mix BBQ sauce with the enchilada sauce.

Remove 1/2 of the BBQ enchilada sauce and pour over the shredded chicken. Sprinkle BBQ seasoning, onion powder (or onions), cayenne pepper, and about half of the shredded cheese over and mix thoroughly.

Spread a spoonful of BBQ enchilada sauce in the bottom of a 9x13 pan.

Using a measuring cup or scoop, add 1/3 cup of the chicken mixture to a tortilla and wrap. Repeat with other 7 tortillas.

Spoon the rest of the BBQ enchilada sauce over the top of the enchiladas, then sprinkle with the rest of the with shredded cheese.

Bake at 350 for 20 minutes. Everything is cooked, so you're just crisping up the tortillas and melting the cheese.
For a bariatric portion, I reserve 5 ounces of the chicken mixture from the tortilla wrapping process, and I eat that portion of chicken topped with 1/2 ounce of shredded cheese, an extra spoonful of enchilada sauce, and 1/2 avocado.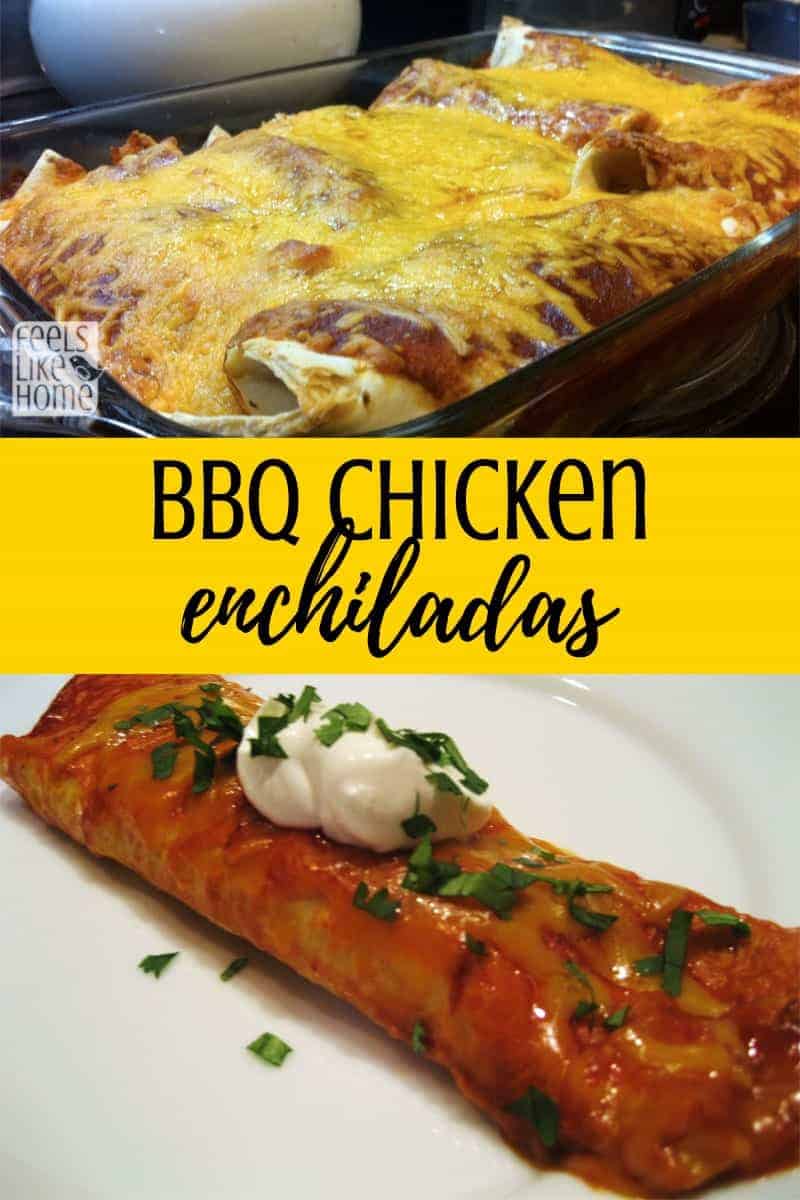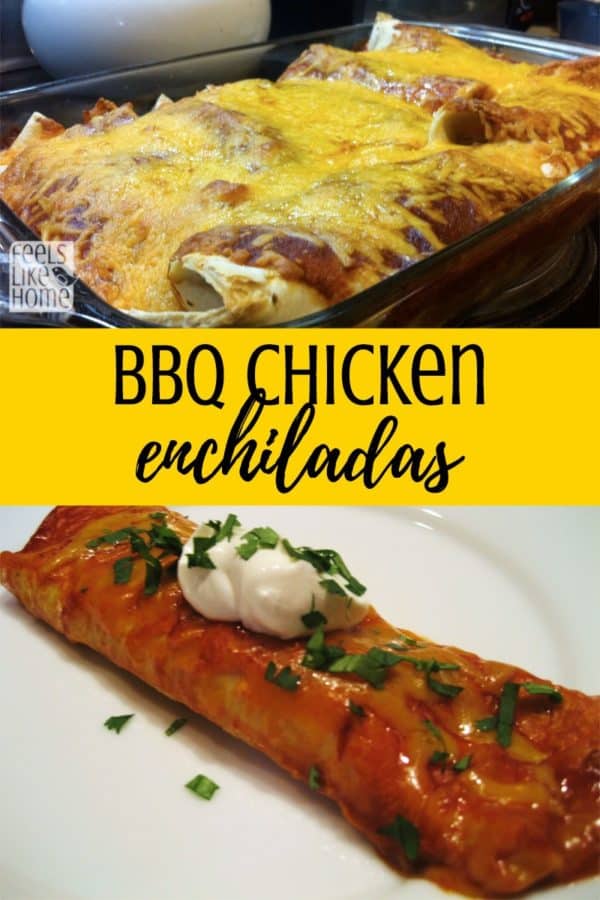 © 2011 – 2018, Tara Ziegmont. All rights reserved.