My parents were married in May, 1979.
I've never heard much about their wedding, and the two photos in this post are the only I've ever seen from that day.
From the photos, I can tell that my Grandma and Grandpa joined them, as did my older sister and my aunt and uncle.
I was born six weeks later, a little overdue.
My mother threw up through her pregnancy and labor. My father has a very weak stomach, and I imagine that he was puking along side her many days.
I've always wondered if they were happy about the pregnancy, but I've never asked.
For years, I feared the answer. Now, I simply don't need to know.
My little sister was born thirteen months later.
We've been a family for thirty-one years.
I will praise You, for I am fearfully and wonderfully made;
Marvelous are Your works,
And that my soul knows very well.
–Psalm 139:14 (NKJV)

---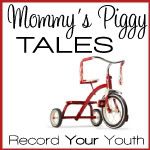 For the next 14 weeks, I am participating in a project called Mommy's Piggy Tales. Every Thursday, I'll post a snippet of my life story.
I hope you'll consider joining the project, even if you don't write about it online. Use a journal, a notebook, or the notes section on Facebook to record your own stories.
Some day, our children will wonder about our lives, especially our childhoods. What a wonderful gift we could present to them if we take the time now to record them.
Happily submitted to PhotoStory Friday, Give Me Your Best Shot, Finer Things Friday, Just for the Joy of It, and I'm Lovin' It Fridays
© 2010 – 2018, Tara Ziegmont. All rights reserved.