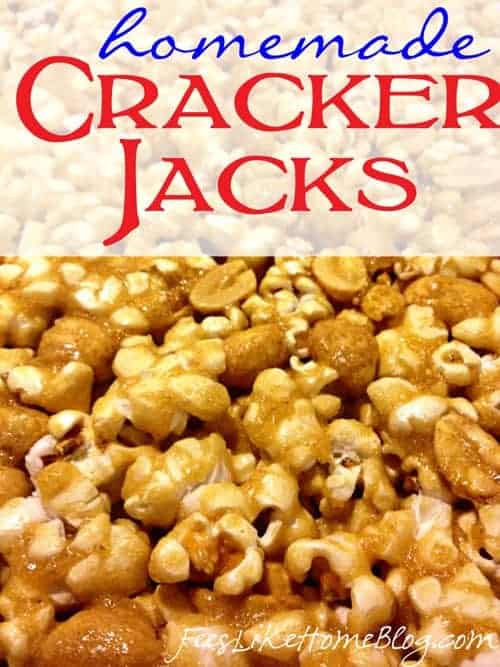 Joe and I have a bad habit. Well, we probably have several bad habits, but let's not talk about those. The one I'll admit to now is our Cracker Jack habit. We don't buy Cracker Jacks. We don't have little toy surprises. We don't share our nighttime snack with our babe. There, I said it. The horror! Joe makes our Cracker Jacks. The recipe is simple, and he whips it up most evenings after Grace goes to bed.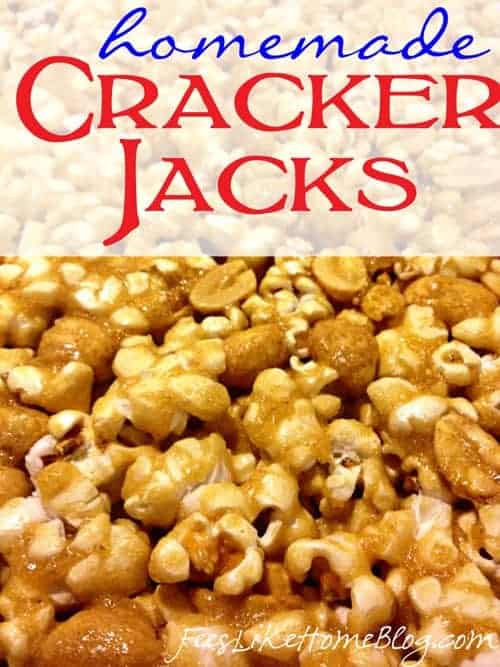 | | |
| --- | --- |
| | |
Combine brown sugar, butter, corn syrup, and salt over low heat until the butter is all melted. Cook without stirring for three minutes. Add the baking soda and vanilla.

Mix the popcorn and peanuts. Pour hot syrup mixture over the peanuts and popcorn. Stir gently until evenly coated.

Bake 15 minutes at 300 degrees. Break into pieces before serving.
This is delicious hot or cold, fresh or stale, by yourself or with a buddy. You get the idea.
2013 note
– We eat this for family movie night regularly. The kids love it as much as we do! (Was there ever any doubt they would?)
© 2009 – 2018, Tara Ziegmont. All rights reserved.