I don't like canned cranberry sauce. The whole gelatinous thing just doesn't appeal to me. Actually, I think the biggest problem is the sound it makes when it schloops out of the can onto the plate, and it maintains the ridges from the can. There is nothing appealing about that, in my opinion.
When I first started hosting Thanksgiving at my home, I made my own cranberry sauce. Fresh food is always preferable to food from a metal can, so I found a fresh cranberry sauce recipe, and I cooked it. And no one liked it but me. Everyone else wanted the jello-like cranberry sauce out of a can. They don't know what's good, Dear Reader. Seriously. I liked the sauce. I still like the sauce, and I still make it every year. And I don't get offended if they bring a can of the crappy stuff. It leaves more of the fresh sauce for me.
Rinse cranberries and pour into a medium saucepan. Pick out any spoiled berries, stems, and other undesirable material.

Add remaining ingredients to the pan. Pour in some water, just enough to cover cranberries. (Note - use as little water as possible. Hold the cranberries down while you're pouring. Cranberries float.)

Cover and bring to a boil over high heat. Reduce heat and simmer for three to four hours, until sauce reaches desired thickness.

Taste, and add additional brown sugar as needed.

Allow to cool and refrigerate until serving.
I prepare this first thing in the morning, right after I've gotten up. I take it off the stove about a half hour before we're ready to eat, and it's usually perfect. Some years, it has cooked for five or six hours. It's almost impossible to overcook this cranberry sauce. The more water you add in step 2 above, the longer you will have to cook the cranberry sauce to get it to thicken properly. I enjoy the cooking process, as the cranberries pop and burst and make all kinds of noise. It's fun to watch. This sauce smells wonderful as the cranberries cook. This cranberry sauce looks very nice when served in a small white dish.
Enjoy!
Please come back and tell me how you like my cranberry sauce!
Photo courtesy of Half Chinese on Flickr.com
See more Tasty recipes at The Pumpkin Patch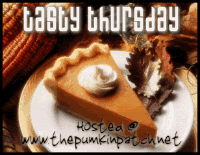 © 2008 – 2018, Tara Ziegmont. All rights reserved.