Is charitable splurge an oxymoron?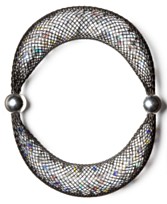 This morning, a pastor from Burkina Faso visited my (new) church. It was very interesting to hear and see how they are working in their country to educate orphans and other disadvantaged children.
This afternoon, I was sitting in the reading room, perusing the May issue of O, when I came upon an article about Umoja, Kenya. Umoja is an all-female village in Kenya that takes in girls and women who have been abused or forced into marriage. It was a terrific article, and it was accompanied by a blurb about the new O bracelet. I was taken by the bracelets and the women and the village. The women make several different styles. Here's the description of the one I picked:
A pure, pretty pleasure. Sleek tubes of an exclusive woven-polymer mesh are secured with sterling silver orbs and filled with two different colors of Swarovski crystals, White Opal and Crystal. The alternating opaque and clear stones play a prismatic game with the light, creating a kaleidoscope of color as bright and varied as the women of Umoja. Named for Margaret, a woman in the village.
So I bought myself a gorgeous bracelet in an effort to be kind and generous to a bunch of African ladies. You can buy one here.
© 2008 – 2018, Tara Ziegmont. All rights reserved.