These fun things are great to do with your tween or teen when they don't really want to spend time with their parents. They are easy ways to get kids involved and talking to the family.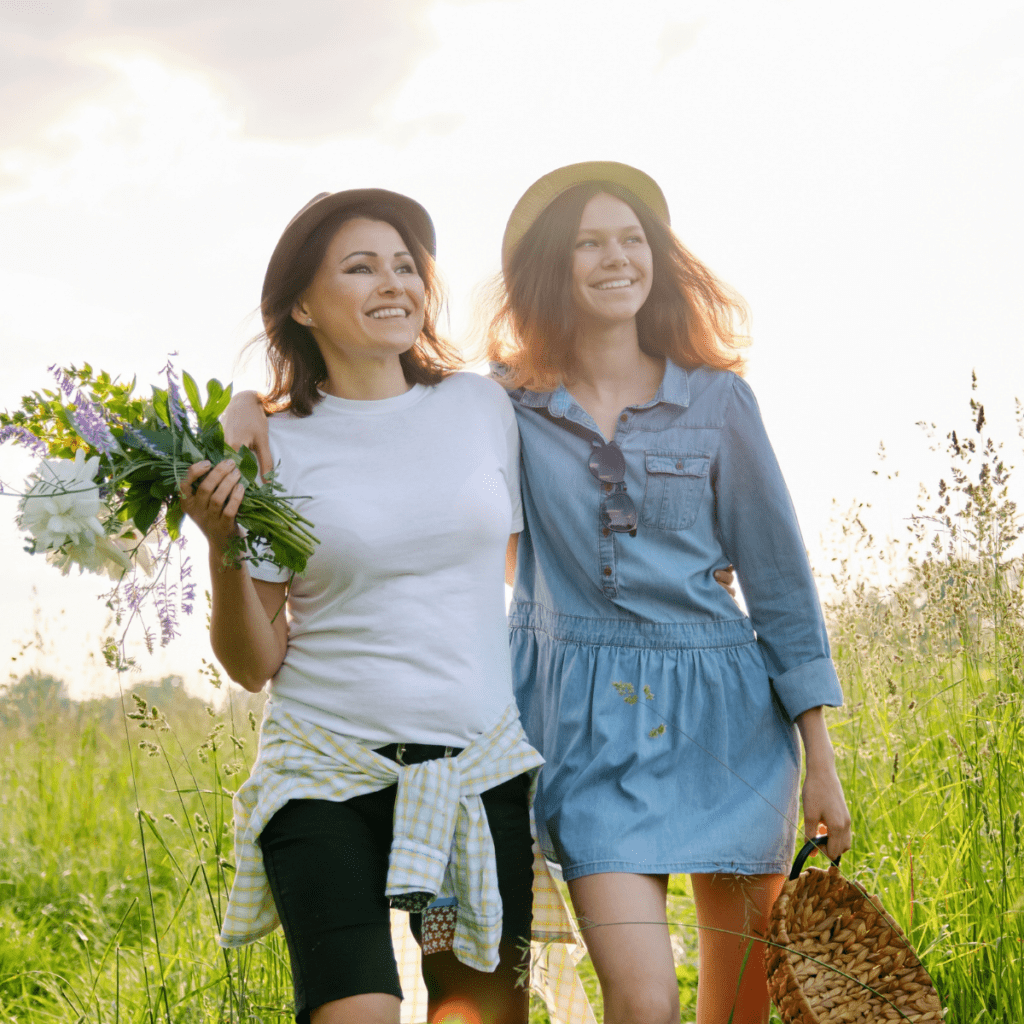 My daughter is 13, and she has been firmly in the "I want to be alone in my room" phase for at least a year now.
When she was little, this is the kid who I called velcro because she would never leave my side. And now, sadly, she rarely wants to see me, although I do think it has gotten a little better recently.
Around the time we went on a two week vacation, she started wanting to spend time with me a little more. When I say a little more, I mean a very little. Like, she asked me to drive her 10 minutes to the youth group, and she talked the whole way.
I think there's hope for a relationship during these teen years. I know there is.
I've always made a point of being present with my kids, and I thought it would mean that we'd remain super close as they grew up. I now know that it doesn't.
Or maybe, it's not that we won't be close. It's just that they will detach a bit as they grow up, and that's exactly how this parenting thing is supposed to work.
I totally understand why some people have another baby when their kids get to be teenagers. On one hand, it's nice that I have a little more time to myself, and I can spend a little more time one on one with my younger daughter, but on the other hand, it is lonely to have to let go of the precious and sweet girl who used to beg me to spend more time with her.
There's no winning with me, I guess.
Anyway, this post isn't about lamenting my teen's growing independence. It's about the ways in which we neglected parents can work on building or rebuilding that bond we once had with our kids.
Tweens and teens are supposed to be detaching from us in subtle ways. They are becoming more independent, and they will soon fly the nest. (We hope.)
But still, we moms and dads want to spend special, fun time with our kids. We want to make memories that will last them into adulthood, things they can look back on fondly and think, "I loved it when I did ABC with my mom and dad."
That's what I'm hoping for, anyway.
18 Fun Things to Do with Tweens & Teens Who Don't Want to Hang Out with their Parents
Play board, dice, or card games. Sometimes, my teen resists playing games with the family, but when she does, I make her come unwillingly, and she is always talking and laughing and enjoying herself by the end. Playing games together is my #1 favorite thing to do as a family, and I have shared several lists of my favorite family games. Try them. You can't go wrong here.
Make s'mores. Everyone loves chocolate and marshmallows, right? I'm not a fan of graham crackers personally, so I heat my marshmallows and stick the chocolate inside of one or in between two marshmallows. My kids love the whole s'more job. Sometimes, we build a fire in our backyard fire pit, and that is definitely the most fun way to make s'mores. But it's not the only way! If you have a gas stove, you can spear a marshmallow with a long fork or knife and carefully toast over the flames. If you don't, you can heat a marshmallow on top of a graham cracker in the microwave for 10 seconds. It's not pretty, but it works.
Make jibjabs. If you haven't heard of them before, jibjabs are silly e-cards that use your photo to do all kinds of crazy things. I think my favorite is the reindeer that does the Macarena, but there are hundreds of different ones. You and your super cool teen can take photos of each other and make yourselves into jibjabs and laugh at the results.
Put together a puzzle. When my mother-in-law was alive, she lived in an apartment complex for senior citizens, and in the lobby of her building, there was always a jigsaw puzzle. My kids flocked to it like moths to a flame. Puzzles are like magnets that get everyone involved. Everyone wants to be the next one to find just the right piece for the right spot, so if you can put your puzzle in a central location and sit there with your teen, there is a lot of potential for quality bonding time.
Watch a movie together. My tween is all about family movie night, largely because we restrict her screen time to twice a week. She loves to scroll through all the movies on Netflix and Amazon Prime and choose one. We pop popcorn the old fashioned way, spritz it with this low calorie butter spray, and each of us tops it with our favorite popcorn seasoning (my teen's favorite is white cheddar, and my tween and I love caramel corn).
Sing together. I hate to sing, but my teen loves it. She especially loves show tunes, and her favorite musical is Hamilton. She plays and sings Hamilton songs all. day. long. Instead of asking her to turn it down (like I want to do!), I learned some of the songs and sometimes sing along with her. She's always elated when I join in.
Bake and decorate sugar cookies. Baking together is something that kids of all ages enjoy, and taking the baking a step further by decorating gives creative teens a simple way to shine. Break out the rolling pin and cookie cutters and provide lots of colored frosting and sprinkles, and be prepared to decorate your own cookies and laugh at your lack of skills. (Just be super careful about laughing at your teen's cookies, even if she's laughing at them herself.)
Record a family video. Give your tween or teen free reign to direct and shoot a family video on whatever topic she wants. It could be a tiktok style dance clip, a skit, or a series of jokes, whatever she wants it to be. And, if she gets really into it, encourage her to post it on IGTV or Snapchat.
Create vision boards. Vision boards are collages of photos or magazine clippings that show your vision for your life. Typically, they cover the next six to twelve months, but they can also include long-term goals like buying a certain house or achieving savings goals. Vision boards are fun because they can be silly, but they can also uncovered some deep heart longings, and that is an amazing springboard into juicy conversations with your teen.
Build LEGO together. One of my tween's favorite things to do with her dad is to build LEGO. She prefers to have a new set every time (who doesn't, right?), but if no new set is available, she will consent to use the bricks she already has to build cool new things together. Sometimes they even have challenges to see who can build the better house or car or whatever.
Build a Rube Goldberg machine. (If you've never heard for Rube Goldberg, go visit his Wikipedia page and scroll down to the self operating napkin on the right side about halfway down.) If you've ever played the game Mousetrap, you know what a Rube Goldberg machine is. It's something that accomplishes a very simple and easy task but with many extraneous steps. Do a little research on effective Rube Goldberg machines, and then break out your recycle bin, dominoes, Matchbox cars, and anything else you can think of to build one with your teen.
Make chocolate fondue. There is a very pricey and sophisticated fondue restaurant near our home, and we took our kids there a few years ago. It was a total flop. All they liked was the chocolate fondue. They're a lot older now, but I think it would still be risky to take them there because it's such a slow, plodding meal. Instead, you can make chocolate fondue at home with these instructions and have fun dipping brownies, fresh fruit, angel food cake, and more.
Make crafts together. One of my kids hates crafts, and the other one loves crafts. You have to just go with the flow of what your kids like. But if you have a crafty one, by all means, gather up some supplies (or better yet, take her to the craft store and let her choose!), and fire up the hot glue gun.
Learn something new. The two of you could learn to crochet using this YouTube video (this is exactly how I learned to crochet - my first project was the granny strip afghan in this tutorial). You could learn to do origami using this easy and inexpensive guidebook. You could even learn a new language using DuoLingo or a similar app on your phone.
Do each other's hair. Is it a stereotype that teen girls love to do each other's hair? Both of my girls have loved to style my long hair since they were very little, and my teen still asks me to French braid hers sometimes. I think she would enjoy it if I suggested we look on Pinterest for some hairstyles and gave each other fancy 'dos.
Paint each other's nails. I gave up salon mani/pedis a few years ago at the suggestion of my podiatrist. (Can you say fungus? So gross.) Still, I like to have my nails painted, especially my toenails, so I generally do them myself. My teen is a bit of a tomboy, but my tween enjoys having her nails painted by me and painting mine in return. She doesn't usually do the best job, but I let her do it anyway.
Tie a blanket together. I guess this is sort of a craft idea, but it's worth its own point. Tying a blanket is super easy, and you can buy a kit that is all pre-cut and ready to go. The cutting is really the hardest part, and the kits you can buy are cut for you. Their cuts are better than the ones you make yourself, too, because they're uniform whereas cutting it yourself always leads to some wonky strips. If you're not a fan of the kit I linked, here are a bunch of others in different colors and patterns.
Make a photo book together. Services like Snapfish and Shutterfly allow you to upload your favorite photos and arrange them into a photo book that you can have printed and bound. When our kitten died a couple of years ago, the girls helped me to make a book of our favorite photos of him, and it was a wonderful experience. They both keep their books close even after all this time.
Any time that you and your tween or teen can have your hands busy at something while you are together, you will find things to talk about without having stilted "How are you?" and "How was your day?" awkwardness. With few exceptions (watching a movie), everything on this list provides distraction during which you and your older kiddo can talk and laugh and make wonderful memories together. Give it a try and let me know how it goes!