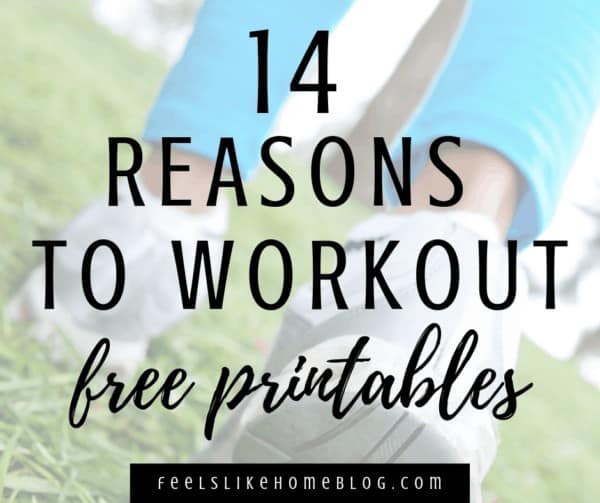 In 2018, I had a streak during which I walked at least 3 miles, usually 4-5 miles, every single day without exception for over 200 days. My streak went from April, through the warm spring and hot, humid summer and into mid November. I didn't have a treadmill back then, so I walked outside.
Every day.
In 90º heat sometimes.
I also walked in the cold, when temperatures dropped down below 20º. I walked no matter what.
Then, late in the year, I hurt my knee and broke my toe and had to take a few days off which turned into a couple of weeks. My streak was broken.
Getting back into daily walking has proven much more difficult than I expected, partly because I've gained weight, but I still walk more days than I don't walk.
During my streak, I was getting up at 5 am to walk. I wore reflective gear and strobe lights (more on those here) and got in my exercise before dawn most of the time. It was great, and I felt amazing all day long.
When it started getting really cold, I stopped walking early in the morning and started walking at noon as I had done before I got into the morning habit. This was okay, but sometimes work things would creep up and I couldn't get away for 30-60 minutes for a walk, and then my family is busy after work and I don't get to do it then either and...
You know how it goes. There's always an excuse.
That's the bottom line, isn't it?
There's always an excuse not to exercise.
The thing is, I feel better when I exercise. I feel great, on top of the world, energetic and spry and alive, and I sleep better too. I have more stamina and focus better. There is absolutely no downside to exercise for me.
When I don't exercise first thing, I feel sleepy and lethargic all through the morning. I feel all day like I need a nap. Life and focus and energy are all a big struggle when I haven't exercised.
Even with all this evidence and all my personal experience, I can very easily come up with an excuse not to walk if I allow myself the latitude.
I'll be in the middle of a project that I just. need. to. finish.
Or I'll be having a super busy day without a big break in the middle.
Or one of my kids will get a splinter that must be removed right when I was going to leave for my walk (this happened this past Tuesday).
Or I'll decide to eat lunch instead of walking. (Normally I eat when I get back.)
The excuses never end. I had to come up with a way to bust the excuses before they could take shape in my brain. That's where these quick little cards came from.
14 Exercise Excuse Busters - Motivation and Encouragement to Exercise When You Don't Feel Like It
I like graphics that I can hang on my bulletin board or on the bathroom mirror or tape to the edge of my computer screen, so I made a few with short statements on them about exercise.
Here are the statements:
What would The Rock do? The Rock would get off his butt and work out.
Don't think too much. Just work out.
Athletes work out whether they feel like it or not.
Low on motivation? Bribe yourself but not with food!
Your entire body will feel better after it works hard.
Exercise will wake you up and give you energy the rest of the day.
You'll sleep better tonight.
You'll feel refreshed after.
Exercise makes you feel happy & satisfied.
Any workout is better than no workout.
You only have to do 10 minutes. After that, you can quit if you want to, but you probably won't.
You won't get the butt you want by sitting on the one you have now.
The graphics are, of course, cute and sized in 3.5" squares that print 4 to a page to save paper and ink.
I printed them and hung the ones that spoke to me most on the mirror in my bathroom, right next to the 3 cards from my positive affirmations for defeating cravings set that I read every time I go in the bathroom.
Here's a sample of the graphics: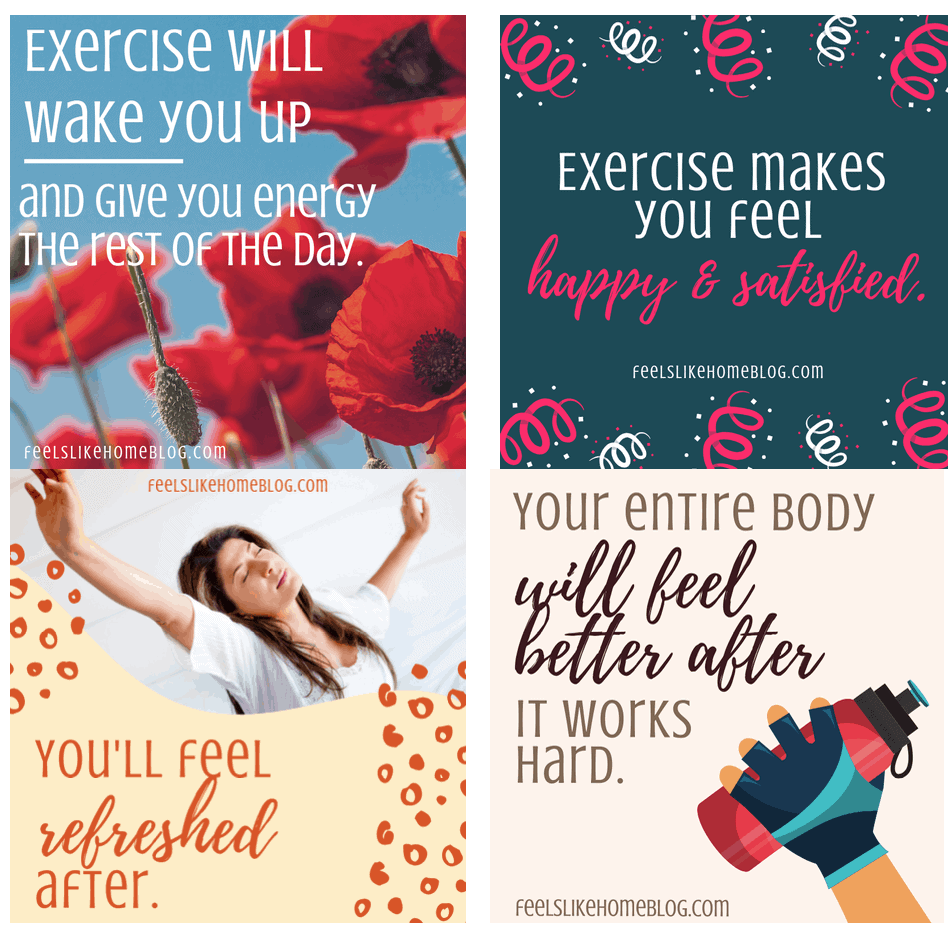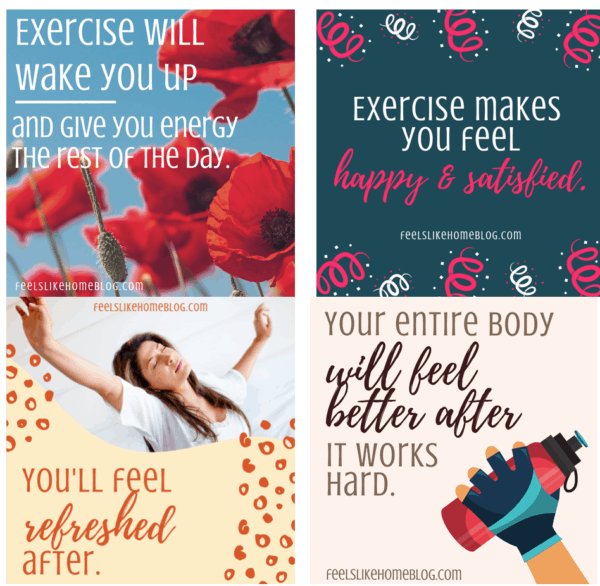 I like them because there are a variety of colors, patterns, and photos. As you can see, some feature photos, some are illustrations, and some include both. All 14 are full-color and suitable for printing and hanging up.
Like my positive affirmations, these motivational quotes can be used in the following way:
Save the file (um, obviously, right?)
Print the cards on cardstock
Cut the cards – they are squares for easier cutting!
Laminate for durability
Store in a small box or envelope and keep them in a safe place (Mine are in my underwear drawer.)
Choose one statement to focus on. You might want one per day or one per week, or just change it whenever you feel like it.
Post somewhere that you will see it several times throughout the day. I like mine on the bathroom mirror, but you could also put it on your desk, the kitchen table, or some other spot.
Say the statement three times every time you sees it, preferably out loud. (But I understand if you say it in your mind because there are other people around.)
Reminding yourself to exercise is one of the best things you can do for your mind, body, and spirit. You will feel great, and you will change yourself for the better.
Just do it.
For more posts like this, check out the physical health index.