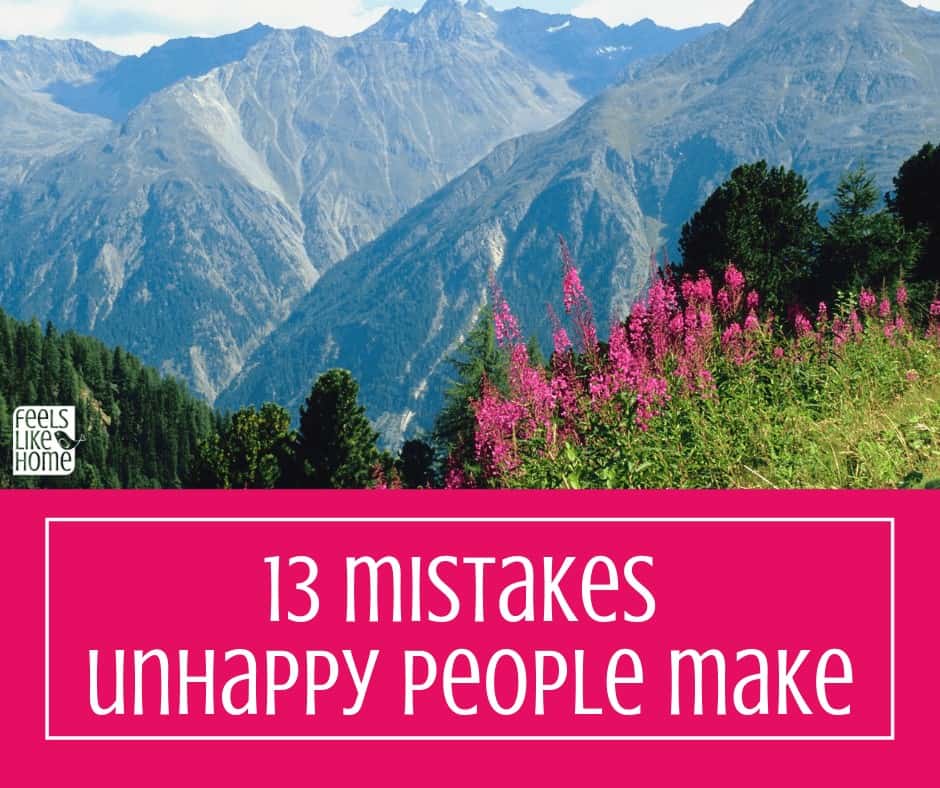 Pin
I've spent a lot of my life as an unhappy person. I remember as a teenager that I wore my discontent like a badge, and I was proud of my run-ins with waitresses and clerks and drivers on the highway. I bragged about the drama.
Today, I am sad for that version of myself. I want to grab her by the shoulders and tell her that all that drama is making her supremely unhappy, that she will soon end up in psychiatric care. Just maybe, if she had figured out what I know now, we could have avoided all that. (But maybe not, too.)
The thing is, life is so much better when you get out of your own way and allow yourself to be happy. I know that now, and I want to make sure you know it too.
13 Mistakes Unhappy People Make
They hold on to irritations and annoyances. This is my #1 tip. You've got to be like Elsa and let it go. So a clerk is rude? She's got issues of her own that don't involve you, and if you can offer grace, excuse her, and move on with your life, then her issues haven't become your issues. A driver cuts you off? So what? As long as you don't rear-end him, you're still going to get where you're going. There's a reason that the book Don't Sweat the Small Stuff has sold over 25 million copies: it's because we, as a whole, tend to hold on to the small stuff and ruminate on it. If you want to be happy, you've got to stop doing that.
They hold on to regrets. I have one regret in my life, that I planted bamboo in my backyard. That's it, and even that is only somewhat in my conscious brain. When you hold on to a bunch of regrets, you poison yourself. You can't change the past, so get over it and move on. Make today a better day and buy a shovel to dig up the bamboo. Or a rent a backhoe. Either way, do something about it if you can, and if you can't, let it go.
They think they've already missed their chance. Have you seen the meme that says "You miss 100% of the shots you don't take" with a picture of a basketball? I like the sentiment, that you have to put yourself out there and take a risk in order to get where you want to be, but if you waste your life thinking about what might have been and worrying that you missed your opportunity, you'll make yourself miserable.
They allow their circumstances to make them bitter. God molds our lives to fit His great plan, and everything (no matter how painful) is part of the journey we've taken to get where we are. I know I talk about him a lot, but my favorite Old Testament Bible character is Joseph. His brothers sold him into slavery, his owner's wife had him thrown in jail, and his friends abandoned him. But in the end, he became the second in command of a powerful nation and saved his family from starvation, paving the way for an entire nation of God's people. Joseph could easily have become bitter as he was led away from his homeland as a slave or as he sat in jail for something he didn't do, but he didn't. He trusted God and knew that God would redeem him. You can have the same trust.
They change who they are for others. Authenticity is everything in this life. You are the only you that there is, and the people in your life either like you for that or they don't, and that is not something you should be worried about. If you go through your life trying to fit a mold that someone else puts on you, you're going to feel like a fraud, and that will make you miserable.
They worry about what other people think. Listen, what people think of you generally has nothing to do with you; it has to do with them. If a good friend comes to you in love with a concern, hear her out, but apart from that, worrying about what people think - especially strangers - is a recipe for a miserable life. You do you and let them do them, and hold your head up high in confidence knowing you're the unique person God created you to be.
They allow drama in their lives. I have a friend who seems to find drama everywhere. Every single time I see her, she tells me about a rude driver, a nasty stranger, or a professional who doesn't know what he's doing. It's like her life is a constant stream of nonsense. I have distanced myself from her because I just don't want to hear about the drama. It can hurt to cut someone out of your life, but you'll be much better off without hearing about every little thing that she spews forth.
They focus on another time and place. When I was 13, I wished I could be 16. When I was 16, I wished I could be 18. When I was 18, I wished I could be 21. I wasn't enjoying what I could do because I was always just waiting for something else. If you're sitting around longing for some date in the future or reliving some date in the past, you are wasting the life you have in front of you right now, and that is a sure ticket to discontent.
They dwell on things they can't change. I recently lost $400 in an ebay scam. I am currently fighting with ebay to refund my money, but I am not tying my happiness to whether they will approve or deny my claim. It would be nice to get the $400 back, but it won't break me if I don't. Along similar lines, I'm waiting to hear the results of my summer semester grad class. The class was super tough and the grading felt supremely unfair for the poorly organized and presented course. I did all I could do, studied intensely, and worked out every optional homework problem. There was absolutely nothing I could have done to get a better grade in the class. Now, I wait, and I am not giving myself heartburn over whether I will get an A or an A- in the course. Obviously, I am hoping for the A, but I can't change whatever it turns out to be, and there is no point in worrying over it.
They focus on what they don't have. My kids do this almost all the time, and it drives me bonkers. Scarcity is rarely the case in the modern world. We have enough, but if we are constantly on the lookout for what we don't have (and usually don't need), we will never see what we have as enough. I succumb to this particular point all. the. time. because I often feel like I need all the things, but the fact is that I don't and neither do you.
They make themselves martyrs. If you constantly sacrifice yourself to make other people happy, you will never be happy yourself. Don't misunderstand me - sometimes compromise and sacrifice are necessary to sustain meaningful relationships, especially in families - but if the only thing you ever do is give in, you are going to be miserable in the long term. There is enough sunshine for all of us, so make sure you get some every day.
They don't make progress towards their goals. You need dreams, and you need a plan to make those dreams come true. That plan should drive your goals. Whether your goal is a trip to Africa to see the elephants or a debt free life or a college degree, you need to have a dream, write down the steps to make it a reality, and make frequent progress towards achieve it. If you just float like a feather on a breeze, you will never feel fulfilled.
They blame others for making them unhappy. Listen, happiness is a choice. One of the very first posts I ever published on this blog back in 2007 was focused on that very sentence. Happiness - true lasting joy - comes from the knowledge that Jesus Christ died for your sins and redeemed your life, giving you eternity with God in heaven. That's the foundation of my joy. But beyond Jesus, happiness is where you decide it will be. Dumbledore (from Harry Potter) said that "Happiness can be found, even in the darkest of times, if one only remembers to turn on the light," and that light switch is your choice. Choose happy and you'll be happy.
So that's it. If you're unhappy, unfulfilled, or generally miserable, you have the choice to change your attitude. It won't be easy, but it is possible.
Get out of your own way, and choose happy today.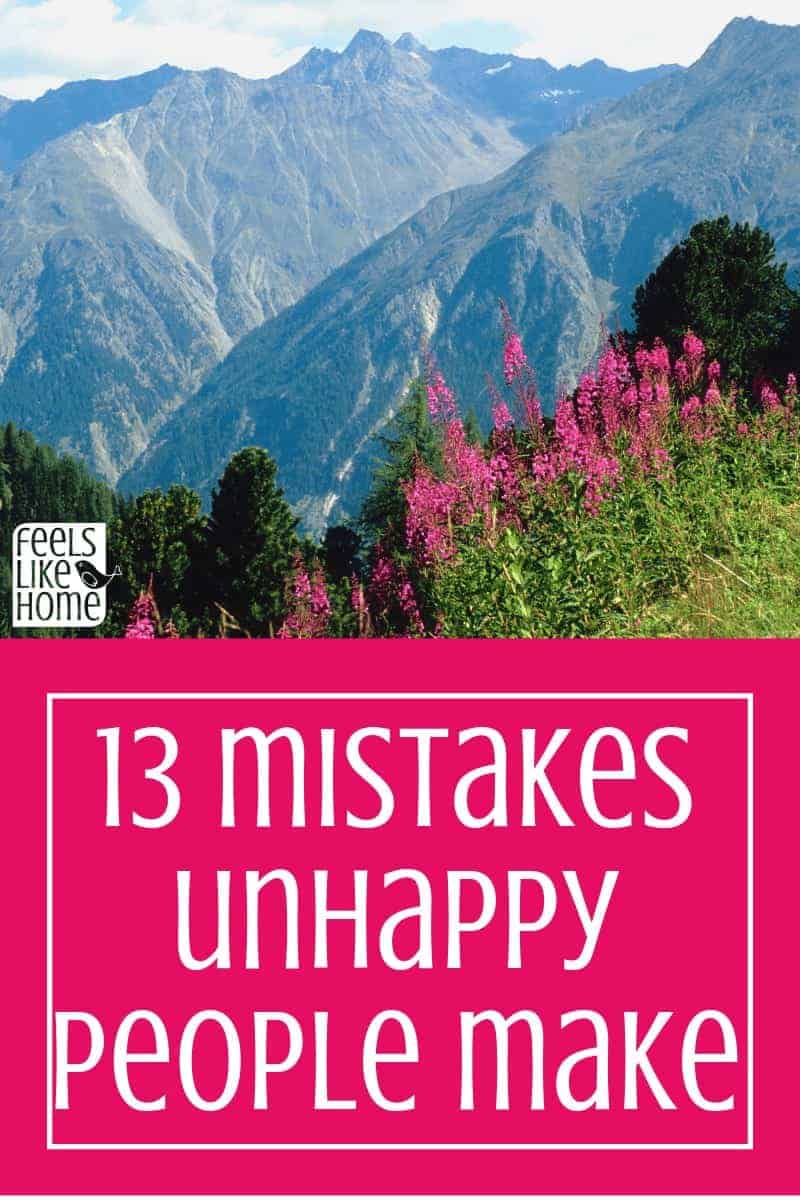 Pin